Donald Trump's Staffers Reportedly Blame Themselves For Hermain Cain's Death. Here's What We Know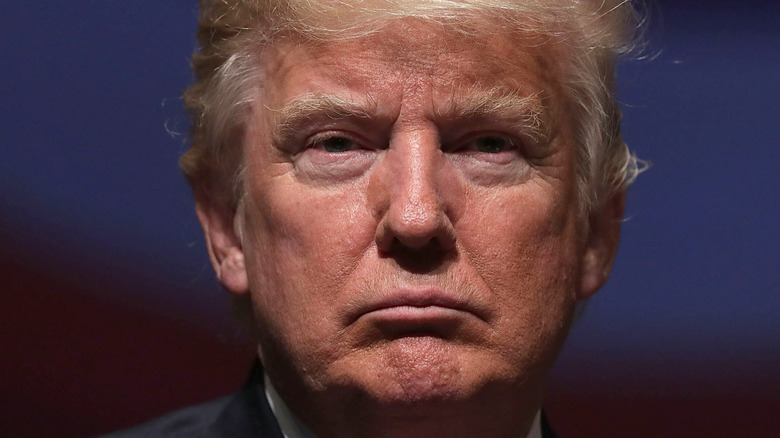 Alex Wong/Getty Images
A lot of critics and media outlets have pointed out over the years that rallies are part of former President Donald Trump's lifeline. In fact, Vox said in 2019 that his campaign heavily relies on his ability to work up a crowd at his packed rallies, while the Guardian pointed out that rallies have given Trump an opportunity to send his message to his loyal supporters by cutting out the middleman that is the media.  "The rallies are not the be-all, end-all by any stretch," Republican strategist Charlie Gerow told The Washington Post. "But they are an important show of strength to rally the base and increase the intensity of those people. Folks who attend a rally go home, talk to friends, talk to neighbors, talk to their family about what happened."
With that said, Trump reached a stumbling block during the first half of 2020, when the COVID-19 pandemic forced everyone to stay at home in state-wide lockdowns to help curb the spread of the virus. However, he did hold a rally in June 2020 in a packed auditorium in Oklahoma, despite the fact that COVID-19 was still ravaging many communities across the nation. It was also the last rally that former presidential hopeful Herman Cain attended before succumbing to the virus, which reportedly has former staffers feeling guilty in hindsight. 
Herman Cain's last rally for Donald Trump
Herman Cain, who once had presidential ambitions himself and was a fervent supporter of Donald Trump, died in July 2020, one month after he attended Trump's Oklahoma rally. He was surrounded by thousands of people, most of whom did not wear masks or practice social distancing at the time, per Reuters. Cain learned that he had contracted the virus on June 29, nine days after Trump's rally. After spending a month at a hospital in Atlanta, he died on July 30, 2020 from complications stemming from COVID-19. 
In the new book  "Betrayal: The Final Act of the Trump Show," author and former ABC News' correspondent Jonathan Karl wrote that Trump's staffers blamed themselves for Cain's death. According to Vanity Fair, it was soon reported that the Oklahoma rally wasn't as COVID-19 proof as many insiders were probably hoping it to be, as several staffers on Trump's team tested positive soon after. One senior staffer even said, "We killed Herman Cain," after news broke of his death. 
And while it is uncertain to this day if Cain had contracted the virus at the rally or somewhere else, per the New York Times, the fact that there were very few COVID-19 safety protocols put in the place at the rally is something of a dark cloud that is still potentially hovering over the heads of those who worked for Trump that day.