Chrissy Teigen's New Look Has Fans Seriously Confused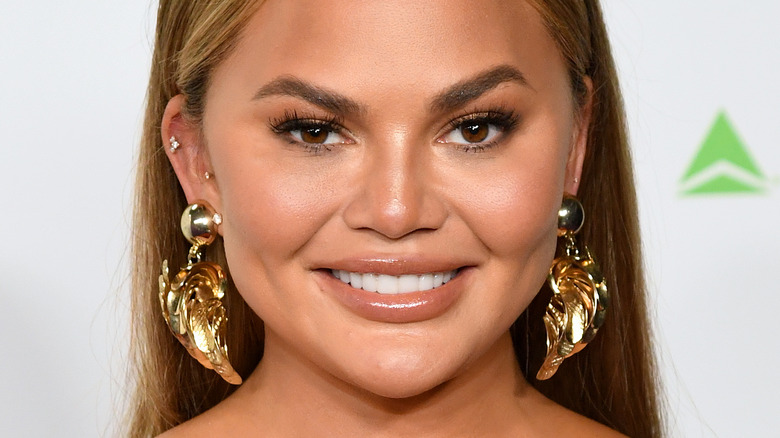 Kevin Mazur/Getty Images
Chrissy Teigen is never shy to experiment with her looks — particularly when it comes to her hair. Early this year, the model-turned-internet fire-starter surprised everyone with a drastic transformation, ditching her honey blonde locks for a more vibrant hue. Or so it seemed. She posted an Instagram photo in January after returning to the app of her rocking long, purple hair that fell down to her chest in beautiful waves. Apparently, it was just a wig, but she looked stunning and it was one of the star's many attention-grabbing internet moments nonetheless. "the wig life ... chose me," she captioned the Instagram.
Fast forward to August, Teigen once again debuted a new look, but for real this time. She let go of her long mane in favor of a chic bob cut, which was apparently inspired by Khloe Kardashian. "cause @kourtneykardash looked so keeeeyute!" she wrote in her Instagram caption when she shared her new 'do.
Now, Teigen is once again teasing fans with yet another transformation, but instead of receiving praises, she's drawing some serious flak. But once you see the photo, you may just understand why. 
Chrissy Teigen's new look is offending some fans and ... confusing others
Chrissy Teigen's latest look is both parts shocking and confusing. Instead of trying out another hairstyle or color, Teigen surprised everyone with a ... bald look. On both her Twitter and Instagram Stories on November 11, the cookbook author documented herself wearing a bald cap. A makeup artist also glued white eyebrows and a fake stubble on her face, so it's likely that this look is for a costume party or some creative project. "Very serious day," she says in the short clip. Umm ... alright!
Some users on Twitter weren't thrilled when Teigen posted the video of her sporting the bald cap. There were fans that took offense, writing, "Can't find humor or the entertainment value of this considering I am bald due to chemo. I wish I had a choice. Hope the likes are worth it." Another user chimed in with a similar sentiment. "'I NEED ATTENTION!'" another wrote in quotes, insinuating that's what the star was thinking upon posting. "Terrified me," wrote a third. Meanwhile, some fans were supportive of whatever Teigen is up to. "You are SO gorgeous no matter what style you rock!" they wrote.
Whether or not the transformation is for a project, perhaps Teigen has some explaining to do. But given the post only has 1.2k likes and counting as of this writing, maybe it's just another day in a strange world?