How Lisa Marie Presley Learned About Michael Jackson's Death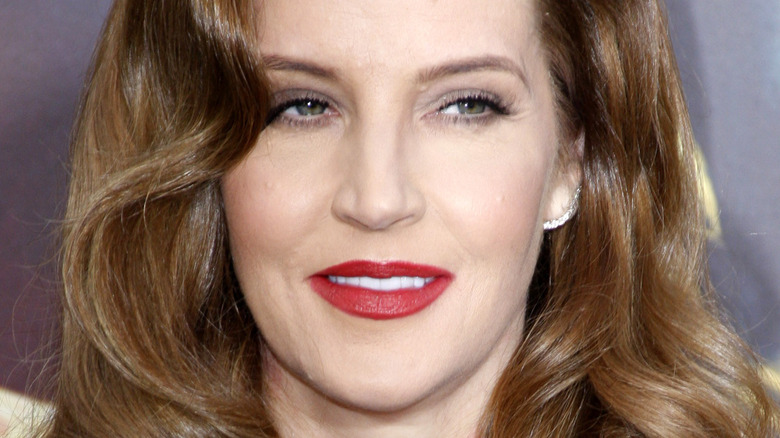 Tinseltown/Shutterstock
Lisa Marie Presley and Michael Jackson sent shockwaves throughout the world when they announced they tied the knot in 1994, just days after Elvis Presley's daughter divorced influential Scientologist Danny Keough, as The Washington Post (via The Seattle Times) noted at the time. According to Us Weekly, Jackson befriended Presley amid the accusations that the King of Pop had sexually assaulted 13-year-old Jordan Chandler in 1993, which Jackson denied. They often talked on the phone and it was via that medium that Jackson reportedly proposed to Presley, when Presley was still married to Keough, the report detailed. "I am very much in love with Michael. I dedicate my life to being his wife," she said in a statement on the occasion.
The marriage didn't last. By December 1995, the couple was separated, with Presley filing for divorce in January 1996, just a year and a half after their wedding, as CNN reported. According to Us Weekly, the union was strained partly because of Jackson's painkiller addiction. To this day, many people believe that Jackson and Presley's relationship was just a show, as Radar Online argued in 2019. In a blog post following Jackson's death, republished by Oprah.com, Presley assured that, while their relationship was "unusual," it had not been "a sham."
To heal, Presley learned to dissociate from Jackson and her relationship with him. That's why she surprised even herself by how devastated she felt upon hearing about Jackson's death, which happened on "the strangest day" of her life. 
John Travolta texted Lisa Marie Presley about the news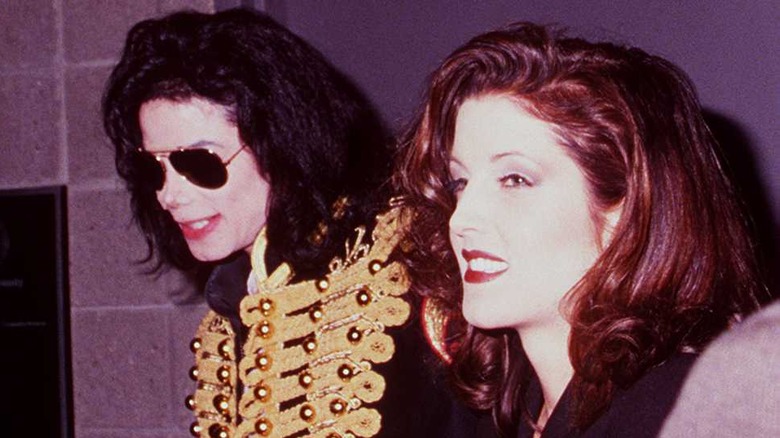 Tammie Arroyo/Getty Images
On June 25, 2009, Lisa Marie Presley was in England, as she told Oprah Winfrey in 2010. Even before hearing about Michael Jackson's death, Presley was having an intuitively unusual day. "I don't know why, but it was the strangest day of my life. I was crying all day," she recalled. "And I don't normally do that." Even though she was living a seemingly normal day, she was unable to carry out simple tasks without being overwhelmed by her emotions. "I was trying to work, I came home, I was literally cutting my food, eating my dinner crying," she detailed.
As NPR reported at the time, Jackson was pronounced dead at 2:26 p.m. Pacific Time, which was already nighttime in the United Kingdom. After eating dinner, Presley felt like calling it a day. "I wanted to go upstairs and go to bed and watch something mindless on TV and stop crying," she told Winfrey. But, as it turned out, her day was just starting. Text messages began rolling in asking if she was okay. The first one of those was from her friend John Travolta. Confused, she asked him what was happening. 
So Travolta broke the news to Presley, she told Winfrey. Presley's reaction was "real, honest-to-goodness shock. Not even tears ... I was floored, honestly floored," she said. After going many years without speaking to Jackson, she began her healing process. "This whole last year and a half has been spent trying to gain the clarity."
Why Michael Jackson reminded Lisa Marie Presley of her father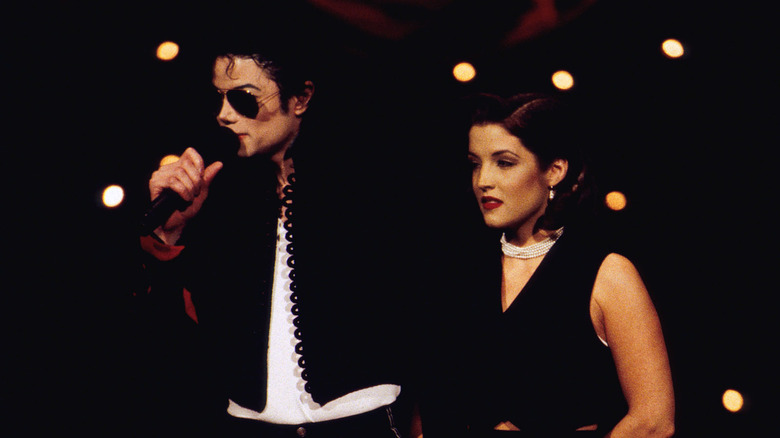 Frank Micelotta Archive/Getty Images
Lisa Marie Presley last spoke with Michael Jackson in 2005, per the Los Angeles Times. According to Presley, the King of Pop asked her if she still loved him. "I told him I was indifferent. He didn't like that word. He cried," she said. Presley avoided contact with Jackson because she needed to put that chapter behind her, she explained on MySpace (via Oprah.com) on June 26, 2009. "All of my indifference and detachment that I worked so hard to achieve over the years has just gone into the bowels of hell and right now I am gutted," she wrote. 
After his death, Presley dedicated time to understanding Jackson's rationale. "I realized all this bitterness I thought I had ... was no longer [present]," she told Oprah Winfrey. To some extent, Presley saw her dad Elvis' pains reflected in her ex-husband, which she hinted at in her blog post. In a conversation when they were still together, Jackson "stared at me very intensely and he stated with an almost calm certainty, 'I am afraid that I am going to end up like [your father], the way he did,'" Presley recalled. 
While Elvis' official cause of death was heart failure, the underlying reasons are widely attributed to his drug use, per PBS. When Jackson died from an overdose of propofol, as CNN reported, Presley felt she "failed to help" him from having the same fate as her father, she wrote.