Kamala Harris Puts An End To All The Rumors About Her Relationship With Joe Biden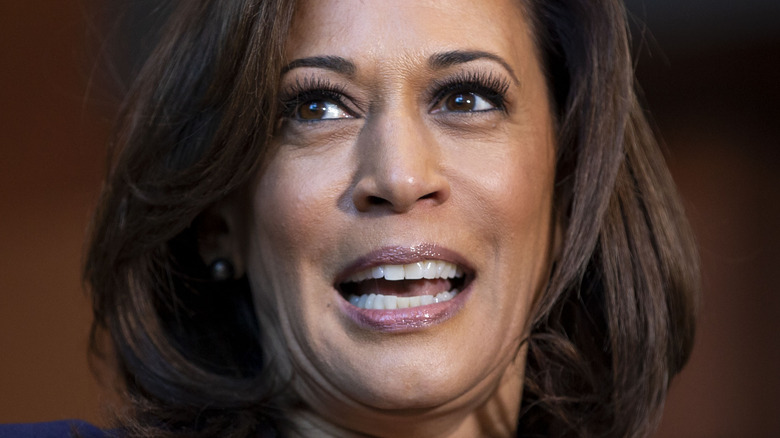 Al Drago/Getty Images
Kamala Harris could not contain her excitement when it was officially announced that Joe Biden defeated outgoing president Donald Trump in the hotly contested 2020 election. After all, a video of her abruptly ending her mid-morning Saturday jog to call Biden and tell him, "We did it Joe! You are going to be the next president of the United States," went viral due to her ecstatic emotion at the time. Biden also made it no secret that he believed enough in Harris and her talents to make her his running mate back in August 2020. He wrote on Instagram, "Back when Kamala was Attorney General, she worked closely with Beau. I watched as they took on the big banks, lifted up working people, and protected women and kids from abuse. I was proud then, and I'm proud now to have her as my partner in this campaign."
And, while things certainly did seem quite promising during the early months of Biden's term, there has been speculation suggesting some friction between Biden and Harris behind closed doors, particularly because the vice president feels both overwhelmed and underused, according to the Daily Mail. The headlines have been so bad about the supposed White House drama, in fact, that Harris herself has felt the need to set the record straight about it. 
Does Kamala Harris feel underappreciated?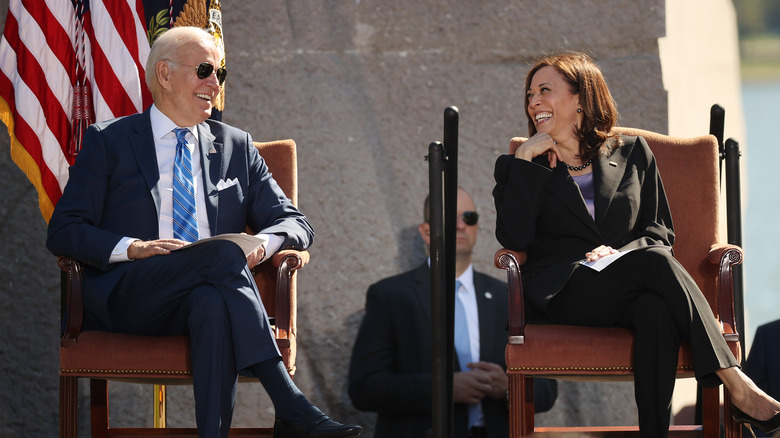 Chip Somodevilla/Getty Images
In an interview with "Good Morning America," Kamala Harris made it clear that whatever issues there were between her and President Joe Biden were the fabricated kind. When George Stephanopolous suggested that even some of Harris' closest friends, like lieutenant governor of California Eleni Kounalakis, had said that she's not reaching her maximum potential in the White House, the vice president shot the rumor down. When asked if she is being misused or underused, Harris responded with, "No. I don't. I'm very, very excited about the work that we have accomplished. But I am also absolutely, absolutely clear-eyed that there is a lot more to do, and we're gonna get it done."
However, there was a report from CNN that said Biden's administration was not pleased with what was going on in Harris' office, claiming there was dysfunction and frustration because she's not as visible as she should be to the public. Harris' spokesperson Symone Harris pushed back on the report, calling it nothing more than gossip, per the Daily Mail. But then again, Harris also claimed that she and Biden aren't even discussing their 2024 re-election strategy, according to Newsweek. In other words, they are truly taking things day-by-day, with the hopes that the next one will be better.