Why Justin Bieber Is Being Urged To Cancel His Concert In Saudi Arabia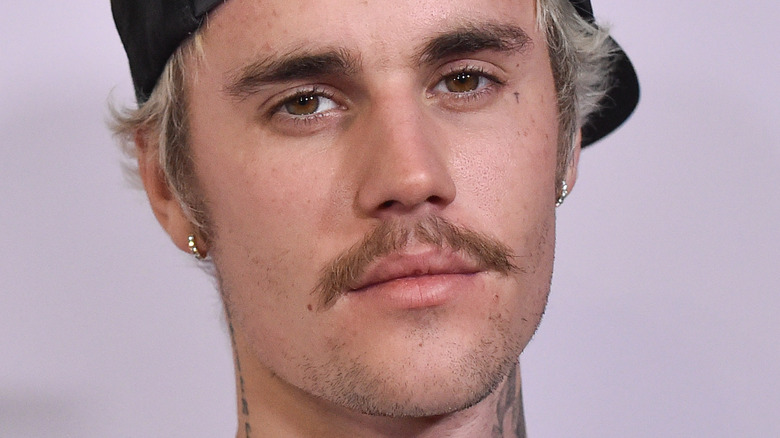 DFree/Shutterstock
Justin Bieber, who has been plastered all over the entertainment and music world for more than a decade, rose to prominence in 2009 with tracks such as "One Less Lonely Girl" and "Baby" featuring Ludacris in 2010. It was truly a time to behold, and it's most certainly surreal to be blessed with Bieber's presence for nearly a decade-and-a-half at this point. But despite his initial teeny-bopper phase, the pop star eventually endured his fair share of public mishaps.
Growing up before our eyes, Beliebers bared witness (via CNN) to the singer's 2014 DUI arrest (honestly, who can forget that iconic mugshot, though?), in which he "consumed some alcohol... [smoked] marijuana and consumed some prescription medication" per the outlet, before getting behind the wheel. Following the arrest, over 273,000 people signed a petition to deport the Canadian-born singer, all to no avail.
And while he found himself in smaller troubles in the years that followed, Bieber has cleaned up enormously — turning to God and marrying Hailey Baldwin in the process. He would ultimately make a sonic comeback with the back-to-back releases of 2020's "Changes" and 2021's "Justice," but now, Bieber is finding himself under fire once more regarding an upcoming performance.
Jamal Khashoggi's fiancé is calling for Justin Bieber to cancel his performance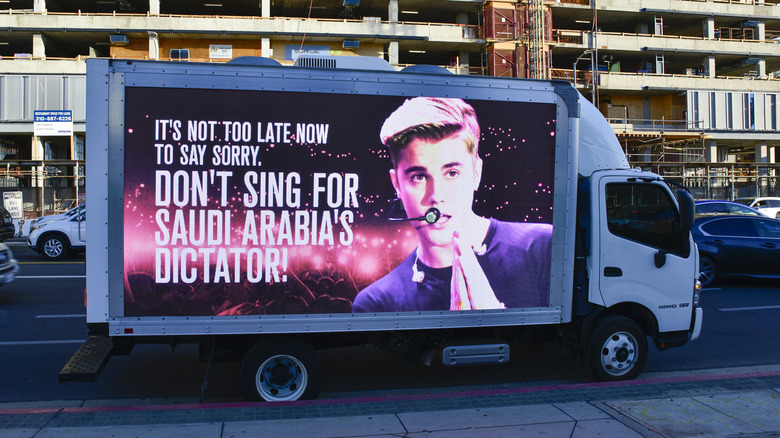 Jerod Harris/Getty Images
The Kingdom of Saudi Arabia has long been under scrutiny since the slaying of Jamal Khashoggi. In 2018, Khashoggi, a prominent journalist for the Washington Post and ardent Saudi government critic, was murdered upon entering the Saudi consulate in Istanbul, Turkey (via The Guardian). The act was believed by the CIA to be ordered by Saudi Arabian Crown Prince Mohammad bin Salman (via The Washington Post) and carried out by a team of agents.
In a column penned for The Washington Post in November, Khashoggi's fiancée, Hatice Cengiz, pleaded with Justin Bieber to cancel his upcoming performance there — condemning the regime as one that "kills its critics." She wrote, "I know that you are dedicated to your fans, and are travelling to Saudi Arabia on their behalf ... However, there are hundreds of Saudis of all ages, backgrounds and religious beliefs, languishing in prison, punished for merely expressing their opposition to the merciless Saudi dictatorship of MBS" (via the Daily Mail).
She further cited Bieber's support for the Black Lives Matter movement and asked him to "use your platform now to support the cause of human rights in Saudi Arabia." Bieber is not the only one to receive flack for engaging in Saudi relations. The WWE has also been chastised for entering a ten-year relationship the same year as Khashoggi's reported murder. TV host John Oliver notoriously slammed the company for promoting "wall-to-wall propaganda."