The Crime You Didn't Know CSI's Wallace Langham Committed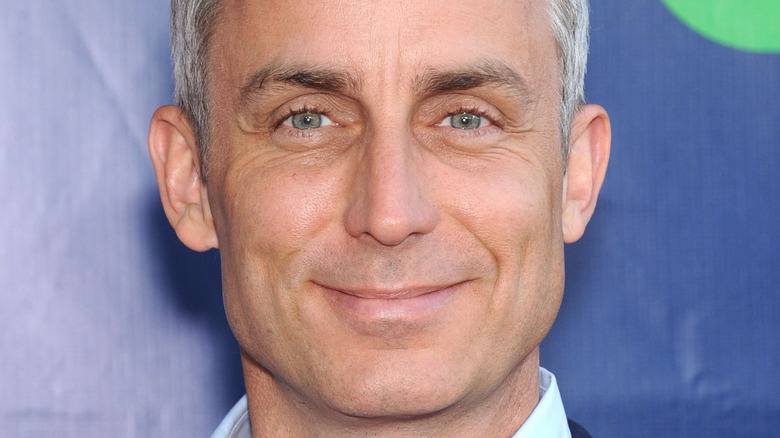 DFree/Shutterstock
Wallace Langham is reprising his role as David Hodges in "CSI: Vegas," which came out in October, much to the delight of fans of the pioneering police procedural drama "CSI: Crime Scene Investigation." Six years after the most-watched show of this century concluded its 15-year run in 2015, Langham is bringing the over-sharing and germaphobic lab technician back to life, a character that quickly became a fan-favorite after he was introduced in Season 3, as Deadline noted.
Before he captivated hearts as David Hodges, Langham broke onto the TV scene in the groundbreaking HBO sitcom "The Larry Sanders Show," as the head writer of a late-night talk show — a character he played for six seasons and earned him an OFTA Television Award nomination for Best Actor in a Cable Series, according to IMDb. 
Langham showed he had depth with his next project, "Veronica's Closet," the NBC comedy by "Friends" creators David Crane and Marta Kauffman. Langham switched gears completely to portray an assistant to the owner of a lingerie shop, played by Kirstie Alley, whose sexual identity remains ambiguous for the first two seasons until he comes out as gay, according to 25YL. For his portrayal of Josh Blair in "Veronica's Closet," Langham was nominated for his second OFTA Television Award, this time for Best Supporting Actor. Precisely because he was playing a gay man, Langham shocked fans in 1999 when he was accused of committing a hate crime against a member of the LGBTQI+ community.
Inside Wallace Langham's accusations of assaulting a gay reporter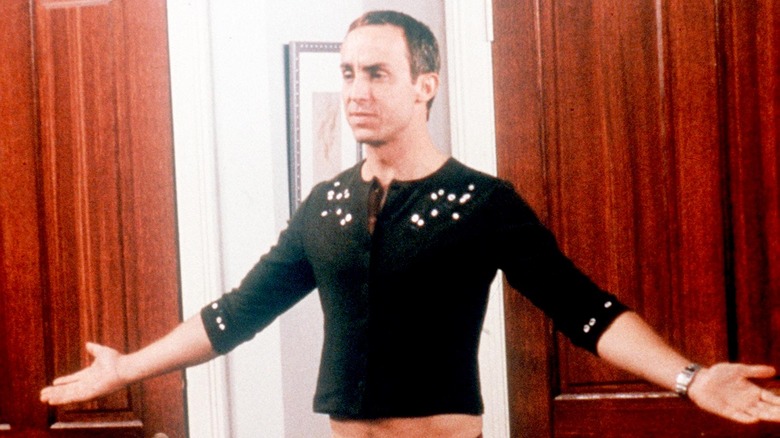 Getty Images/Getty Images
Wallace Langham was charged with committing a hate crime and battery on November 1, 1999, after he was accused of assaulting a gay tabloid reporter while using homophobic slurs two months earlier, as the New York Post reported. Hayley Sumner, a rep for Langham, said at the time that the reporter, who was a freelancer for the publication Star, approached Langham's girlfriend in a Hollywood supermarket and made offensive remarks about her tattoos. After noticing the situation, Langham intervened in defense of his partner, at which point the reporter allegedly began to provoke the actor until a fight broke out, though she denied Langham used gay slurs, the spokesperson said. 
According to Sumner, the reporter purposefully started the fight knowing who Langham was in an attempt to extort the actor, The Associated Press reported. "Mr. Langham intends to request that extortion charges be filed against the purported victim. It is despicable for an individual to provoke a fight and then characterize it as a hate crime in order to leverage the incident for his personal financial gain," she said.
The 35-year-old man, who was not identified at that time because the Los Angeles Police Department protects the identity of hate crime victims, was treated for an injured jaw and some bruises, according to the New York Post. The Star said that the reporter was not writing for the company at the time of the incident and declined to comment, per the report. 
Wallace Langham had to donate time and money to LGBTQI+ charities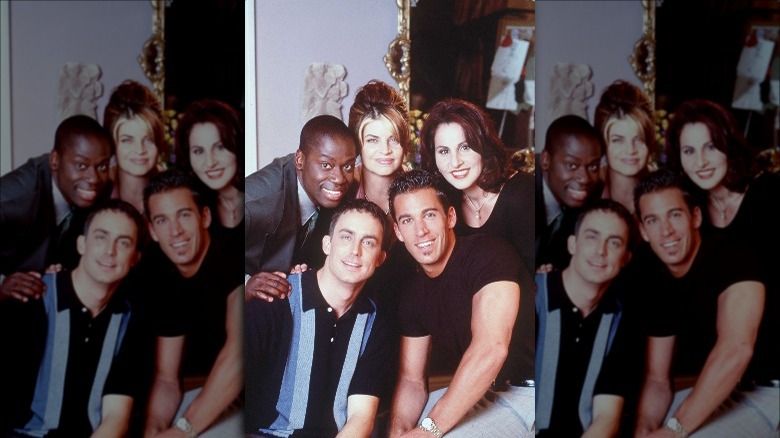 Getty Images/Getty Images
Wallace Langham denied that the reporter's sexual orientation played a part in their altercation in any way and said he is a supporter of LGBTQI+ rights, according to The Associated Press. On March 17, 2000, Langham pleaded no contest to misdemeanor battery after reaching a deal with prosecutors, who agreed to drop the hate crime charge in exchange for the plea, The Buffalo News reported at the time. Langham was sentenced to 450 hours of community service at three LGBTQI+ charities. He was also ordered to donate $10,000 to the Los Angeles Gay and Lesbian Center, a check he delivered in May of that year, and to cover the victim's medical bills, which amounted to $5,400, according to the Los Angeles Times. 
Speaking with the Irish Independent in 2009, Langham admitted he made a mistake, but lamented that the incident had tarnished his reputation. "There's not a lot of great press out there about me. It's unfortunate, all of that got taken care of and of course was a horrible incident and I made my reparations, I wronged someone," he said. Before entering his plea, Langham attempted to settle with the victim for an undisclosed six-figure sum, CBS News reported in January 2000. Prosecutor Michael Pizzuti said he would reject the settlement and press for the case to go to trial, the report detailed. "[W]ith certain types of crimes, we feel it's inappropriate to settle via a civil compromise," Pizzuti said.