Who Is William Petersen's Wife?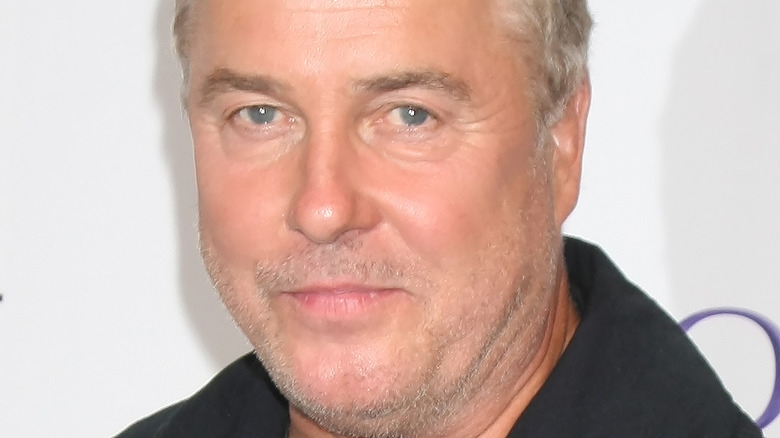 Kathy Hutchins/Shutterstock
William Petersen has been in the news lately because of CBS' reboot "CSI: Vegas," which begins on October 6. Peterson starred in the original series about forensic investigators, "CSI: Crime Scene Investigators," which ran from 2000 to 2015 and started a franchise for the network. Peterson played Gil Grissom, but left the popular television series in 2009, breaking the hearts of "CSI" fans. Now, the return of Grissom is generating fan obsession interest in the 68-year-old actor all over again.
The "CSI: Vegas" reboot has a mix of former "CSI" stars and new actors. Petersen and Jorja Fox will star in the reboot, with fan-favorite Wallace Langham making guest appearances, per Deadline. Petersen is also a producer for "CSI: Vegas," but in August, he was briefly hospitalized . Variety reported he was "exhausted from working long hours on the set of the show for the past 12 weeks."
When he left the original series after nine seasons, Petersen told CNN, "It's 'CSI' — they pay me a lot of money, and I don't have to work very hard anymore. I've got it all figured out. And I just realized, God, as an artist, I'm going to atrophy." Petersen wasn't joking when he mentioned the CBS show paid him well; Celebrity Net Worth reported the actor is worth $40 million! Since Grissom is back, fans want to know more about the "CSI: Vegas" star's life, including who is Petersen's wife?
William Petersen and Gina Cirone are parents to twins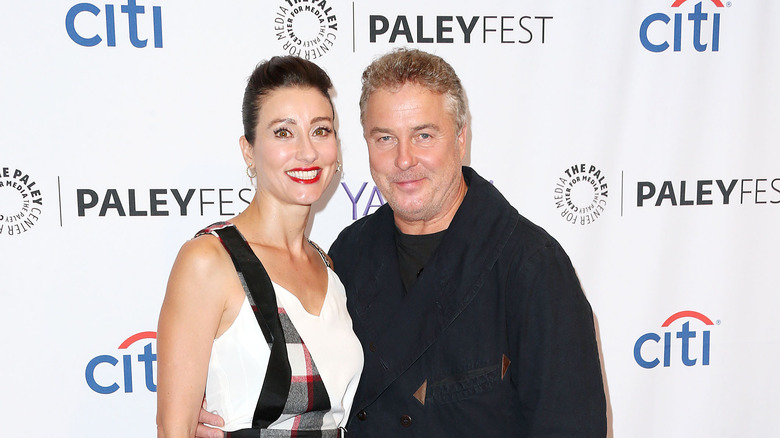 Frederick M. Brown/Getty Images
"CSI: Vegas" star William Petersen and his wife Gina Cirone have been married since 2003. The couple is very private, and there is little public information about Cirone. SheKnows reported that Cirone was a biology teacher, but there are no reputable sources on how Cirone and Petersen met or any details about her life.
In 2011, Petersen and Cirone welcomed twins to the world, according to The Hollywood Reporter. The couple's twins were reportedly delivered via surrogate, a boy and a girl. The babies were premature, but THR reported their health was getting better. When Petersen and Cirone's twins arrived, the "CSI" star was 58 and already a grandfather. Petersen's daughter from his first marriage, Maite, already had two sons when the twins were born. Petersen was married to Joanne Brady until 1981.
Cirone has an Instagram account but has only posted 18 times. It appears from an Instagram post that Cirone is putting her teaching skills to work with her children. She posted a photo of two homemade shields and swords; and wrote, "Homeschooling.Roman Empire #homeschooling #romanempire #homeschoolmom."
Gina Cirone is very private, but active in politics
As mentioned, Gina Cirone and William Petersen keep their personal life private. However, Cirone's Instagram account reflects she is interested and active in politics. Cirone has less than 20 posts on Instagram, but multiple about political and social causes. In August 2020, Cirone posted a selfie with then-Senator Kamala Harris at an event. Cirone's caption read, "@kamalaharris we have your back. Everyone line up in formation, we have an election to win!"
That same month, Cirone posted a video of then-Senator Harris asking then-Supreme Court Justice nominee Brett Kavanaugh questions. Cirone wrote, "Can you think of any laws that give the government the power to regulate a man's body? Senator Kamala Harris." But Cirone's Instagram shows she isn't just a political fangirl; she gets involved. She posted about an event for California representative Katie Porter.
Like any good partner, Cirone's Instagram feed has several posts that support Petersen and promote her husband's new show "CSI: Vegas." She let her husband give friends a shoutout on Instagram too — Petersen posted to his "CSI" friends, with a photo of the "CSI: Crime Scene Investigators" cast and the caption, "Happy 20th Anniversary #CSI! I was honored to have worked with many talented actors and crew. You became my family. Thank you to all the fans that watched and made the show a huge success. #CBS thank you for believing in us and @aezuiker for your creativity. Peace, Billy."