The True Story Of How Doug Emhoff Met Kamala Harris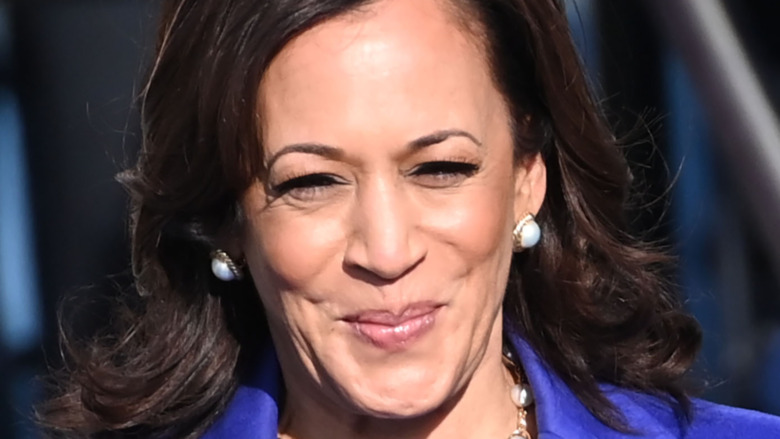 Bloomberg/Getty Images
We may receive a commission on purchases made from links.
Doug Emhoff is the first-ever second gentleman in American history. As the husband of Vice President Kamala Harris, the couple has made history. Emhoff and Harris married in August 2014, becoming a blended family that includes his two children Cole and Ella Emhoff.
Harris has been in the national spotlight since becoming a California U.S. Senator in 2017. Until 2021, Emhoff was a partner at Los Angeles law firm DLA Piper, and his legal expertise is in the areas of entertainment and intellectual property law. Emhoff and Harris are known for sharing their affection and support for each other in public. In a New York Times interview with the Emhoff children, Cole humorously described the couple. Cole said, "Doug and Kamala together are like almost vomit-inducingly cute and coupley. I'm like, When is this going to wear off?" Daughter Ella backed up her brother; she told the outlet, "It's like the honeymoon phase forever. Like, the rest of the world gets to see it on social media, but we live that."
As Americans got to know more about the couple during the 2020 presidential campaign, it became clear that Harris and Emhoff are each other's biggest fans. Emhoff took a leave of absence from his job when his wife was chosen as Joe Biden's running mate, and in 2021 the second gentleman left his law firm permanently to join Madame VP in Washington. Keep scrolling to learn the sweet story of how Emhoff met Harris.
Kamala Harris and Doug Emhoff met on a blind date
Vice President Kamala Harris met Doug Emhoff in 2013 when they were set up on a blind date by Harris' friend, Chrisette Hudlin (via People). Harris and Emhoff's love story is so sweet; it could be a movie. It's easy to see how much the couple adore each other and they have fun together. For example, during a January 2021 interview with CBS' "Sunday Morning," the vice president surprised her husband when she confessed that she Googled Emhoff before their first date.
During their interview with CBS' "Sunday Morning," Emhoff also revealed he left Harris a "ridiculous voicemail, which she has saved and plays back to me on our anniversary every year. I thought I'd never hear from her again. But?" The future couple met up in San Francisco on their date, and then Emhoff asked for a second date right away. In her memoir "The Truths We Hold: An American Journey," Harris shared that Emhoff sent her an email immediately after their date. Harris wrote that Emhoff's email said, "I'm too old to play games or hide the ball. I really like you, and I want to see if we can make this work." Aw!
After dating a year, Emhoff asked Harris to marry him in March 2014 (via The Knot). They got married in August the same year, and the rest is history!