How Doug Emhoff Just Stole The Show At Biden's Address To Congress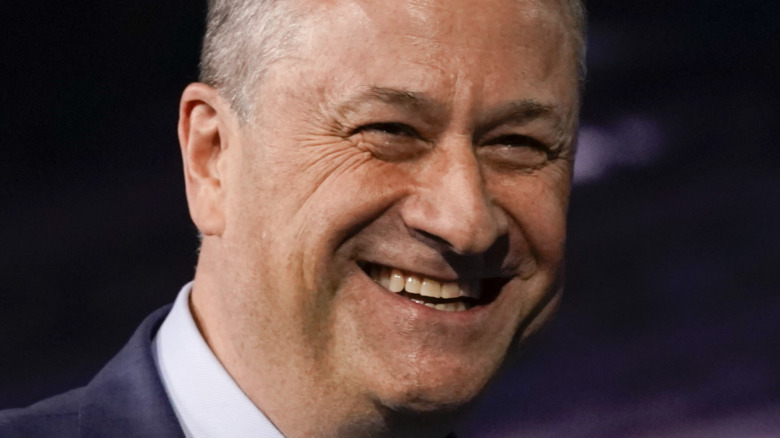 Bloomberg/Getty Images
President Joe Biden had a major first on April 28, 2021, when he spoke to Congress for the first time as president in a formal address. It's a monumental occasion, and if that wasn't enough, the speech made history for being the first time that the two officials at the president's side were women. As NBC News notes, House Speaker Nancy Pelosi and Vice President Kamala Harris flanked the president.
Biden's speech was a chance to address all that he has accomplished in his first 100 days as president and to look forward to what he has planned for the country. Of course, issues around the coronavirus came up, especially the vaccine. Not only that, but Biden also brought up his $1.9 trillion American Rescue Plan to help American people, according to The New York Times, that includes: affordable childcare, free community college, universal prekindergarten, federal paid leave, and topics related to health care.
While these are heavy subjects indeed, Harris' husband, Doug Emhoff, stole the show with the cutest moment of encouragement. Here's what happened in the lighthearted moment.
Doug Emhoff sets major marriage goals
While waiting for President Joe Biden's first address to Congress on April 28, 2021, one very important person was showing some major support. Vice President Kamala Harris' husband, Doug Emhoff, was sitting in the audience, and when he saw her come out, he enthusiastically waved to her, blew her a series of kisses through his face mask, then tapped his heart several times. It was quite possibly the cutest thing we've ever seen.
The tender moment was captured by a Twitter user, who added the caption: "DOUG SAYING HI TO KAMALA DURING BEFORE THE Presidential Address STARTS IS THE WHOLE CONTENT I WANT." Other people were all about the sweet moment on Twitter, too. One user tweeted: "Find someone who loves you like Doug loves Kamala." Another person said: "He is so proud," and added a crying emoji. "Husband goals. Find me one of these," another Twitter user added.
Emhoff has continued to be non-stop proud of Harris. In a joint interview on CBS Sunday Morning on January 17, 2021, Harris spoke about him and said: "The thing about Doug is that he is exactly who he is. He's just fully authentic and clear about the things he cares about. It's family, it's his work ..." Emhoff interrupted her to add, "You." Awww.