The Real Reason Jorja Fox Was Fired From CSI
Featureflash Photo Agency/Shutterstock
Jorja Fox first appeared as Sara Sidle on "CSI: Crime Scene Investigation" during the second episode of the debut season in October 2000 (per IMDb). Sidle was brought in from the San Francisco CSI team to help investigate the shooting of team member Holly Gribbs, and Sidle ultimately stuck around for quite some time. Still, the actor was actually fired from "CSI" at one point, although fans may not realize how tense that situation became.
When Fox joined the cast of "CSI," she had already tackled some heavy-duty gigs. She was on "Missing Persons" during the '90s and portrayed Dr. Maggie Doyle for nearly three dozen episodes of "ER." Fox's fans may also remember her from the handful of "The West Wing" episodes where she played Gina Toscano, a secret service agent. While she was recognizable to many television viewers thanks to those previous roles, it was "CSI" that really elevated her career. So why did she get fired?
Contract negotiations took a wild turn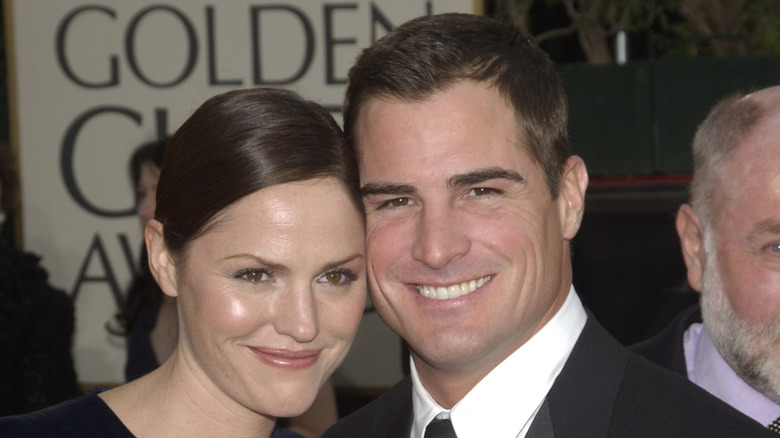 Featureflash Photo Agency/Shutterstock
In 2004, ahead of Season 5 of "CSI," Jorja Fox and co-star George Eads were both fired, noted Variety. The two had supposedly been playing hardball in hopes of receiving significant salary hikes. When both Fox and Eads were missing as the first table read for the new season began, CBS executives wasted no time in firing both of them. However, the situation was soon resolved and both actors returned to "CSI," at least for a while.
According to Variety, the issue at the time with Fox was that she had seemingly not returned a signed letter ensuring she would not miss work while she tried to renegotiate her salary. A representative for Fox insisted the letter had been returned to CBS, but she sent it via traditional mail rather than by fax. By the representative's account, the situation had all been a misunderstanding. Fox reportedly rejoined "CSI" making the same salary she had been earning before the issues, according to Variety.
Per Today, production of "CSI" had been halted due to both Fox and Eads' absence. Their absence came after offers from CBS that would have added a year to their contracts, along with a raise of $20,000 per episode. After they were both fired — and re-hired days later — they lost the offer that had previously been on the table. Fox told Entertainment Weekly, "It came completely out of the blue to be fired," and "I was pretty hurt and angry and confused" at the time.
Jorja Fox is back for more 'CSI'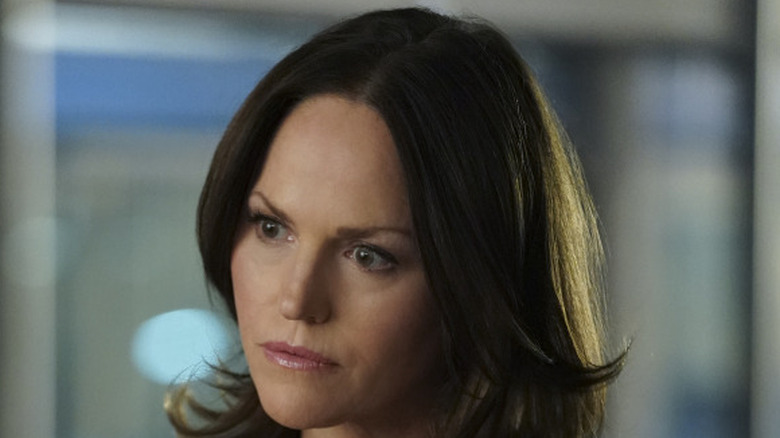 Sonja Flemming/CBS
Ultimately, Jorja Fox left "CSI" during Season 8, per Entertainment Weekly. "It's my call — and a very, very difficult one, something I've been thinking about for a long, long time," she told the outlet. Fox explained "CSI" was "a really intense place to work," especially with the violence depicted on-screen. She added she wanted to pursue both personal and professional dreams, and Sara Sidle's exit was written in such a way that Fox could return.
Fox had no plans to take on a series regular role on any other series, and as TV Line later detailed, she returned as a regular again for Season 12. Prior to that, she appeared in a few Season 9 episodes, and The Hollywood Reporter noted she did five episodes in Season 10 as William Petersen's character Gil Grissom departed. 
When "CSI" came to an end in 2015, Fox and Petersen were back as Sidle and Grissom reunited romantically and sailed off into the sunset (per The Los Angeles Times). Their story didn't end there, though, as Fox and Grissom signed on for CBS' new series "CSI: Vegas" (per TV Insider). Fox was hesitant, she told the outlet, because "I felt like the story left Sara and Grissom in paradise together." Ultimately, she couldn't resist as "getting to work with William Petersen again? They had me at hello!" She even teased the pair's relationship might be spicier going forward given the later time slot "CSI: Vegas" received on CBS.