Why Mandy Moore Is Done With Talking About Her Ex-Husband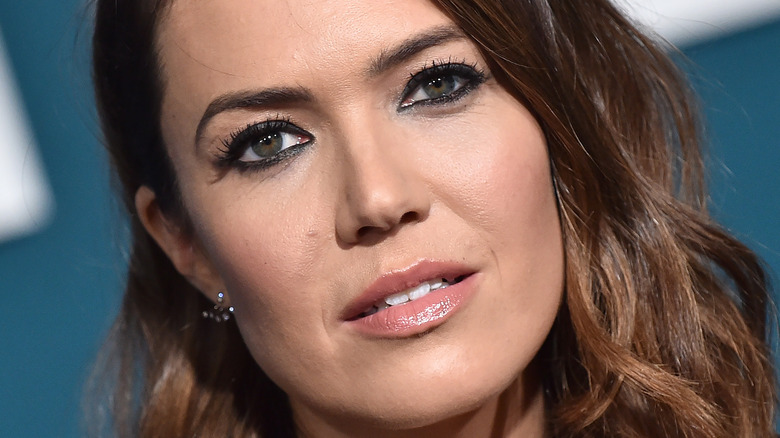 DFree/Shutterstock
Mandy Moore released her latest (and incredibly successful) album, "Silver Linings," in March 2020 after a long hiatus. For 11 years, the singer-songwriter didn't release any new music, focusing instead on her acting career and award-winning role as Rebecca Pearson in the NBC drama "This Is Us." In an interview with NPR shortly after the release of her seventh studio album, the "Fifteen" artist spoke about how happy she was to be making music again. Moore compared her careers in acting and music, stating that "there is a vulnerability in being able to express yourself as an artist with your music and your own words; you're not necessarily hiding behind a character." Being able to show her face to the world and share her own words had been missing in the "Tangled Ever After" star's life.
Things are looking up for Moore, who is happily remarried to musician Taylor Goldsmith after a public and nasty divorce from singer-songwriter Ryan Adams. In a December 2020 interview with Paste, she revealed that the experience of making music with her current husband is completely different than that of her ex. Moore feels supported and "lucky" to have Goldsmith by her side while enjoying an "equality" that she did not have with Adams. Moore has opened up in the past about the controlling and emotionally abusive nature of her relationship with Adams and how she has healed from the experience. Recently, Moore has taken one more step toward moving on from her ex entirely. 
Mandy Moore doesn't want Ryan Adams taking more of her 'life' and 'time'
Michael Kovac/Getty Images
In an interview with The New York Times in early 2020, "This Is Us" star Mandy Moore told the publication that she was "so done" talking about her ex-husband and fellow musician Ryan Adams. After opening up about the emotional and psychological abuse she suffered during her seven-year marriage, shortly following their divorce in 2016, Moore was tired of having things "be about him." She stated, "He's taken so much for so long from so many people. I can promise you he gets satisfaction being talked about in any capacity." Not only did she not want to give him the satisfaction of being talked about, but she also wanted to move him out of the spotlight of her life moving forward. "I'm so done with that person having taken so much of my life and my time," the singer said.
Moore's decision to stop talking about her ex falls in line with previous comments she made, particularly during a 2019 interview with Marc Maron on his "WTF" podcast (via USA Today). She mentioned that she had been "living [her] life for [Adams]" and "had no sense of self." The "A Walk to Remember" star was "lonely" and "sad" in her marriage and felt completely controlled in all aspects of her life. After so many years of unhappiness and abuse, it makes sense that Moore would no longer want to give Adams any space in her life, including by talking about him.
Inside the allegations against Ryan Adams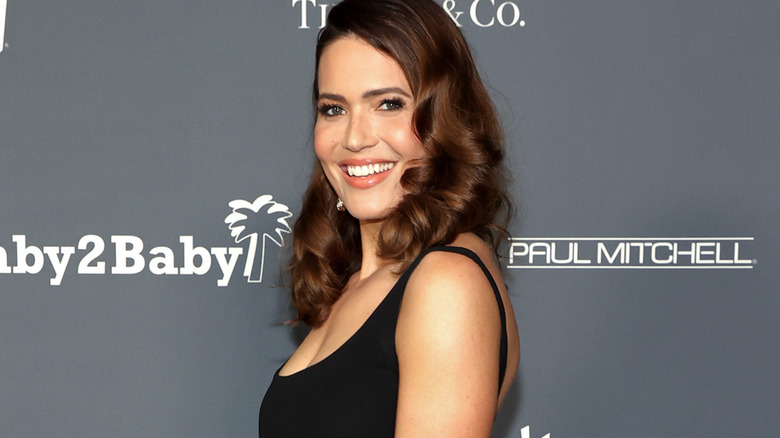 Amy Sussman/Getty Images
In 2019, The New York Times released an investigative piece into the abuse allegations against singer-songwriter Ryan Adams, in which Mandy Moore spoke out about all she had endured during their marriage. Those who came forward to relay their experiences with Adams spoke of a general manipulative and tit-for-tat attitude, in which the "Come Pick Me Up" artist allegedly pushed younger, female artists for sexual favors in exchange for his assistance in advancing their musical careers. He also reportedly pursued an underage artist for a sexual relationship, exchanging explicit messages with the 16-year-old bassist while painting a picture of the fame he could help her achieve. 
Moore gave more details about the nature of her relationship with Adams during the NYT investigation, stating that her ex would belittle her and tell her she wasn't a "real musician" while preventing her from advancing in her music career. When others started coming forward with their own stories, the "Only Hope" artist was able to create a support system that helped her process all that had happened.
The results of the NYT piece were justifiably devastating for Adams, who lost his career in music and the majority of his friendships despite attempts to apologize for his actions. In a 2021 interview with Los Angeles Magazine, he spoke about the public attitude towards him at the time. "I felt like they were asking me to die," he said. Currently, the artist is trying to redeem himself through his music.
If you or someone you know is dealing with domestic abuse, you can call the National Domestic Violence Hotline at 1−800−799−7233. You can also find more information, resources, and support at their website.
If you or anyone you know has been a victim of sexual assault, help is available. Visit the Rape, Abuse & Incest National Network website or contact RAINN's National Helpline at 1-800-656-HOPE (4673).