What We Know About Netflix's Selling Tampa
Move over, Oppenheim Group! A new brokerage is about to dominate everyone's screens. On Monday, November 22, Netflix revealed that, in addition to showcasing a brand new season of "Selling Sunset," the streaming giant is also releasing a spinoff of the hit reality series. And no, we're not talking about "Selling The O.C." The series is branching off in an entirely new territory way beyond California.
In a new teaser released by Netflix, the OG cast of "Selling Sunset" were clad in stunning all-white outfits and strutted on a rooftop somewhere in Los Angeles. Jason Oppenheim, who is now the sole head of the Oppenheim Group, suddenly showed up with a key in hand, which he then threw all the way to Tampa.
Yup, you read that right. The new "Selling" installment will be based in the famous Florida city, and it will be managed by the real estate firm Allure Realty. The best part is the company is staffed by an all-woman, all-Black team headed by its founder, female veteran Sharelle Rosado (pictured above). It's a far cry from the Oppenheim Group, which was run by two men (Jason's twin and business partner Brett Oppenheim stepped down to start his own firm) and a staff of white salespeople. But when can fans expect to see the new "Selling" team on their screens?
'Selling Tampa' will debut sooner than you think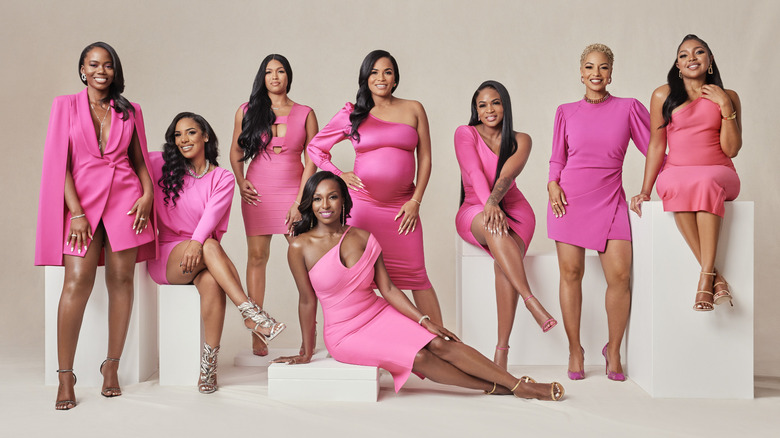 Netflix
The highly anticipated fourth season of "Selling Sunset" will be released on Netflix on November 24 just in time for Thanksgiving binge-watching. But don't worry, as "Selling Tampa" will premiere not long after. It will be on viewers' screens on December 15, with eight exciting episodes, per Entertainment Tonight.
According to Netflix, the series will showcase Allure Realty and how they operate to conquer the Suncoast. "These ladies are equally as fun as they are fiercely ambitious, with all of them vying to be on top of the lavish world of luxury waterfront real estate," the synopsis read. "Sharelle has big plans for her brokerage and won't let anyone or anything get in the way of making her dreams a reality."
In an interview with Creative Loafing in September, Rosado also shared that she and her team hope to take the business to a new level on the show. "Viewers are going to see powerful minority women stepping into luxury real estate. This shows anyone as long as you work hard and no matter what, you can do it," she said. "When I opened this business, I wanted to take it to the next level. Now, I want to go bigger." We cannot wait to see a group of go-getter women show us how real estate should be done!