Why Did Jimmie Allen's Two Babies Get Turned Away At The Hospital?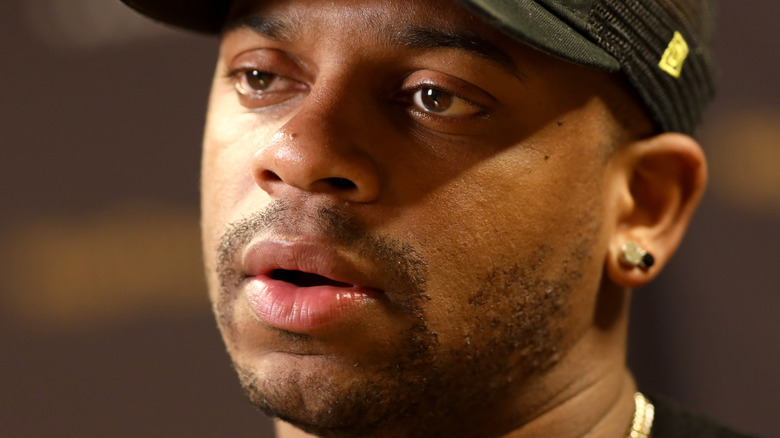 Rich Polk/Getty Images
Jimmie Allen's wife, Alexis Gale, is sharing the harrowing story of how their two children were apparently turned away from a hospital, despite being ill. The country star and his wife are parents to two daughters, Naomie, born in March 2020 and Zara, who the two welcomed in October, while Allen is also dad to a son named Aadyn from a previous relationship.
Former "American Idol" contestant Allen opened up about the extra special time Naomie was born back in March 2020, telling Chuck Wicks and Trisha "T.J." Jenkins on "The Ty Bentli Show" how he got his daughter and a number one song on the same day. "I though getting a number one was going to be the best part of my day, but then my daughter, Naomi, was born," the "Dancing with the Stars" 2021 contestant teased, referring to his track, "Make Me Want To," hitting the top spot (via The Country Daily).
Around 19 months later and the two were celebrating again with the arrival of their second daughter. People confirmed on October 16 that Zara had been born that morning, as the happy parents shared a sweet snap of Aadyn holding her while Naomi looked on to the Instagram account @itstheallenkids that same day.
But just over a month later and the two were sharing much less heartwarming — and downright terrifying — news on social media.
Jimmie Allen's daughter 'stopped breathing'
Alexis Gale took to Instagram on November 21 to share that she and Jimmie Allen's two daughters were ill and refused help at the hospital. In a disturbing message posted to her Story, Gale, who is a nurse herself, claimed their girls were "turned away" by an unnamed hospital at 2 a.m. (via Us Weekly). 
She claimed because they weren't "blue at the lips" the medical professionals couldn't provide "answers," adding, "Not one doctor has taken the time to actually listen and make sure she's really OK... What this nurse mama is seeing/hearing is so frightening." Gale didn't provide further details on the children's symptoms, but explained she had "two sick babies."
Allen — who's had his own health scare — has since taken to Twitter, writing on November 23, "Attention Doctors , if the parent of your one month old patient tells you the child having a hard time breathing and the only thing your lazy self wants to do is check [her] heart and temperature find another career. Your job is to save lives so do it."
In a follow-up tweet, he claimed "lazy doctors" at a Tennessee hospital sent his daughter Zara home where she "lost color stopped breathing" before being "rushed to another hospital." Thankfully, she was helped by an "amazing EMT team," but the country star noted it would "be a rough night."
We're sending our very best to the Allens at such a difficult time.