The Real Meaning Behind Kid Rock's Dont Tell Me How To Live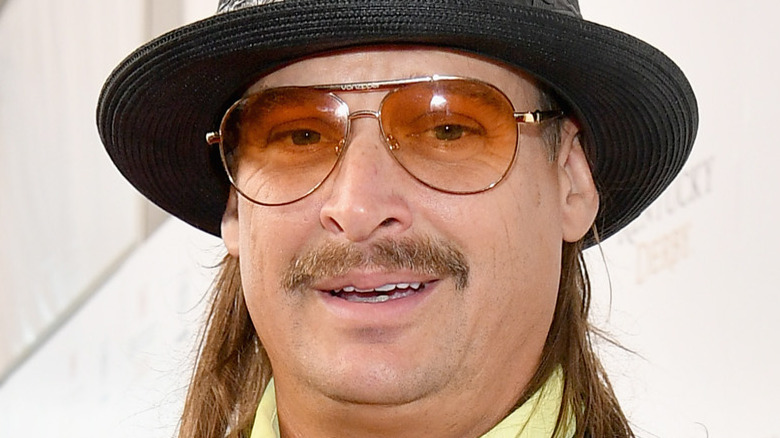 Dia Dipasupil/Getty Images
His name is Kid Rock. Where would we be as a society had it not been for Kid Rock's musical contributions back in the day? Arriving in the late 1990s when rap-rock was booming, Rock served as a harbinger for the musical apocalypse that would follow in the years after. With his bouncy flows, politically incorrect lyrics, and unapologetic demeanor, Rock set the standard for the rap-rock and nu-metal revolution.
Surrounded by contemporaries in Limp Bizkit and Korn, the trio (amongst others) spearheaded a polarizing sound that infused hip-hop and punchy heavy metal. Some may have thought it was corny, but the popularity of the genre was seriously through the roof during its heyday. Just look at the size of the crowd Rock played to at the Summer Sanitarium Tour in 2000!
It's no secret that Rock is a country boy who grew up with conservative values. With tracks like "American Bad A**" under his belt, the rap-rocker has made his political leanings clear from the very jump. It was a move that worked very well in the early 2000s with post-9/11 patriotism running wild, but today, Rock has fallen out of favor with many. Fortunately for him, however, he doesn't seem to care. His latest track, "Don't Tell Me How To Live," says it all.
Kid Rock cancels cancel culture on Don't Tell Me How To Live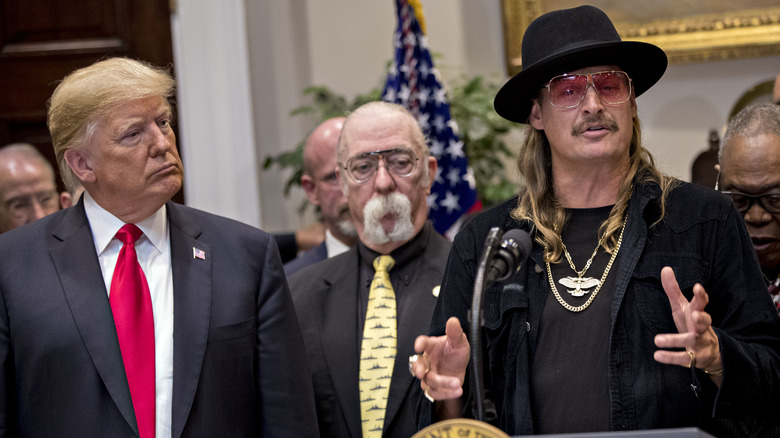 Bloomberg/Getty Images
Kid Rock is back and he's as vulgar as ever. "Don't Tell Me How To Live" is Rock's first release since 2017's "Sweet Southern Sugar." Accompanied by a music video, the musician slams the left, as well as "snowflakes" and the "offended," in his latest output. The video begins with Rock watching news from across the spectrum, utilizing several conservative dog-whistles such as masks being portrayed negatively and a headline that reads "KID ROCK RACIST?"
Kicking off with an emphatic "F*** all you h**s / Detroit till I die m**********r / Talking all that b******t / Ain't nobody gonna tell me how to live" (via Genius), viewers and listeners are immediately set for a treat (depending on your definition of the word) by the singer and featured band Monster Truck. The vulgarity continues to run roughshod as Rock verbally berates anyone who doesn't see eye-to-eye with his conservative values.
And despite the singer being offended himself, the song is written to criticize — you guessed it — the perpetually offended. And what true conservative wouldn't chastise the upcoming generation? "A nation of p*****s is our next generation / And these minions and their agendas / Every opinion has a millennial offended," says Rock. More conservative dog-whistles follow as he evokes the Constitution, stating, "But this amendment one, it rings true / And if you don't dissent, b***h, then see number two" — the latter referring to the one about guns.
Kid Rock's new video features thought-provoking imagery abound
"Don't Tell Me How To Live" wouldn't be a true conservative anthem without an accompanying music video. But don't get it twisted — this isn't some mid-2000s "Beers, boobs, and bald eagles" montage. No, these are real, raw, modern-day conservative values in action! Lambasting the "fake news" (his words, unsurprisingly), the music video is rife with plenty of reporting-related and anti-left imagery.
Throughout the video, Kid Rock raps and gyrates in front of a green screen that plays various blurred-out images of newscasts — some of which prominently feature "The View" host Joy Behar. If you recall, Rock has had a storied history with Behar, calling her a "b***h" on a 2018 Fox News broadcast (via Yahoo). Hosts Steve Doocy and Ainsley Earhardt apologized for the outburst as did Rock, but the singer only apologized "for the language, not the sentiment."
Further media outlet references include Rock dancing in front of the American flag and hanging at a bar with a guy wearing a "Make America Kid Rock Again" hat. CNN and MSNBC logos are also pictured throughout. According to Media Bias/Fact Check, both CNN and MSNBC have a left bias, much to Rock's dismay. Fittingly enough, the video concludes with Rock blasting off to Mars with a giant, phallic-shaped middle finger. "America, f*** yeah!"