Melania Trump Shows Off Her Sensitive Side In Letter To Students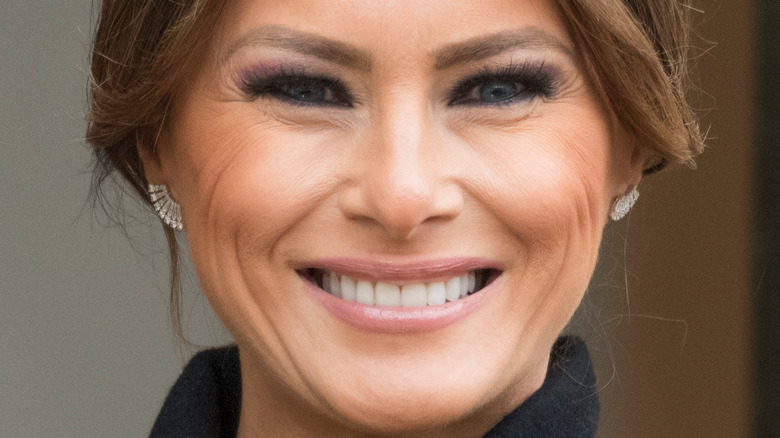 Frederic Legrand - COMEO/Shutterstock
Melania Trump wasn't exactly well known for her warm persona during her time in the White House as the first lady during her husband, Donald Trump's, single term as president and beyond. Melania has been constantly called out in the media for her, well, more controversial choices (who could forget that infamous "I really don't care do you?" jacket) and her quickly fading smile. Melania has seemed equally less enthralled with her own husband on multiple occasions, with many videos showing the star refusing to hold hands with Donald and even pulling her hand away from his.
Obviously, not everyone likes PDA, of course, and it sounds like Melania — who's mom to Donald's son Barron, born in 2006 — maybe just likes spending time in her own company. "I don't know any couple that spends as much time apart. They are often in the same building, but nowhere near each other," Mary Jordan wrote in her 2020 biography about Melania, titled "The Art of Her Deal: The Untold Story of Melania Trump." Jordan claimed Melania had "her own little spa" during her time in the White House and "likes to be isolated. She is a loner. He is a loner. They're perfectly happy to be separated."
But now Melania is proudly showing off her warmer side with a very sweet gesture to a class of students alongside her husband.
Melania Trump and Donald's note to a child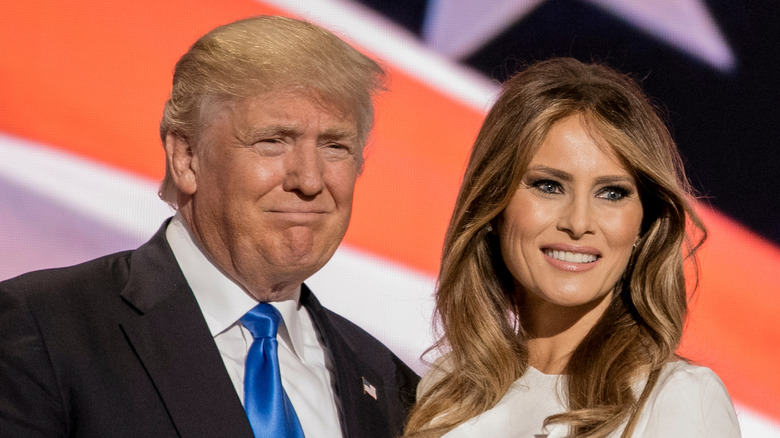 Mark Reinstein/Shutterstock
Melania Trump's maternal side came out when she and her husband, Donald Trump, sent a sweet letter to a Kansas school. In a sweet post on Facebook on November 16, Colby Public Schools shared a photo of a letter from the former president and first lady sent in response to one they received from a student. The class was tasked with writing "handwritten notes to former teachers, people who have influenced them or even celebrities," according to a September Facebook post.
The touching note from the Trumps was typed but seemingly signed by hand. It read in part, "Thank you for your wonderful letter. We are inspired by your kind words and heartened by your support" and encouraged the recipients to "do your best each day, enjoy learning, and never, ever give up."
Melania in particular has been pretty vocal about her love for children over the years, including supporting initiatives for young people during her stint as first lady. In 2018, she launched the Be Best program, which aimed to aid children in an ever-changing social media landscape. "As a mother and as first lady, it concerns me that in today's fast-paced and ever-connected world, children can be less prepared to express or manage their emotions," she said at the time (via The Guardian). "I feel strongly that as adults, we can and should be best at educating our children about the importance of a healthy and balanced life."