The Real Reason Teyana Taylor Was Hospitalized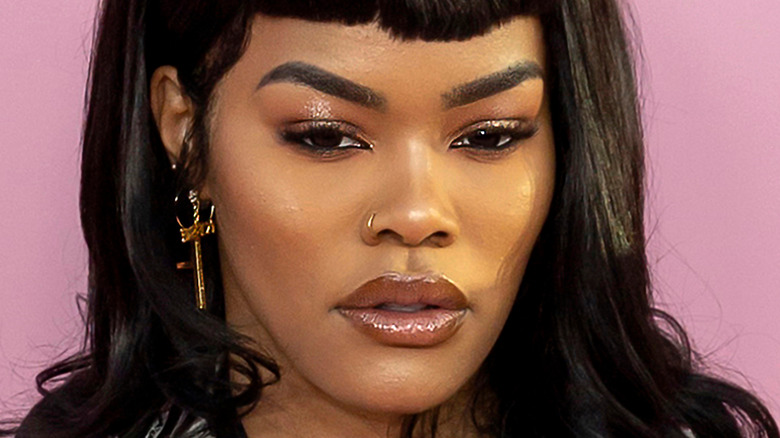 Ovidiu Hrubaru/Shutterstock
Teyana Taylor is on the last stretch of her musical career. On September 22, the artist took to Instagram to announce that the November "The Last Rose Petal... Farewell Tour" would be her last. "How lucky am I to have something that makes saying goodbye so hard.... However for every goodbye God makes the next hello closer," Taylor captioned the post. Back in December 2020, Taylor shared on Instagram that she planned to retire because of constantly feeling "under appreciated as a artist." After she clarified that her post was a "warning" to her record label, as NME reported, Taylor confirmed on BET's "Sip 'N' Smoke" in April that she was, indeed, retiring. "I think for me, I put in a lot of work. I work very, very hard. So, If you feel unheard and unseen ... I take that sh*t serious," she said.
But Taylor planned to go out leaving everything she has on the stage — and she's shown incredible will to perform. Back in 2017, the "We Got Love" singer delivered an energetic performance at "VH1 Hip Hop Honors: The '90s Game Changers," which was made even more memorable because she did it with a broken foot, as The Dallas Morning News noted. Considering her history, fans were understandably worried when Taylor canceled her show on November 27 at the last minute. Turns out, the artist suffered a health scare that no one should ignore.
Teyana Taylor said her body 'just gave out'
On November 28, Teyana Taylor explained to her Instagram fans why she was unable to perform in Connecticut the night before. The musician uploaded a photo of herself lying in a hospital bed and included a caption in which she said that her "body simply just gave out," adding that her symptoms had started a few days earlier. "SHUT DOWN, my body actually low key betrayed me cause ah b*tch was tryna get on that stage," she wrote. 
Taylor noted that she takes pride in performing even when she isn't feeling her best, but that this episode served as a wake-up call. "But honestly you have to listen to your body and know when to sit down; or it will definitely sit you down..... in the ER," she noted. Taylor added that she has received "proper fluids and nutrients," and that she will continue to rest for at least a few days. The singer also assured her fans that she will reschedule the show. 
Earlier this year, Taylor had another health scare. In an August episode of "We Got Love: Teyana and Iman" (via Billboard), she revealed she had surgery to remove lumps from both of her breasts. "I just want this to be the last time I go through this. Cancer runs through my family, so it's a scary thing both for me and [husband] Iman [Shumpert]," she said in the episode.