Inside Olivia Munn's Relationship With Kacey Musgraves' Ex-Husband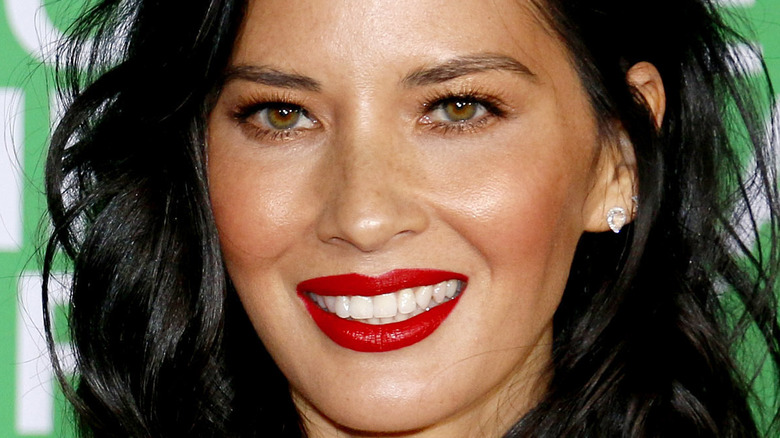 Tinseltown/Shutterstock
Olivia Munn is no stranger to public scrutiny about her relationships with celebrity men — particularly, when it comes to their exes.
Munn's relationship with comedian John Mulaney got the internet buzzing this year, when it was revealed that they began dating in May — the same month that Page Six reported Mulaney and his wife of six years were getting a divorce. And, in September, fans accused Mulaney of moving on far too quickly after he revealed he and the "X Men" star were expecting a baby, per Us Weekly. The timeline of the Munn-Mulaney relationship has been speculated by netizens who think "The Predator" actress could have been the other woman in Mulaney's marriage. Despite their romance moving so fast, there's been speculation that the new couple is already on the rocks.
Munn explained in a recent interview with the Los Angeles Times that she won't speak up about the specifics of their relationship ahead of their baby's arrival. The star seems focused on keeping some things private, including whether she and her new man are officially still together or not. As Munn now shares a new bond with the future father of her child, fans are thinking about a time she buddied up with another famous divorcée, singer Kacey Musgraves' ex Ruston Kelly.
Olivia Munn once got close to Kacey Musgraves' ex-husband, Ruston Kelly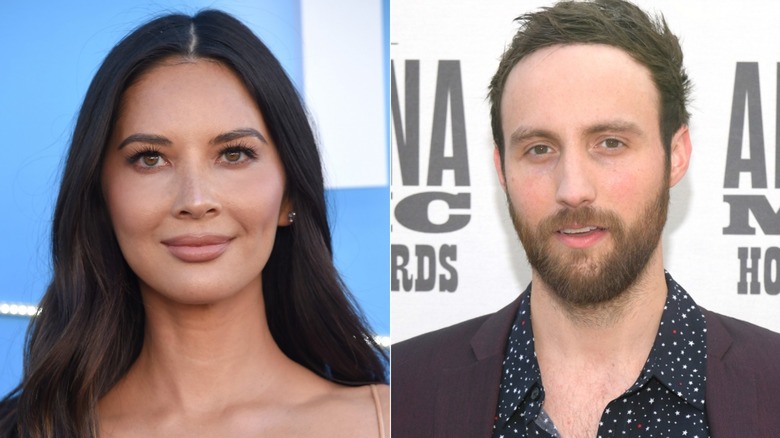 Shutterstock, Jason Kempin/Getty Images
Similar to her first outings with John Mulaney, Olivia Munn was spotted with Ruston Kelly a short time after he got divorced. Kelly and then-wife Kacey Musgraves called it quits after two and a half years together, releasing a statement about their split through the Associated Press in July 2020. Later, in December 2020, Kelly and Munn were spotted in a woodsy location with a mutual friend, taste-testing macarons, playing cards, and jumping on a trampoline, which the actor posted on Instagram, per the Daily Mail. 
This encounter, despite not showing anything more than friendship, set fans' tongues wagging. And according to the Daily Mail, fans even suggested that Musgraves unfollow Munn after the posts. But the speculation about their pairing fizzled when no further buzz was generated between the two. Not to mention the fact that the actor soon had something to say about Kelly's next relationship...
This is how Olivia Munn reacted to Ruston Kelly's new girlfriend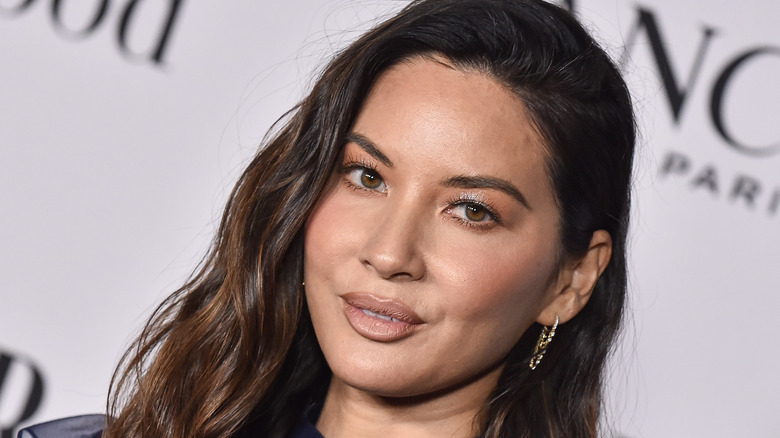 DFree/Shutterstock
Dating rumors totally stalled when Olivia Munn congratulated Ruston Kelly on his new girlfriend in May. In fact, the actor appeared happy for Kelly when he revealed his new lady, Tori Barnes, on Instagram. "Cute couple," Munn commented, adding the heart-eyes emoji (via Hollywood Mask).
Barnes and Kelly appear to be smitten with one another, based on their social media. Plus, around the time that Kelly revealed his new love, news broke that Munn and Mulaney had paired up. It seems even if Kelly and Munn did have a fling, it's definitely in the past.
However, at least one fan is hoping for a reconciliation. An eagle-eyed TikTok user thinks that Munn may still have eyes for the musician based on an Instagram comment she left for the singer-songwriter. "Of COURSE they're friends," the TikToker captioned a screenshot of Kelly's Instagram. In the screenshot, Munn commented on Kelly's birthday post, writing: "Love this vibe for you." "What was that?" the TikToker joked.