For Every Time Tiger Woods Has Been Controversial, This Moment Stands Above The Rest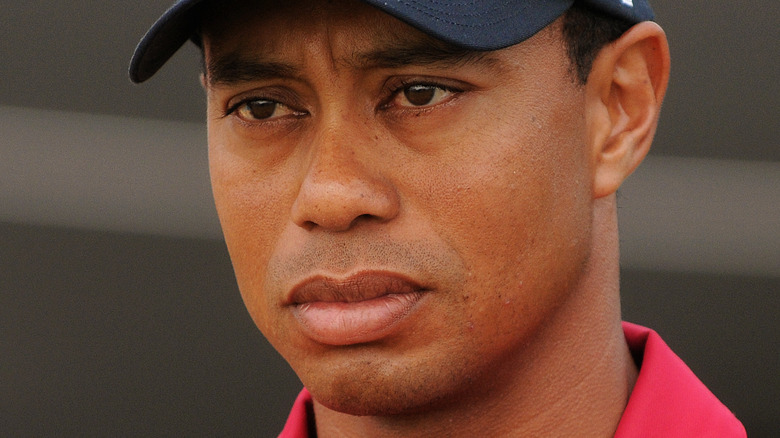 Tony Bowler/Shutterstock
Even if you're not familiar with golf, chances are you know who Tiger Woods is. Essentially the poster boy for the sport, Woods has attained innumerable accolades through his exemplary playing on the green over the past few decades. Tied with legend Sam Snead for most PGA Tour wins (via Athlon Sports), Woods has risen to become one of the most decorated athletes in sports history and has helped thrust golf into the mainstream since his rise in the 1990s.
Going pro in 1996, Woods was just 20 years old when he hit the green sans PGA Tour victories. On top of that, he had immediately signed endorsement deals totaling $40 million, leading many to speculate what Woods' true intentions were with the sport. But as time has shown, it was never about the money for the legend, but about the sport. After making his debut, Woods would go on to endure a sophomore slump, but shortly after, he truly began to hit his stride.
From 1998 through the 2000s, Woods not only excelled at his game, but he also dominated everyone else in his path. Fansided even conducted a mathematical experiment that proved Woods to be leagues ahead of his contemporaries and legends of yesteryear at his peak. Eventually, however, all good things come to an end — and as Woods descended, the star became mired in controversy. Between car accidents to extramarital affairs, this is the most controversial moment of Tiger Woods' career.
Tiger Woods' infidelity caused a chain reaction leading to his downfall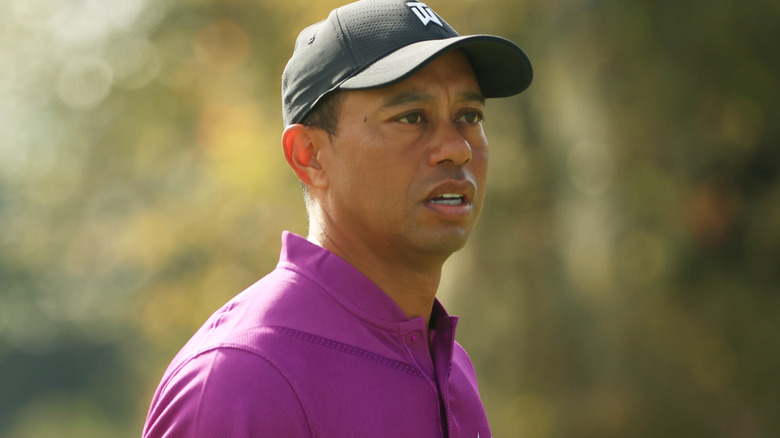 Mike Ehrmann/Getty Images
November 2009 was probably the hardest month of Tiger Woods' life. The legendary golfer, who dominated the sport in the 2000s, experienced a fall from grace so dramatic that it's still talked about more than a decade later. Tying the knot with Elin Nordegren in 2004, Woods' marriage fell apart five years later when it was revealed he had an extramarital affair. The tumultuous saga was kicked off that fateful November when the National Enquirer revealed a salacious relationship between Woods and "New York City party girl" Rachel Uchitel. It was that report that ultimately set Woods off on a years-long downward spiral, and matters only got worse shortly after.
Days after the exposé, Woods crashed his SUV in the wee hours of the night (2:25 a.m. EST, to be exact). The accident occurred outside of Woods' Isleworth, Florida mansion when he lost control and hit a fire hydrant, ultimately crashing into a neighbor's tree. Despite the rumor mill swirling his affair at the time, police didn't "believe it [was] a domestic issue" and it was revealed that Nordegren was the one who saved Woods (via ESPN)
Police chief Daniel Saylor noted that she "broke the back window [of Woods' Cadillac] with a golf club" and "got him out and laid him on the ground" as "he was in and out of consciousness when my guys got there."
Tiger Woods allegedly had several mistresses beyond Rachel Uchitel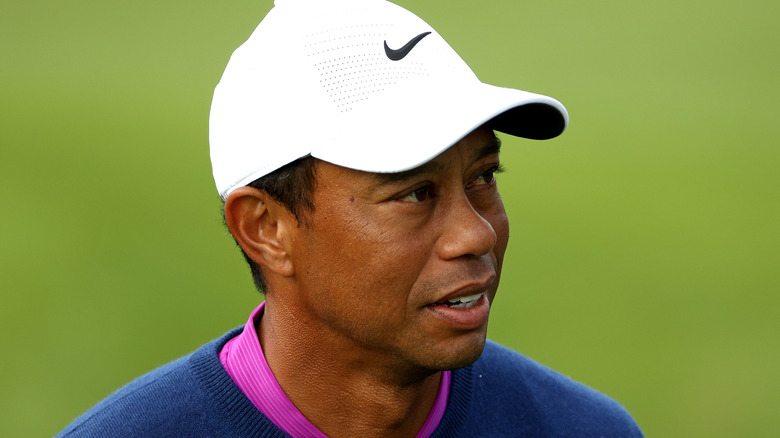 Patrick Smith/Getty Images
Following the reveal of mistress Rachel Uchitel by the National Enquirer and his disastrous car crash, the dark side of Tiger Woods further unfurled later on. Per New York Daily News, Woods was engaged in extramarital affairs with up to eight women, including several pornographic film stars (namely Holly Sampson and Veronica Siwik-Daniels). Perhaps the most notable one of all, however, is Jaimee Grubbs — who the Daily News reports was the first to come forward with their affair.
At the time, the New York Post even obtained text messages that were exchanged between the two, in which Woods discusses her "naked body" being a "present". Grubbs even gushed over Woods, writing that "you always make me smile and I am not afraid to be myself or say anything to u," adding that "the day I met u I thought u were going to kick me out a few times but for someone reason you didn't."
On the other hand, the Daily News notes that most of the other mistresses declined to comment on the affairs. Woods later apologized for what he called "transgressions." Via Reuters, without directly acknowledging the affairs, Woods stated that "I have not been true to my values and the behavior my family deserves" and further noted that "I have let my family down and I regret those transgressions with all of my heart."