How Many Grandchildren Does Sidney Poitier Have?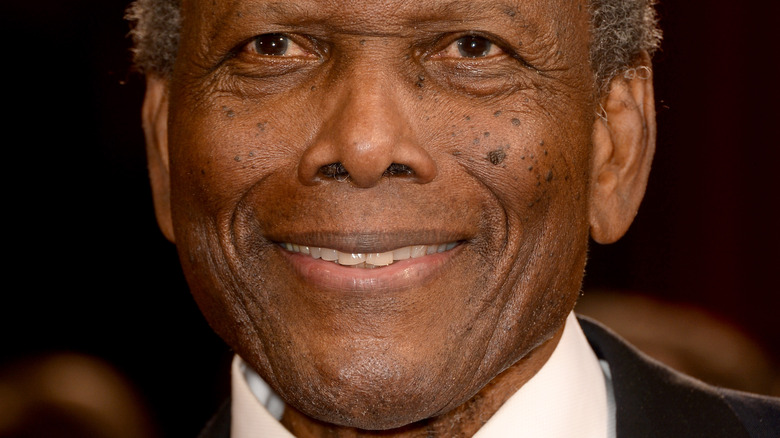 Frazer Harrison/Getty Images
We may receive a commission on purchases made from links.
Sidney Poitier has done so much for the entertainment industry and broken numerous barriers for Black actors. His iconic roles in films are seemingly endless and include  "Guess Who's Coming to Dinner," "Porgy and Bess," "A Raisin in the Sun," and "Lilies of the Field," via IMDb. His role in the latter won him an Oscar for Best Actor in 1964 and he became the first Black actor to win in that category (via The Hollywood Reporter).
Poitier's life has not been all film sets and movie studios, however — as he has a large family that he is very dedicated to. That dedication is so profound that, in 2008, Poitier published the memoir "Life Beyond Measure, Letters to my Great-Granddaughter" which focuses much less on his profound career and more on his life so his great-grandchildren will know him, per the Associated Press (via TODAY).
He spoke of the day in December 2005 when he met his first great-granddaughter Ayele: "I saw that I was in a room of four generations. I would soon be 80, and Ayele was one day old. I realized that the time between us would be short. I decided I would write a book in the form of letters so I could cover everything that I've felt and learned, and talk to her about things that I don't understand," he said. Passing on his wisdom to his family is clearly special to Poitier. So, how many grand and great-grandchildren does he have?
He now plays grandfather in real life (to put it lightly)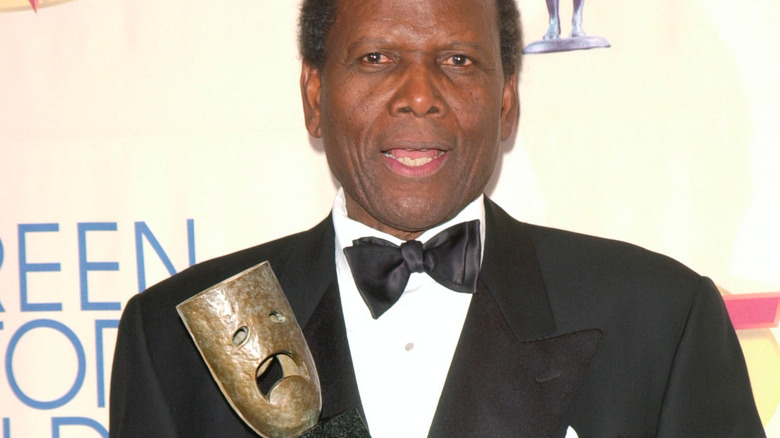 Featureflash Photo Agency/Shutterstock
Sidney Poitier officially retired from acting and directing after 56 films when he was " obliged to myself to quit," as he told the Associated Press (via TODAY). Despite that, he still fields acting offers but he says he's now "playing the role of the grandfather and the great-grandfather in his real life." That is no small role either, as he has eight grandchildren and three great-grandchildren (via Movie Cultists).
His loved ones call him Papa or, jokingly, refer to him as "Big Sid," as his godson Mike Jordan told Closer Weekly. Jordan went on to tell the outlet that "It's always interesting when we go out in public, even two-year-olds who have no concept of who he is recognize that he is someone. He's exactly who you think he is — the only difference is he curses a little more, but it's very dignified!"
There is a wide range of ages amongst his grand and great-grandchildren with some in their 40s and others still in grade school, but they most gathered together in 2017 to celebrate Poitier's 90th birthday (via The Hollywood Reporter). Of the 11, ten were present for the party: Etienne Gouraige, Guylaine Gouraige, Gabrielle Gouraige, Sydney Ayele LaBarrie, Aisha LaBarrie, March, Kai LaBarrie, Paloma, Kai LaBarrie and Sunny Plum.
Poitier is 'a really, really good dad' to his six daughters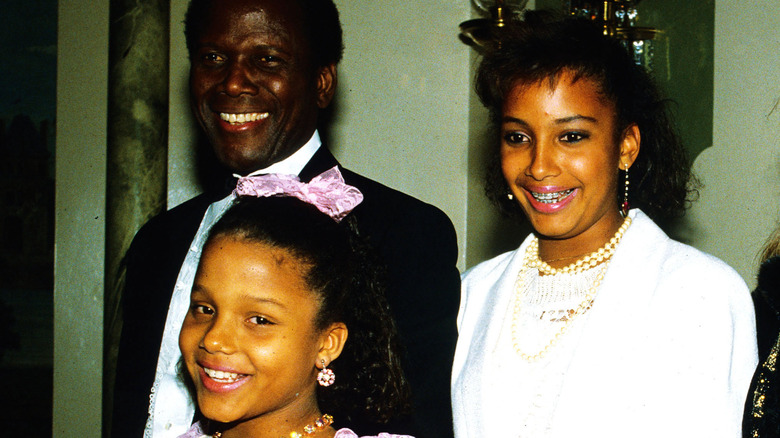 Yvonne Hemsey/Getty Images
Raising six daughters, per The Associated Press (via TODAY), gave Sidney Poitier plenty of silly moments to flex his fathering chops even in public. His daughter Sydney Tamiia told The Hollywood Reporter: "We would put barrettes in his hair and then we'd make him call room service. So room service would come and he'd have to open the door with pink barrettes and lipstick on." She later added, "We're blessed to have him as a dad. The world knows him as this iconic, legendary, historical figure. But he's also just a really, really good dad."
The sentiment for Poitier's character is shared by his wife of over 45 years, Joanna, who told The Hollywood Reporter at his 90th birthday party, "He is the most wonderful, generous, kind, honest man with the most integrity that I've ever known in my life."
In the 20 years since his retirement, Poitier has just really been enjoying his time with family, particularly his grand and great-grandchildren (via Closer Weekly). Even with all of his contributions to film and work as an artist, Poitier sees his family as his greatest achievement and legacy in the world. He told Closer Weekly, "Where I've invested most in the future of this planet," he says, "is through the lives of six talented and intelligent young women, truly beautiful human beings, whom I burst with pride to call my daughters."