Donald Trump Lashes Out At Meghan And Harry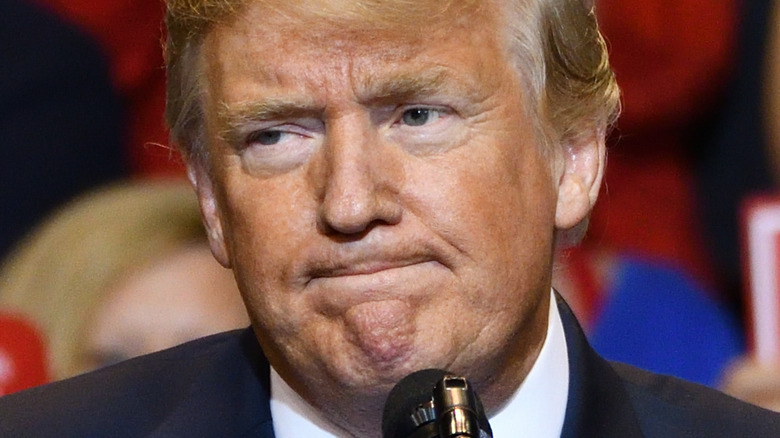 Evan El-Amin/Shutterstock
Donald Trump has made it pretty clear over the years that he's no fan of Prince Harry and Meghan Markle. In fact, after it was announced that the Duke and Duchess of Sussex would be stepping down from their roles as full-time working members of the royal family to start a new life for themselves in North America, the then-president was quick to dismiss reports that Americans would be paying for their security detail. 
"I am a great friend and admirer of the queen and the United Kingdom. It was reported that Harry and Meghan, who left the Kingdom, would reside permanently in Canada. Now they have left Canada for the U.S. however, the U.S. will not pay for their security protection. They must pay!" Trump tweeted at the time, according to the BBC. If that weren't enough, in September 2020, Trump said that he wasn't "a fan" of Meghan after she showed her support for his rival Joe Biden during the 2020 presidential campaign. The real estate mogul also remarked (via the Independent), "I wish a lot of luck to Harry, he's going to need it," implying that it was Meghan who he mostly had a problem with.
With that said, it shouldn't come as a surprise to anyone that Trump has taken yet another swipe at the Sussexes — this time, divulging his opinion about the intricacies of their relationship.
Donald Trump thinks Meghan Markle is 'using' Prince Harry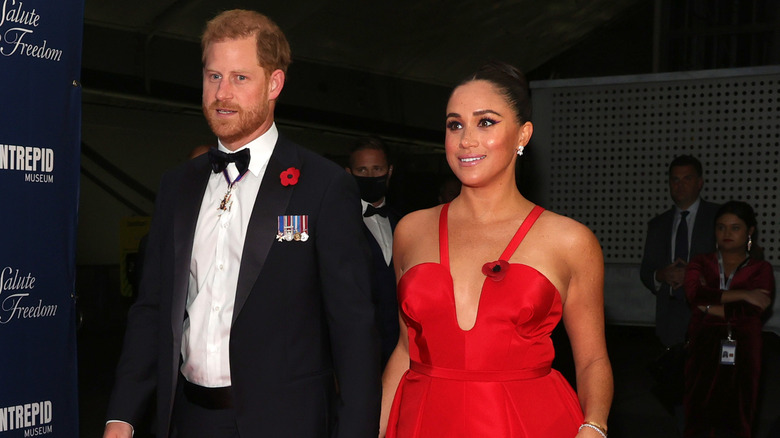 Dia Dipasupil/Getty Images
In an interview with Nigel Farage on Britain's GB News network, Donald Trump made some (more) headline-making comments about Prince Harry and Meghan Markle. Perhaps referencing the Duke and Duchess of Sussex's bombshell of an interview with Oprah Winfrey that took place back in March, the former president said he believed Meghan has been acting "disrespectful" towards her in-laws back in England, adding that he believes she might be using her husband Harry as a step ladder for fame. Trump said that he wasn't a fan of the former television star "from day one," while also stating his opinion on (via the Independent), "I think Harry has been used horribly and I think someday he will regret it. I think it's ruined his relationship with his family, and it hurts the queen." 
Harry and Meghan have never responded to any of the criticism they've gotten from Trump, and it's doubtful they'll say anything now. But seeing how Meghan reportedly has her own political ambitions — with the duchess even getting invites to exclusive events in Washington, D.C. — there's a chance that the Duchess of Sussex could end up running into the former president, seeing how they both allegedly have their eyes set on the same goal: a place at the Oval Office in the White House. It will be interesting to see who will make it there before the other.