All The Times Jennifer Lawrence Really Let Loose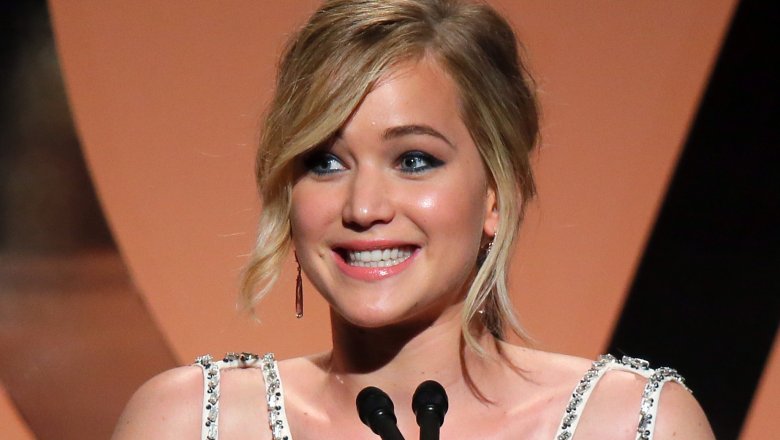 Getty Images
Jennifer Lawrence knows how to have a good time. Whether she's boozing it up at an awards show, oversharing on late night TV, or palling around in private with famous and non-celeb buddies, she's likely the least uptight star on the planet. Here are some of her most fun-loving (and sometimes awkward and gross) moments yet.
At the 2013 Oscars
In the press room at the 2013 Academy Awards, Best Actress winner Jennifer Lawrence was quite candid in explaining her process of getting ready for the big night. "I woke up, I tried on the dress, it fit, thank God ... I took a shower, I don't know, that's what I did ... then I got my hair and makeup done, and I came to the Oscars!" She added giggling sheepishly, "I'm sorry, I did a shot before I [came out here]. I'm sorry ... Jesus." When the interviews were over, she audibly chuckled, "Thank God!"
When she met Jack Nicholson
After the 2013 Oscars, screen legend Jack Nicholson crashed Lawrence's interview with ABC News anchor George Stephanopoulos. Lawrence fan-girled as Nicholson complimented her acting, then asked Stephanopoulos if the Shining (1980) star was still behind her. Soon, Nicholson approached again, telling Lawrence she looked "like an old girlfriend" of his. "Oh really?" she replied. "Do I look like a new girlfriend?"
Grinning, Nicholas said, "I thought about it," after which Lawrence lost it. When Stephanopoulos asked her what her most memorable Oscars moment was, she made a silly face and said, "That! That!"
When she met Jeff Bridges
Lawrence had zero chill when she met Oscar winner Jeff Bridges at San Diego Comic-Con in July 2013. Ben Lyons of Extra was chatting up Bridges when Lawrence spotted the actor. She began to approach, then ran away in a fan-girl panic. She eventually regained enough composure to come back once more, gushing apologetically. When Lyons handed her his microphone to ask Bridges questions, a rambling Lawrence asked who his favorite character he's played was and if the answer rhymes with "The Schmood," referencing The Dude in The Big Lebowski (1998). It didn't go quite as planned, but the outcome was pretty charming nonetheless.
When she discussed her bodily functions with David Letterman
In a November 2013 appearance on The Late Show With David Letterman, Lawrence got quite candid about her excretory system. 
"I thought I had an ulcer, and it turns out it was a f-ulcer ... I went to the emergency room. I just had this really bad pain for like three weeks and you can only, you know, s**t your pants so many times a day before you have to go to the emergency room, before you're like, 'I need to go to the hospital.'"
At an Oscars afterparty
In May 2014, Lawrence confessed on Late Night With Seth Meyers that she vomited at a swanky Oscars after-party hosted by none other than the Queen of Pop.
"This time [after the Oscars] I was like, 'I'm going out!' and I puked all over," she said. "There's this big fancy party, this Guy Oseary and Madonna party. If you get invited you're, you know, super important. And I puked on his porch. I was in such bad condition and I look behind me while I'm puking, and Miley Cyrus is there like, 'Get it together.'" 
She reiterated her "big puker" status in a December 2015 interview on The Late Show With Stephen Colbert, telling her host, "I puked yesterday. I'm a puker. I'm a big time puker. I think that I don't stop working, 'cause I'm a show pony. I don't have a choice, so I just keep going I think until eventually my body is like, 'If we don't make her barf or pass out, she won't stop.'"
When she met Kris Jenner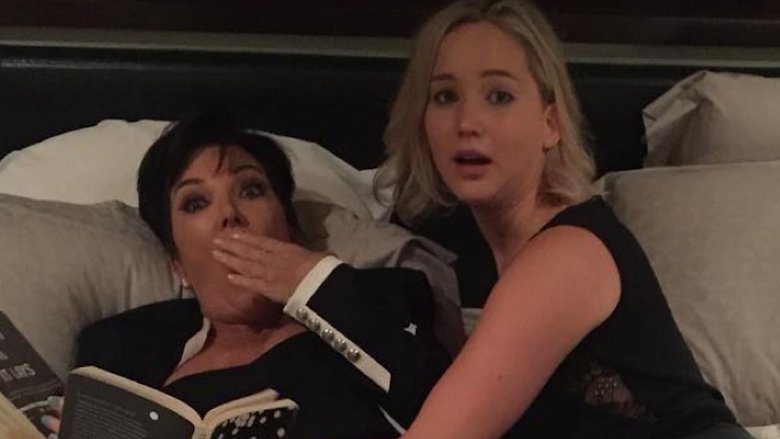 Instagram.com/krisjenner
A confessed reality TV junkie, Lawrence admitted that she almost lost her s**t when Keeping Up With The Kardashians matriarch Kris Jenner surprised her at her birthday party.
"My two best friends planned a surprise birthday party with a big surprise within the surprise," Lawrence told The New York Times in August 2015. "So I'm there, and people start singing 'Happy Birthday.' Kris Jenner comes out holding my cake, which is a pile of s**t, with a sign that says 'Happy Birthday You Pile of S**t.' My knees buckled. I fell. Seriously! It was the closest I've ever come to losing consciousness." 
She continued, "I had no idea. I'd never met her before but we've always watched Keeping Up With The Kardashians. And then Kris Jenner and I sang 'Build Me Up Buttercup' on karaoke and took that picture."
When she saw Billy Joel
In August 2015, Lawrence and BFF Amy Schumer saw Billy Joel live — and had to steal the spotlight. The ladies eventually climbed atop the singer's piano, with Lawrence kissing Schumer's feet on the way up, and upstaged the rock legend during "Uptown Girl." As it turned out, the moment wasn't candid at all: Lawrence and Schumer actually rehearsed it with Joel earlier and prepped for the moment for a while. Bummer, but still fun nonetheless.
Recounting her Oscar victory on 'The Graham Norton Show'
Lawrence admitted on The Graham Norton Show in December 2015 that her stumble at the Oscars was the result of hormonal issues involving her birth control. "I don't want to talk about that night [I won my Oscar], I had a whole meltdown. It was a series of things," she explained. "It was a birth control confusion so I was like hormonal, I fell on my face, I forgot to thank the director, so I was just like 'What does it all mean? Nothing!' I came home crying and then my friend ordered the wrong pizza, it wasn't thin crust, it was thick crust, and I was just like [sobbing]."
Ahead of the Oscars
Lawrence confessed on Watch What Happens Live With Andy Cohen in December 2015 that she toked up before one of her Academy Awards appearances. "I smoked pot at none of them, but I saw my brother smoking out of a bong before the Oscars, I won't say which," she told Cohen. When her host asked if she took a hit, she sipped her drink and mumbled, "Yeah." However, when Cohen asked her which Oscars ceremony it was, she opted to plead the Fifth.
On the 'X-Men: Apocalypse' (2016) set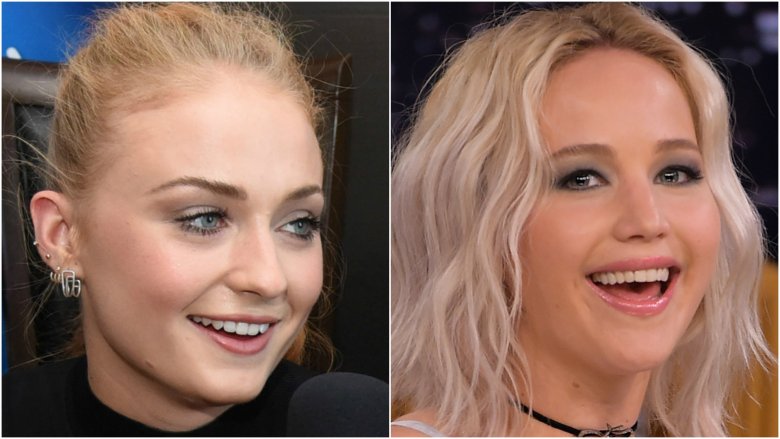 Getty Images
Game Of Thrones star Sophie Turner revealed that Lawrence got loose with her on the set of X-Men: Apocalypse (2016) during a playful brawl with fellow co-star Evan Peters.
"She punched me in the vagina once," Turner told Just Jared. "I didn't ask her to either. It just happened. Evan [Peters] and I were having a fake fight and I said something like, 'I'll c**t punch you' or 'I'll punch you in the crotch' and then Jen thought that I said, 'Please c**t punch me Jen.' So she punched me in the vagina and I was like, 'Awesome.' It was pretty funny."
On 'The Hunger Games' set in Hawaii
Lawrence confessed on The Graham Norton Show in December 2016 that while filming an installment of The Hunger Games franchise in Hawaii that she desecrated sacred stones. "We were filming in Hawaii, and there were these sacred rocks ... and you're not supposed to sit on them because you're not supposed to expose your genitalia to them," she said. "I, however, was in a wetsuit for this whole shoot ... oh my God, they were so good for butt-itches!" She added, "One rock that I was butt-scratching on ended up coming loose. It was a giant boulder and it rolled down this mountain and it almost killed our sound guy. His whole station got destroyed ... and it was a huge dramatic deal," she said. "And all the Hawaiians were like, 'Oh my God, it's the curse!' and I was like, 'I'm your curse. I wedged it loose with my a**."
Unfortunately, she may have gotten a little too loose in that interview and when the incident actually happened, as many native Hawaiians took great offense to her seemingly mocking their culture. She later apologized through her Facebook account, writing, "From Jen, to the internet: I meant absolutely no disrespect to the Hawaiian people. I really thought that I was being self deprecating about the fact that I was 'the curse,' but I understand the way it was perceived was not funny and I apologize if I offended anyone."
At a strip club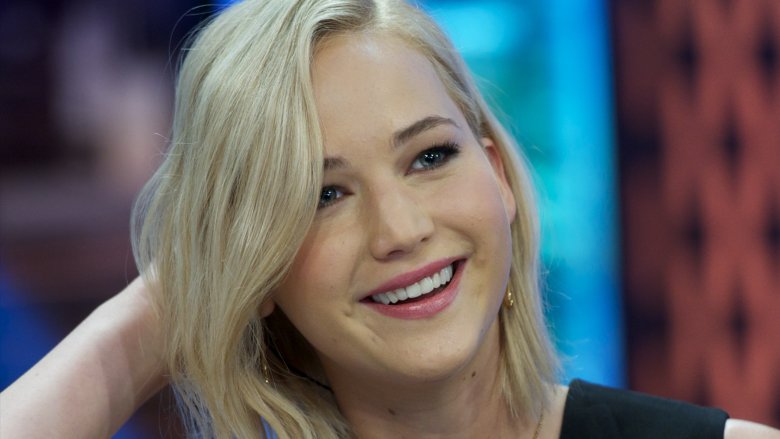 Getty Images
In May 2017, a video released to Radar Online featured Lawrence rocking a crop top at a strip joint in Vienna, Austria, called the Beverly Hills Club. The Academy Award-winning starlet, 26, who was rumored to be dating director Darren Aronofsky at the time, reportedly rolled up to the strip club at 11:00PM with her bodyguard, three men, and one female pal.
A witness told Radar Online, "Jennifer seemed drunk, crawling on all fours around the stage and bending over for men to ogle. She kissed one guy, and even started dry-humping him while they danced ... She was wild, but seemed to be having an amazing time until her attempt at an elegant routine on the stripper pole ended with her crashing to the floor, and crying in pain! One guy — who she'd been all over previously — rushed and helped her back onto her feet. But then she climbed over tables, and fell back into her friends!"
Lawrence was unapologetic when the video leaked, writing on Facebook, "Nobody wants to be reminded that they tried to dance on a stripper pole by the internet. It was one of my best friend's birthdays and I dropped my paranoia guard for one second to have fun. I'm not going to apologize, I had a BLAST that night ... I think my dancings pretty good. Even with no core strength." Preach!