Kathie Lee Gifford Shares Rare Relationship Update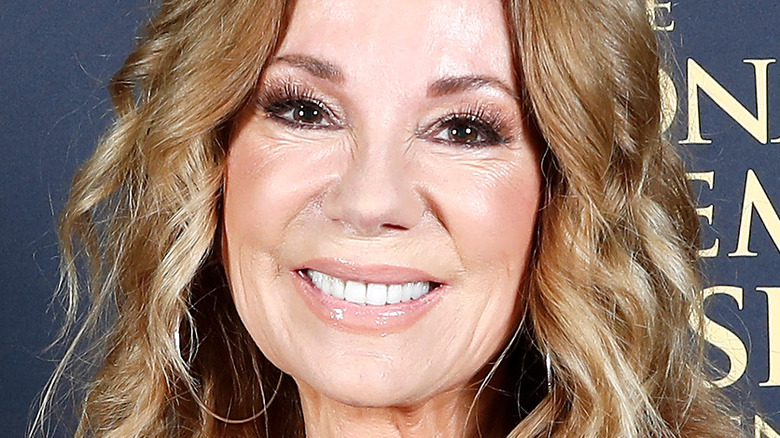 Joe Seer/Shutterstock
Kathie Lee Gifford is most well known for her role as the former co-host of the fourth hour of "TODAY" as well as the co-host of "Live with Regis and Kathie Lee," a post she held for 15 years. She has earned nearly a dozen Emmy nominations during the course of her career and has won four of them, as per her official website. 
But Gifford ultimately left her television career in 2019 to pursue other passions. "It never was my dream job," she told Yahoo! Lifestyle, adding, "They were wonderful jobs with wonderful people — I'm grateful for them. But my dream job all my life is to be doing what I'm doing right now." And what she's doing now is living out the rest of her dreams, including directing movies and writing books, while living in Nashville. 
The TV presenter has also been blessed to find love again after losing her husband of 28 years, Frank Gifford, in 2015. The former NFL player had the degenerative disease, chronic traumatic encephalopathy (CTE), but died officially of natural causes, according to ESPN. Now, Gifford has been dating someone new, and she has finally shared a new update on the romance.
Kathie Lee Gifford's relationship is still going strong
Kathy Hutchins/Shutterstock
Kathie Lee Gifford has been notoriously secretive about her new beau since revealing in April on TODAY she was dating someone. At the time, all she wanted the public to know was that she was in a "really special relationship with somebody that is nice and fun and healthy." She was afraid that by saying anything further, she would "mess it up" but assured her co-hosts that she was "grateful." Gifford added, "To be in a place where you feel like every aspect of your life is good ... that's a beautiful place to be."
In the months since, the former fourth-hour co-host hasn't given many more details regarding her relationship, only that she is happy. On November 30's episode of "TODAY With Hoda & Jenna," Gifford confirmed that she still has "a very sweet man in [her] life" who is "good for [her]." Unfortunately for those dying to know more about her man, Gifford added, "And that's all that I'll say about it, because there's nothing else to talk about."
For anyone wondering about the identity of Gifford's boyfriend, OK! Magazine reported that his name is Randall Cronk and that the two were first spotted in 2019 at a Nashville concert. Cronk is an insurance agent and younger than Gifford by more than a decade. A source told the publication that Gifford "was obviously swept off her feet" by Cronk. Aww.