The Tragic Death Of Beasts Of The Southern Wild Actor Jonshel Alexander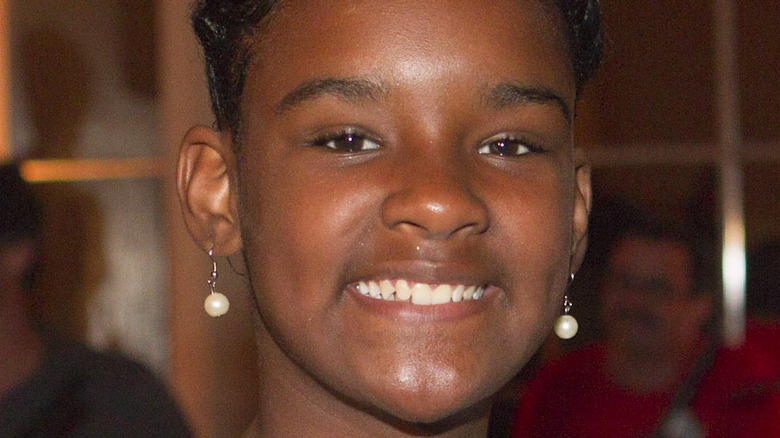 Skip Bolen/Getty Images
Former child actor Jonshel Alexander, who starred alongside Quvenzhané Wallis in the 2012 film "Beasts of the Southern Wild," was tragically shot and killed on November 27 in New Orleans' 7th Ward, according to the Associated Press. She was 22 when she died. 
Per the outlet, Alexander — a New Orleans native — was with a man in a vehicle on the night of November 27 when she was fatally shot. The man, meanwhile, drove to a nearby hospital to be treated. Police are currently attempting to locate a person of interest in the shooting. 
Alexander was the youngest of three children, Nola.com reports. As a little girl, she often participated in the performing arts; in addition to her time on the big screen, she also was involved in cheerleading, dance, and modeling. As her mother, Shelly, told the site, Alexander was "feisty, jazzy, spoiled. It was her way or no way." Years after the release of "Beasts of the Southern Wild," the actor — who was only 12 at the time of the film's premiere — graduated high school, worked as a restaurant hostess, and became a mom. She is survived by her 1-year-old daughter, De-vynne Robinson. 
Alexander's mother, her "Beasts" director, and fans are all paying tribute to the star after her tragic death.
Family, friends, and fans mourn Jonshel Alexander
In an interview with the Associated Press, Jonshel Alexander's mother, Shelly, said that her daughter was determined to be cast in "Beasts of the Southern Wild" as a young girl in middle school. Clearly, it worked. "They fell in love with Jonshel," Shelly said of the cast and crew.
While the film's director, Benh Zeitlin, was unable to cast Alexander in the lead role because of her age — they needed someone a little younger — she was awarded a supporting role due to her "unforgettable" energy. "We incorporated a part into the film that was very much inspired by her," Zeitlin said. "A lot of the lines were written by her, and so much of the character grew out of who Jonshel was. Her character in the film is named Joy Strong, which always seemed like a perfect description of Jonshel." Alexander's mom echoed a similar sentiment to Nola.com, saying, "She brought life to everything."
Fans on Twitter were also stunned to hear the news, and called for an end to gun violence. "RIP Jonshel Alexander ! My thoughts & prayers go out to your family & friends at this time. You will be so sorely missed . God bless your soul . So sad," wrote one user. "Jonshel Alexander RIP too much senseless killing," tweeted another person. A third fan added, "This is so sad!! The killings of our youth must stop!"