What Ellen Pompeo And Kate Walsh's Relationship Is Like In Real Life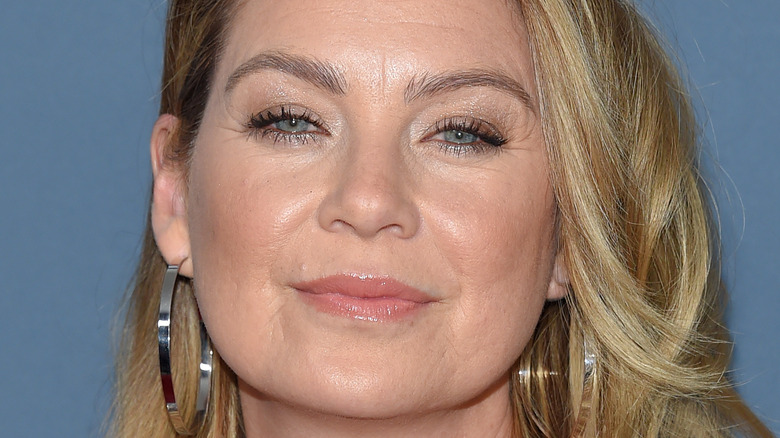 DFree/Shutterstock
The dynamic between the antagonist and protagonist of a show can be a big part of why viewers keep coming back for more. The most talented actors manage to convince audiences that they despise each other and would do anything to bring the other party down. But more often than not, these same actors get along behind the scenes. They may act like each other's enemies on-screen, but they adore one another to bits once the cameras stop rolling.
Did you know that "Breaking Bad" actors Bryan Cranston and Giancarlo Esposito are friendly in real life? Cranston refers to Esposito as "a dear friend, a great actor." The same goes for Daisy Ridley and Adam Driver, who are on opposite camps on the "Star Wars" films. The concept of a light side and the dark side doesn't exist for them IRL, and they even go as far as calling each other "besties." "Game of Thrones'" very own Lena Headey and Peter Dinklage are also off-screen best friends. While they may act like they hate having each other as siblings on the hit series, they're actually good friends and even became each other's roommates at one point.
On-screen feuds don't usually translate to real-life beef. Even Ellen Pompeo and Kate Walsh are aware of that. Contrary to what most people believe, the "Grey's Anatomy" actors are actually good friends beyond Grey Sloan Memorial.
There's no animosity between Ellen Pompeo and Kate Walsh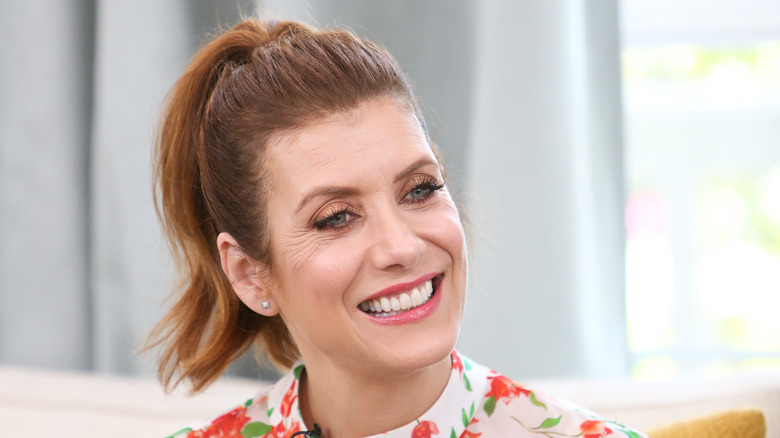 Paul Archuleta/Getty Images
On the first season of "Grey's Anatomy," everything was great between Ellen Pompeo's Meredith Grey and Patrick Dempsey's Derek Shepherd. But things took a turn for the worst when Kate Walsh's Addison Montgomery showed up, revealing that she's still married to Derek. It was a pivotal moment on the show, reeling in millions of viewers worldwide.
But before "Grey's" had tons of fans, ABC apparently refused to give it an airdate, worrying Pompeo, according to Variety. But she said that at the time, a fellow actor helped alleviate her stress by calling up the management and demanding a date. "I don't know if ... the show's ever going to see the air,'" Pompeo said to the actor. '"And she said, 'Oh, hold on.' She called him up, and she said, 'Are you going to put 'Grey's' on the air?' He said, 'Oh, yeah, yeah, we're gonna do it. She hung up the phone, she turned to me and she said, 'Oh, it's going to have an airdate, it's going to be this date.'"
Pompeo didn't disclose who the actor was, but Variety said that it was indeed Kate Walsh. "She's gorgeous, I'll say that," Pompeo said of her co-star. "She's a gorgeous girl. She's a firecracker, and I love her to death!"
Ellen Pompeo loves having Kate Walsh back on Grey's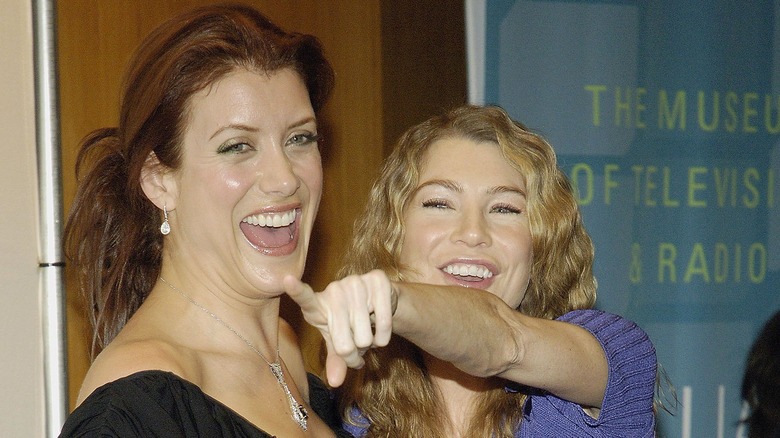 John M. Heller/Getty Images
Kate Walsh was only on "Grey's Anatomy" for three seasons because she managed to star in her own spinoff, "Private Practice." But it's also been years since that show had gone off the air, meaning Addison Montgomery has not seen the insides of an OR — until now. Walsh has been tapped to make a comeback on "Grey's," leaving fans and co-stars excited. Probably no one is happier about this news than Ellen Pompeo herself.
"[We] may have shed a tear," she told E! News. "We may have hugged and cried a bit." The actor also shared how much she loves Walsh, and how she's excited that they're getting the chance to work alongside each other again. "Kate's so fun!" she shared with People. "She moved to Australia, so I really haven't seen her or hung out with her. I have so much affection and love for the original cast. We all went through something that only we can understand. So it's always just really fun and very emotional, to be honest."
Pompeo didn't want to divulge anything about what's going to happen to both Meredith and Addison and insisted that everyone should just watch to see how things unfold. "The writers are trying to figure it out, and I try not to pressure them," she added. "So it's a huge job they have. And that's really all I can say about it. So everyone just has to tune in!"