The Real Reason El Chapo's Wife Just Pleaded With A Federal Judge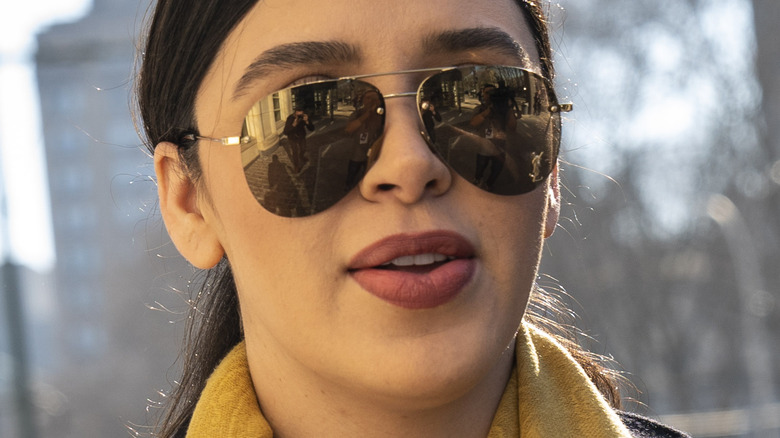 Drew Angerer/Getty Images
On December 3, Emma Coronel Aispuro, wife of drug lord Joaquin "El Chapo" Guzmán, was sentenced to three years in prison. Coronel Aispuro's legal woes began back in February when she was arrested (via USA Today) for allegedly aiding Guzmán in distributing cocaine, heroin, marijuana, and methamphetamine. She ultimately plead guilty in June for conspiring to distribute the drugs as well as engaging in money laundering and working with a foreign narcotics trafficker.
USA Today also noted that the mother-of-two "worked closely with the command-and-control structure" of Guzmán's Sinaloa Cartel and "aided and abetted" the cartel's attempts to smuggle drugs into the United States. She also allegedly played a role in arranging Guzmán's multiple prison escapes in Mexico. Now, after being jailed since February, the wife of El Chapo is finally facing the music.
Coronel Aispuro initially faced ten years minimum in prison, but NPR notes that a "safety valve" mechanism was invoked — noting she had no criminal past and was not on the frontlines of the cartel's violence. She also expressed "true regret for any and all harm," and now she's pleading with a federal judge once more.
Emma Coronel Aispuro is pleading with the federal judge for this reason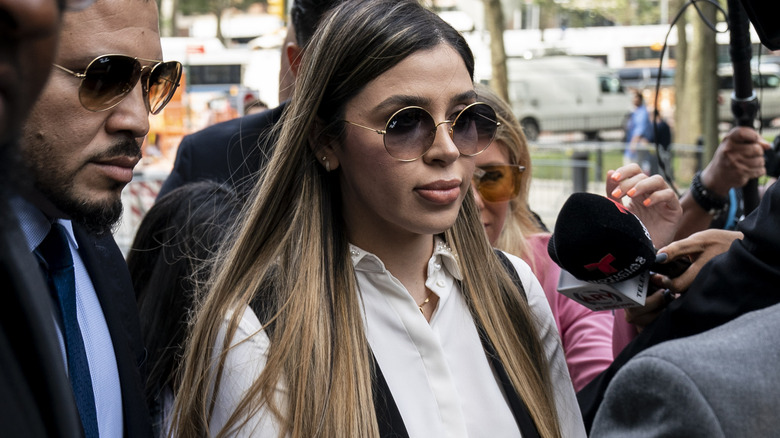 Drew Angerer/Getty Images
As the mother-of-two, Emma Coronel Aispuro noted the obligation of raising her children, Emali Guadalupe and Maria Joaquina, safely. With husband Joaquin "El Chapo" Guzmán currently serving a life sentence at Colorado's ADX Florence, wife Coronel Aispuro will also be out of her children's lives after being hit with a three-year prison sentence. Now, she is pleading with the federal judge for the sake of her twin daughters.
"They are already growing up without the presence of one of their parents," Coronel Aispuro told District Court judge Rudoph Contreras, who delivered her sentence (via the New York Post). "I beg you to please not allow them to grow up without the presence of their mother." Contreras told the wife of El Chapo, "I hope you raise your twins in a different environment than you've experienced to date."
The outlet notes that it is unknown who will raise her children in the interim, but Coronel Aispuro hopes to serve her sentence in California in order to be nearby. Security consultant Robert Almonte told the outlet her federal sentence "won't be like in Mexico where prisoners can pay for luxurious cells and take out food," noting that she's in for "a reality check." Interestingly enough, when the couple's daughters were born in 2011, Guzmán's name was redacted from their birth certificates as there was a multimillion-dollar bounty placed on him at the time (per The Sun).