Is Sylvester Stallone Considering A Career Change?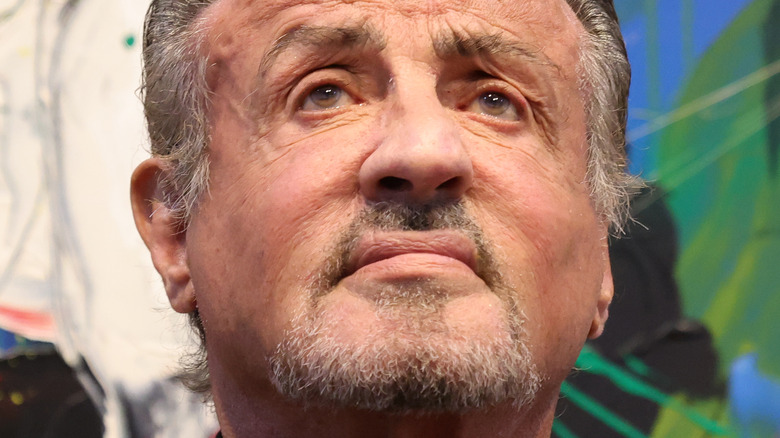 Andreas Rentz/Getty Images
In 1976, Sylvester Stallone soared to international acclaim after the release of the boxing film "Rocky." Since then, he has been nominated for a slew of Academy Awards, British Academy Film Awards, and Golden Globe Awards. Stallone has also made a name for himself as the director of films like "Rambo," "Rocky II," and "Rocky Balboa."
These days, however, Stallone has found himself dabbling in a completely different creative field: painting. According to The Hollywood Reporter, Stallone presented over 50 impressionist paintings at Germany's Osthaus-Museum Hagen in December, and his art will remain up as part of the "Sylvester Stallone: The Magic of Being" exhibit. As noted by the outlet, this isn't the first time the actor has displayed his own art — in 2013, he showcased his work at the State Russian Museum in St. Petersburg and, in 2015, he did the same in Nice, France. This exhibit, however, is the one that has Stallone admitting that, if he had chosen to be a painter instead of an actor, it would have "meant a lot less stress." 
Sylvester Stallone found inspiration in the art of Jackson Pollack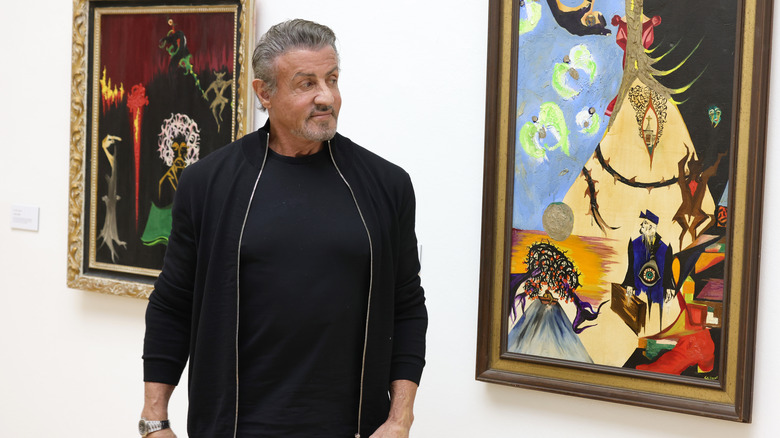 Andreas Rentz/Getty Images
In his interview with The Hollywood Reporter, Sylvester Stallone said, "It's an amazing honor to have my work hanging here, next to some of the greatest artists in the world. This gallery world is still a very new world for me." Stallone also shared what few fans may know about him: he started painting at an early age. He stated that he has been inspired by works of art from Jackson Pollack and Willem de Kooning. But, after his first few pieces didn't turn a profit, according to the outlet, Stallone forayed into acting. 
Speaking to THR, Mathias Rastorfer of the Gmurzynska Gallery shared, "The elephant in the room is, why show celebrity art? Is it about the art or about the celebrity?" He continued, "I remember people asking the same question when we first showed Karl Lagerfeld's art. Now every art museum in the world wants to show Largerfeld's work. ... It will be the same with Stallone."
Sylvester Stallone doesn't plan on giving up acting and directing
Featureflash Photo Agency/Shutterstock
While painting has certainly proven to be fulfilling to Sylvester Stallone, the creative doesn't plan on leaving his acting and directing pursuits. In fact, Stallone is currently shooting the fourth "Expendables" film. His IMDb states that he is also in pre-production for the film, "Little America," in which he will star. The film's synopsis reads: "In a dystopian future where China owns America, a former American Force Recon member is hired by a Chinese billionaire to go to an American ghetto and find his daughter." 
Still, it's likely Stallone will present the world with more paintings in the future. On his website, painting is described as Stallone's first "real" love. The website quotes Stallone as saying, "There is a public face and a private face and I feel the same way about art. It's a collage of emotions. And when you can transfer that onto the canvas, it's an amazing feeling."