The Real Reason Fred Thompson Left Law And Order
Scott Olson/Getty Images
When it comes to TV procedurals, the long arm of producer and showrunner Dick Wolf is uncontested. Wolf, who launched his flagship with the 1990 debut of the original "Law & Order," is now the originator of a television multiverse that has little precedent, with perhaps only the likes of Shonda Rhimes' Shondaland as a comparison. As of this writing, the "Law & Order" franchise alone boasts seven titles under its name, among which include two — "Law & Order: Special Victims Unit" and "Law & Order: Organized Crime" — currently airing. (This list doesn't include Wolf's "Chicago" franchise, though those shows are known to have participated in widely popular crossover specials.)
As one would guess, Wolf's multiverse has been ground zero for the careers of myriad stars. Considering Wolf's cinematic universe boasts thousands of episodes, these statistics don't seem quite that surprising. And since NBC announced in September that a revival of "Law & Order" is officially in the works, there's been renewed interest as to whether past cast members will reprise their roles — or whether the show will tie up any loose ends with characters off-screen.
With that in mind, its only fair to wonder if the fate of District Attorney Arthur Branch, played by late actor Fred Thompson, will be mentioned within the world of the show — and whether it will tie into why Thompson left "Law & Order" in the first place.
Fred Thompson's Law & Order tenure was unusual from the get-go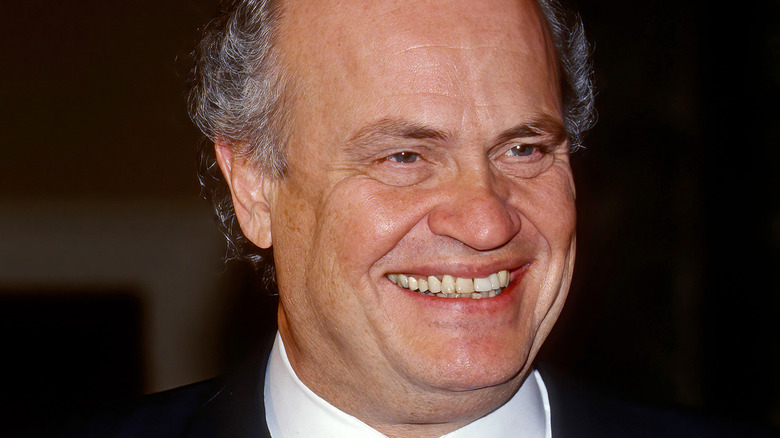 mark reinstein/Shutterstock
Unlike the majority of his "Law & Order" co-stars, actor Fred Thompson, who died in 2015, didn't come from an acting background. Born in Alabama in 1942, Thompson embarked on a career as an attorney after graduating Vanderbilt's law school in 1967. He garnered a reputation as a veritable political mind, serving as a campaign manager for a Republican senator and as a counsel for the Senate's investigative committee for the Watergate scandal, which led to the impeachment of former President Richard Nixon. 
According to a 2007 profile for The New York Times, Thompson's first foray into acting occurred in 1985 in a role befitting on how his career would continuously brush up against the line of reality and fiction: playing himself in a dramatized version of a court case he had served as a defense attorney. The film, entitled "Marie," starred Thompson as himself, alongside Sissy Spacek in the titular role. His performance earned enough attention, per NYT, to lead to subsequent roles, many of which cast him in the halls of fictive courtrooms and the corridors of an imagined White House.
Speaking to the newspaper, Thompson's "Law & Order" co-star Sam Waterson said this of the lawyer-turned-thespian: "There are the actors who wear masks and actors who are themselves," positing Thompson in the latter camp.
Fred Thompson's L&O character blurred lines with reality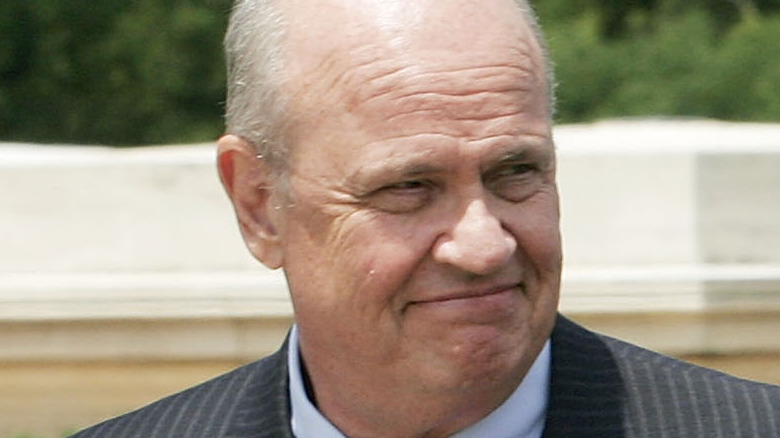 Chip Somodevilla/Getty Images
Nearly two decades into his acting career — one which was intermittent with two terms he served as a Republican U.S. senator — Fred Thompson was cast as District Attorney Arthur Branch in 2002. Much like Thompson's real-life persona, D.A. Branch's functioning perspective within the franchise was conservative, with Thompson sharing many of the values and opinions of his character.
The casting choice effectively functioned as a way for Thompson to keep one foot within the realm of politics. (As Thompson said in an interview included DVD commentary for the show, per The New York Times: "Nowadays a politician is in front of the camera almost as much as an actor is, so it's not that much of a difference.") It was a strategy which ultimately led to his "Law & Order" exit. 
As NYT wrote in 2007, Thompson concluded his term as Branch that year to launch a presidential campaign as a Republican primaries candidate. During that time, the "Law & Order" alum utilized his fanbase to promote his candidacy, frequently referring to it at rallies. Unfortunately, it seems this tactic might have backfired; as former Arkansas Governor Mike Huckabee, another Republican contender at the time, put it, "people aren't sure whether they're electing a former senator or Arthur Branch." Whether or not this was the case, Thompson eventually lost out to 2008 GOP nominee Mitt Romney, who in turn lost to President Barack Obama.