The Surprising Requirement Megan Fox Has For Her Boyfriends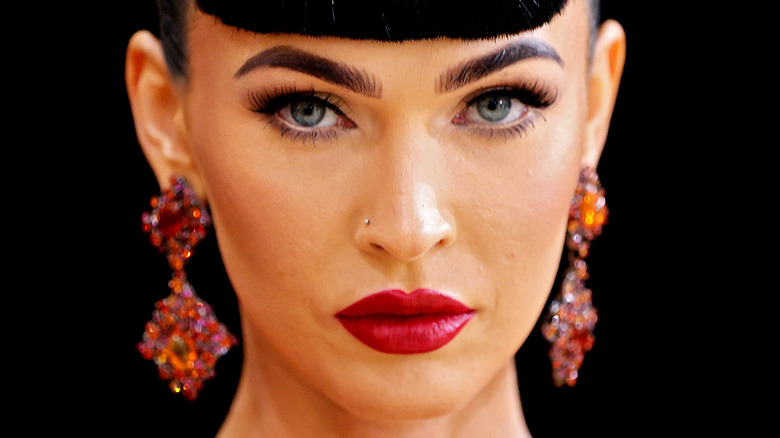 Theo Wargo/Getty Images
Megan Fox is by far one of the biggest names in the celebrity world because of both the movies she's starred in and the relationships she's been in. Fox was married for 10 years to her ex-husband Brian Austin Green before the couple decided to part ways in May 2020, ultimately finalizing their divorce six months later. Since then, she's been in a relationship with Machine Gun Kelly. Fox told British GQ that when she met the rapper for the first time, she wasn't really looking for love. However, Fox noted that, when she met him, "I did not anticipate walking right into my soulmate like that. I was obviously over the way I had been living, and those paths lined up, those doors opened. It was [as if] all the obstacles that had kept us apart all those years [had been removed] and we were able to finally intersect."
While things are certainly moving full-steam ahead between the two of them, many of Fox's fans don't know that when it comes to her boyfriends and her relationships, there's one requirement that each one has to meet. 
Megan Fox wants her men to have a permanent reminder of who she is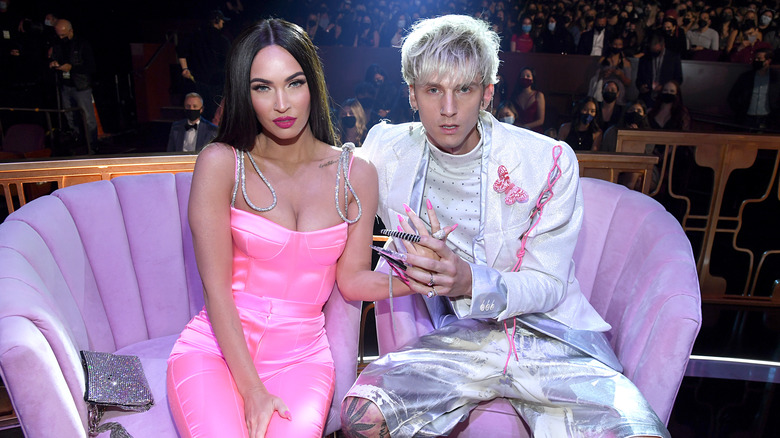 Kevin Mazur/Getty Images
Megan Fox's fans know that the Hollywood star has a certain taste in body art. In an interview with "The Early Show" in 2009, the "Jennifer's Body" star said that she wants her boyfriends to have at least one tattoo. And if they don't already have any ink on their bodies, she has a very specific request. Fox put it this way (via Just Jared): "If they don't have one yet, I make them get a tattoo of my name or face."
Interestingly enough, Fox's ex-husband Brian Austin Green reportedly got a tattoo of Fox's name on his body, as detailed by The Tattoo Celebrity. And while Fox reportedly did get a tattoo in honor of the former "Beverly Hills 90210" star on her body, she told Access Hollywood back in 2011 that she wanted to remove some of the ink from her own skin, including the Marilyn Monroe tattoo she had on her arm (via Us Weekly). "Her life was surrounded and shrouded in so much mystery and tragedy," Fox said of Monroe. "There is negativity with her life and with her death. I just feel like there are better things to have inked on your body than someone who suffered so much. So in getting older, I just decided that is something I wanted to get rid of."
With that said, how does Machine Gun Kelly feel about getting a tattoo of Fox on his body?
Megan Fox has been very consistent with her request over the years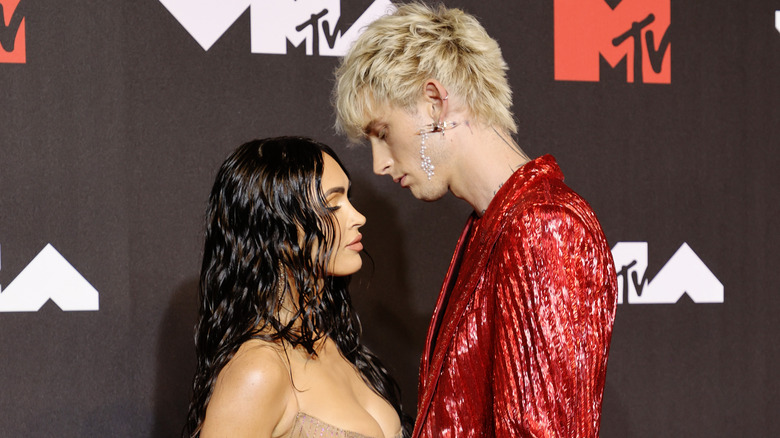 Jamie Mccarthy/Getty Images
Megan Fox and Machine Gun Kelly told British GQ that they got matching ink in celebration of their love. They both got a tattoo that says, "The darkest fairytale," which apparently has a special meaning for their relationship. Fox told the publication that the phrase "alludes back to one of the first text messages we ever sent each other." In fact, the pair got their tattoos done during the interview, with the rapper exclaiming, "The best tattoo I've ever seen in my life."
If that weren't enough, Fox said on Machine Gun Kelly's song "Banyan Tree (Interlude)" back in September 2020 that, "You just got my initials tattooed on you. I just got your nickname tattooed on me," which seemingly confirms that MGK did get inked with Fox's name on him, per Page Six. Hey, if there's anything that we've learned about Fox over the years, it's that she's definitely consistent. Now, whether or not her ex, Brian Austin Green, has managed to erase his permanent reminder of their union, no one knows. But at least he did follow through with her very unusual request.