Did Queen Elizabeth Really Serve Tea To Someone Who Barked Orders At Her?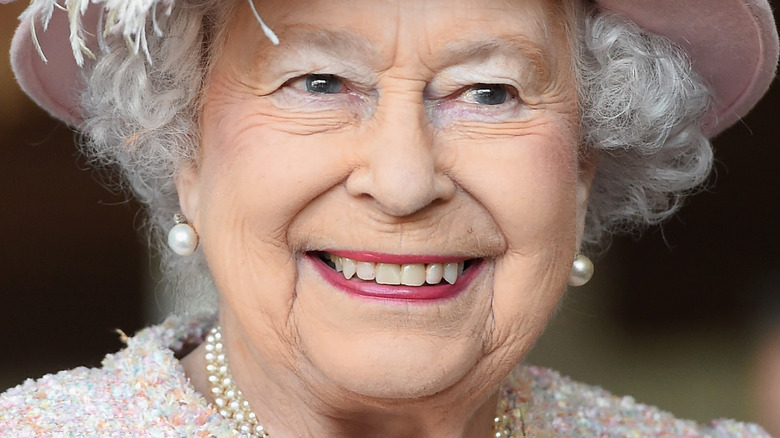 Stuart C. Wilson/Getty Images
The British are widely known for three things: their long-reigning monarch, Queen Elizabeth II, their passionate love of tea, and their strict adherence to remaining unfailingly polite in every situation. In an extraordinary sequence of events, it appears that these pillars of English tradition once came together in what can only be described as a misunderstanding of royal proportions.
This piping hot tea comes courtesy of an upcoming Channel 5 documentary titled "Secrets of the Royal Palaces" (via The Sun). The eight-part series aims to take a deep dive into the stately palaces and historic homes of the royal family — but it's not the lavish lawns or majestic architecture that has everyone spitting out their Earl Grey. Instead, it's the previously unheard juicy tidbits, like the fact that Buckingham Palace had to close its bar on account of the staff enjoying the booze a little too much. But one particularly spicy anecdote has drawn considerable attention — one involving royalty, rudeness, and the importance of always being polite.
How Queen Elizabeth II reacted when someone barked orders at her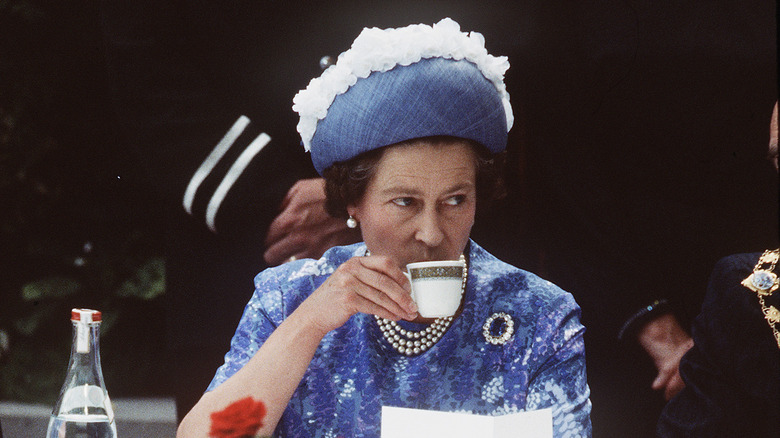 Anwar Hussein/Getty Images
It's difficult to imagine mistaking a figure as iconic as Queen Elizabeth II for someone else, especially if you are actually inside Buckingham Palace, aka her home. And yet, that's exactly what happened to a rather unfortunate workman — according to royal upholsterer Kevin Andrews, at least. Gleefully describing his friend's unfortunate blunder in Channel 5's "Secrets of the Royal Palaces" (via The Sun), Andrews claims that, when the workman was offered a cup of tea, his view was obstructed by the desk he was busy dismantling. "Yeah. In a mug," the laborer curtly replied. "Two sugars. Builder's tea. I don't want any of that nonsense I had the last time I was here, all that fine china and all that saucer stuff."
Ever the picture of dignity, the monarch dutifully fulfilled the request, graciously informing the man: "I've put your tea on the table here." Only as she was leaving did the workman realize his royal error, no doubt launching many years of cringe-filled flashbacks. Thankfully, though, the queen is known to have a good sense of humor, and likely took the event in stride. She's also clearly no stranger to getting down to work, having trained as a mechanic during World War II.
In any case, the story is a good reminder to respect everyone as if they were the queen because, for all you know, they could be.