What Donald Trump's New Start-Up Is Claiming About Its Future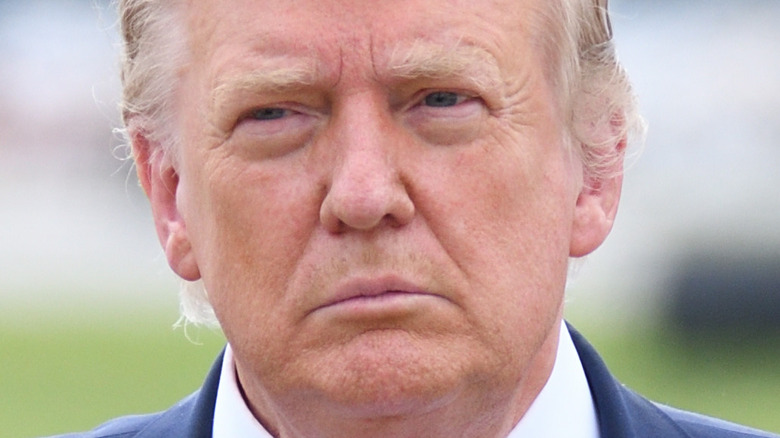 Evan El-Amin/Shutterstock
Following the Capitol Hill attacks on January 6, former President Donald Trump found himself without a social media home. On January 7, Mark Zuckerberg announced that Trump would be banned in the short term from using Facebook and Instagram for inciting violence. "We believe the risks of allowing President Trump to continue to use our service during this period are simply too great," Zuckerberg wrote in a statement indicating the ban would last two weeks minimum, via Twitter. That temporary ban continued, and by June, the social media giant announced the former president would be barred from their services for at least two years. "At the end of this period, we will look to experts to assess whether the risk to public safety has receded," Nick Clegg, vice president of Facebook's Global Affairs, wrote in a statement. Not only was Trump removed from Facebook's subsidiaries, but he was also removed from a slew of other platforms including Snapchat, TikTok, Twitch, and more, per Glamour.
When news of his two-year involuntary social media hiatus was announced, Trump condemned the platforms that banned him. "They shouldn't be allowed to get away with this censoring and silencing, and ultimately, we will win. Our Country can't take this abuse anymore!" he said in a statement, via ABC News. In October, Trump announced he'd decided to fight back by creating his own social media platform called TRUTH Social, per USA Today. The former president had lofty goals for the platform and his media group, but this particular claim has the public scratching its collective head.
Donald Trump's social media company already raised a hefty sum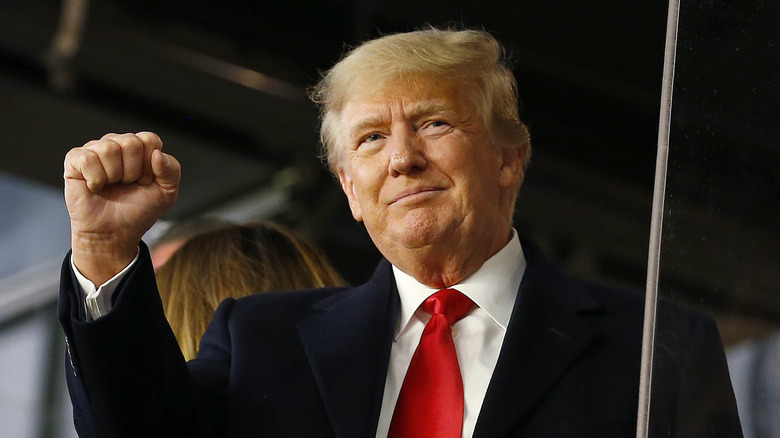 Michael Zarrilli/Getty Images
Donald Trump formed the Trump Media & Technology Group Corp., which was the parent company that aspired to create Trump's conservative-leaning platform, TRUTH Social. Trump Media formed a partnership with Digital World Acquisition Corp. (DWAC), which generated an abundance of income, per Insider. According to a December 4 press release, the two businesses were able to generate "$1 billion in committed capital ... from a diverse group of institutional investors," via Globe Newswire. DWAC will provide $293 million to Trump Media's "balance sheet" as the two companies secured their private investment in public equity. 
The former president believed obtaining over a billion dollars would go a long way to legitimizing his burgeoning social media platform. "$1 billion sends an important message to Big Tech that censorship and political discrimination must end," Trump said in the company's statement, via Globe Newswire. "As our balance sheet expands, TMTG will be in a stronger position to fight back against the tyranny of Big Tech," he added. Reportedly, Trump himself contacted investors to commit upwards of $100 million each, per Reuters.
TRUTH Social was created as a direct response to former President Trump's being banned from the world's largest social media platforms. "'Big Tech' ... began to forcibly silence President Donald J. Trump and many other conservative voices. This is unacceptable," Trump Media wrote in its mission statement on their company website. A beta version of TRUTH Social was slated to be released in November (through invite only), but the company missed their own self-imposed deadline, per CNBC.