The Truth About Pat Sajak's Marriage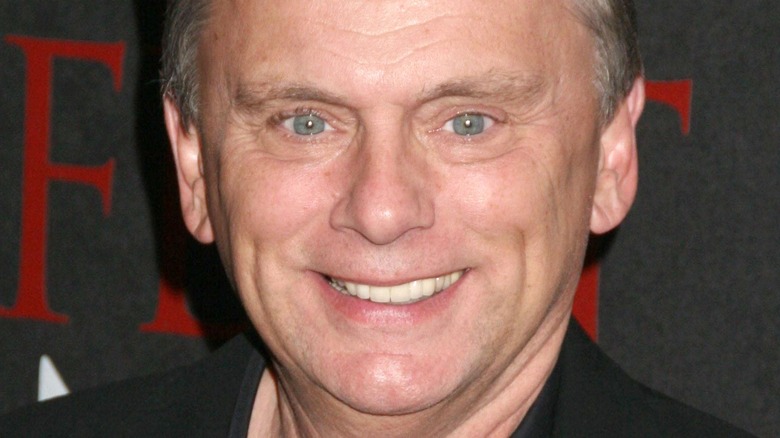 Everett Collection/Shutterstock
Pat Sajak is perhaps one of the most recognizable personalities on television even though many of his fans really don't know much about him beyond his hosting duties at "Wheel of Fortune." It wouldn't be surprising if a lot of fans thought Sajak's real-life partner was Vanna White, seeing how they've spent so many years together on the hit game show.
Together, they've been on the show for almost four decades and in an interview with Entertainment Tonight in September 2021, Sajak admitted that they are closer to the end than the beginning in their television careers. "I'd like to leave before people tune in and look at me and say, 'Ooh, what happened to him?' I wouldn't bet on seeing us in, like, 10 years, I would say," Sajak said, before asking his letter-turner, "Is that fair [to say]?"
With that said, there's another leading lady that has been with Sajak for just as long. And while White has been his professional partner on-screen, Sajak's wife, Lesly Brown, is his personal partner off-screen. Here's what you need to know about her. 
Lesley Brown is a supportive figure by Pat's side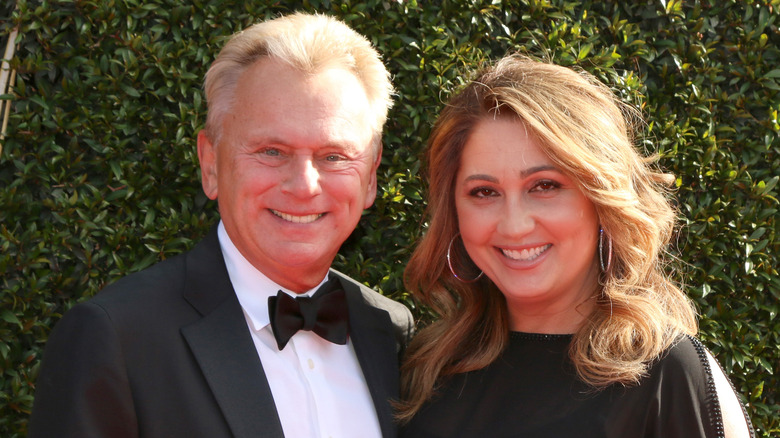 Kathy Hutchins/Shutterstock
While Lesly Brown might not be as well known as her husband Pat Sajak, she is someone who is used to being in front of the cameras. Before she became a professional law practitioner, she was a model and was even once crowned "Miss Georgetown," as detailed in Closer Weekly. She works as a photographer and has even appeared on "Wheel of Fortune" back in 2012, according to her IMDb page. The couple have two children together, Maggie and Patrick, but according to Sajak, it wasn't love at first sight for him. According to People, he said that when they were first introduced, he didn't feel any "electricity in the air." Instead, the two became friends and one thing led to another. 
"He was fun and easy to talk to," she told People back in 1990. He recalled, "Often the calls were, 'Well, I have to hang up now. I'm going out on a date.'" That all changed when they went on vacation together and Sajak realized that he was getting jealous from all of the male attention that Brown was getting. At that moment, Sajak said he realized that "She was the woman I wanted to spend the rest of my life with."
More than three decades later, it sounds like Sajak and Brown are still buying vowels together.
Wheel of Fortune is a Sajak family affair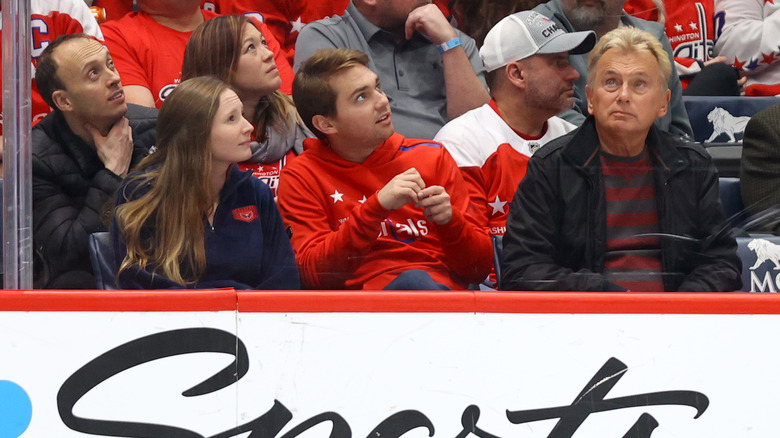 Rob Carr/Getty Images
Pat Sajak and Vanna White are scheduled to host "Wheel of Fortune" through 2024, according to ABC News. His daughter, Maggie Sajak, who has served as a guest host in the past, joined the show as a social correspondent. And while Maggie hasn't said anything about potentially replacing her father, she did tell Good Morning America back in 2019 that it's a tough job. Praising both her father and Vanna White, she said, "It is more complicated, you know, like I said, with his job, they make it look easy, after all these years, and they're so great at their job. But you know, it is more complicated than you think."
Thankfully Sajak says his family was there for him when he was hospitalized for a blocked intestine back in 2019. Speaking to Good Morning America, Sajak recalled a moment when he heard his family nearby in his hospital room but was too heavily medicated to realize it. He said, "It sounded like they were a mile off, but they were right next to me! They were talking to each other. And I remember thinking, not in a morbid way, 'I think this must be death. This must be what death is like. Hearing their voices, I thought, 'Boy, their lives are gonna change now.' And I felt badly for them. I felt badly that they were gonna have to deal with the aftermath." In other words, there's still time to take another spin.