Why Nicolas Cage Doesn't Go By His Real Name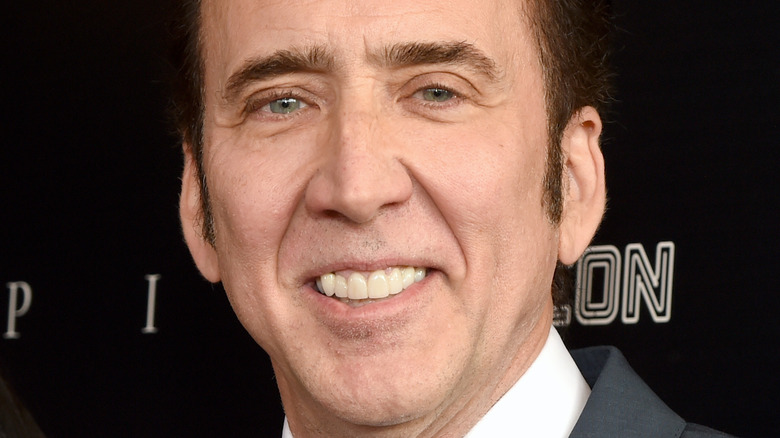 Michael Kovac/Getty Images
Nicolas Cage is certainly a household name, whether most known for strange genre films, family adventure blockbusters, intense action-thrillers, romantic comedies, or moody horror indies. Many fans may be surprised to learn that he is, in fact, a Coppola — you know, as in Francis Ford, director of "The Godfather" and "Apocalypse Now," Coppola. These kinds of legendary features are award-winning giants that have been praised for decades and hold firm on top lists such as the American Film Institute's Top 100 Films, a celebration of culturally significant filmmaking in America.
Cage is the auteur's nephew, and with that kind of Hollywood connection, it is easy to see how acting became such a huge part of his life. But this potential advantage quickly proved otherwise when starting his career. "I wanted to make it on my own," he shared with The Los Angeles Times in 1986, "not trade on my family name." 
Nicolas Cage always got asked about his famous uncle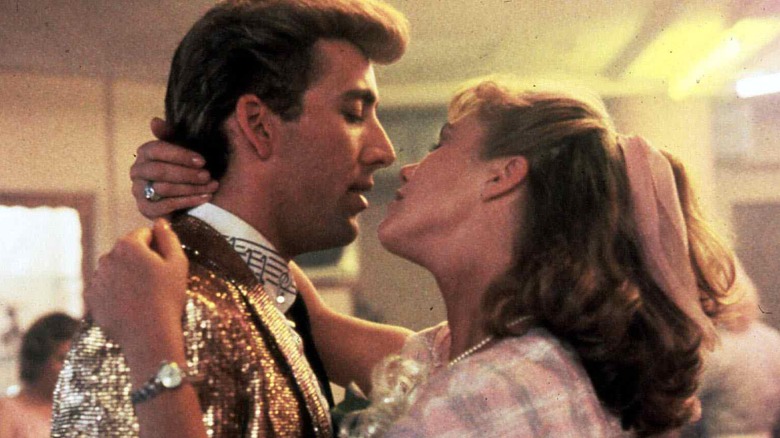 United Archives/Getty Images
Being tied to a family dynasty can offer a unique blend of opportunity, obligation, and assumption. Interested in pursuing acting at a young age, Nicolas Cage moved to San Francisco and quickly considered his family connections as a roadblock when auditioning for both screen and stage roles. He explained that casting agents "would spend the whole audition time asking me about my uncle Francis" (per Entertainment Weekly). What a disheartening pattern when pursuing a personal passion.
In the early '80s, Nicolas Coppola became Cage after his first role as a bodybuilding surfer in the failed TV series "The Best of Times" and a small appearance in the iconic "Fast Times at Ridgemont High." It was on set of this film with other young stars, such as Judge Reinhold and Sean Penn, that Cage learned how his family name affected the way others thought of him. "I was the brunt of jokes because my name was still Coppola," he shared in a different chat with Entertainment Weekly. " So there'd be a congregation outside my trailer quoting lines from 'Apocalypse Now,' like, 'I love the smell of Nicolas in the morning.'"
Once the change was made, Cage took on much larger roles in films like "Valley Girl," "Peggy Sue Got Married," "Raising Arizona," and "Moonstruck" with Cher, a film considered to be his first big hit despite the many recognizable titles that preceded it (via New York Magazine).
The weight of the Coppola name
Earl Gibson Iii/Getty Images
The complicated balance of personal identity and paving a successful path in Hollywood can be a difficult situation to navigate at such an early age. It is so significant of an issue that it is no wonder Nicolas Cage's own son is setting out on a similar path. Weston Cage Coppola legally extended his name to avoid criticism of using the Cage legacy as an advantage.
According to an interview with The Hollywood Reporter, Weston explained the drive to pursue acting, "It was a natural, innate desire in me to create and express myself artistically. So martial arts, acting and music all came to me simultaneously." When it comes to family ties, it really seems like passion, dedication, and experimentation are at the core of the Coppola line, widely followed by fans of Nicolas Cage and the unexpected, adventurous career he continues to build.