The Shady Side Of Kathy Griffin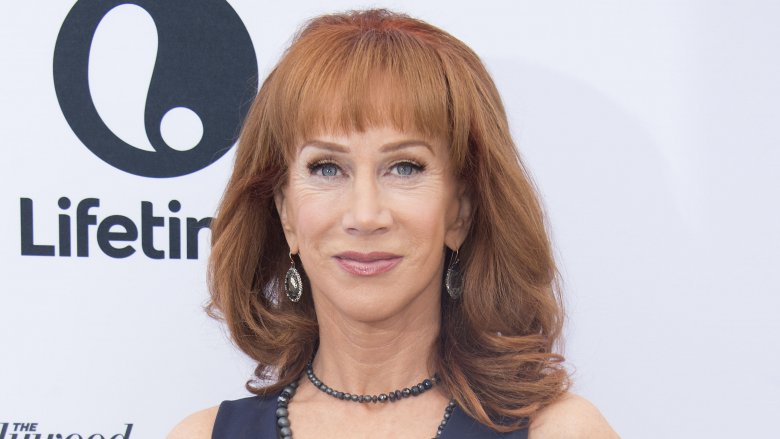 Getty Images
Kathy Griffin admits that she's not for everyone. That may be true: Her shady side shows that more often than not, she's only for herself — sometimes at the extreme expense of others.
She posted a photo of a beheaded Donald Trump ...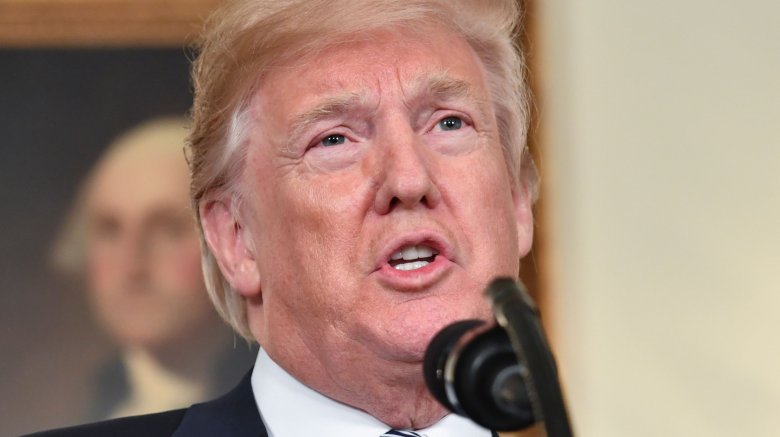 Getty Images
Kathy Griffin ruffled millions of feathers when she posed with a bloody Donald Trump mask in a Tyler Shields photo shoot that went viral on May 30, 2017. Once negative reactions flooded the internet, she apologized on social media, saying in a video, "I sincerely apologize. I am just now seeing the reaction of these images. I am a comic, I cross the line. I move the line, and then I cross it. The image is too disturbing. I understand how it offends people. It wasn't funny, I get it. I've made a lot of mistakes in my career, I will continue ... I ask your forgiveness."
As a result of the photo, Griffin was fired from her co-hosting gig for CNN's annual New Year's Eve program, with co-host Anderson Cooper saying he was "appalled" at her actions. She also lost a sponsorship deal with Squatty Potty and faces several tour date cancellations. Perhaps worst of all, TMZ reported that Trump's 11-year-old son, Barron, was horrified by the image and for some reason thought it was real.
... then had her lawyer make it about sexism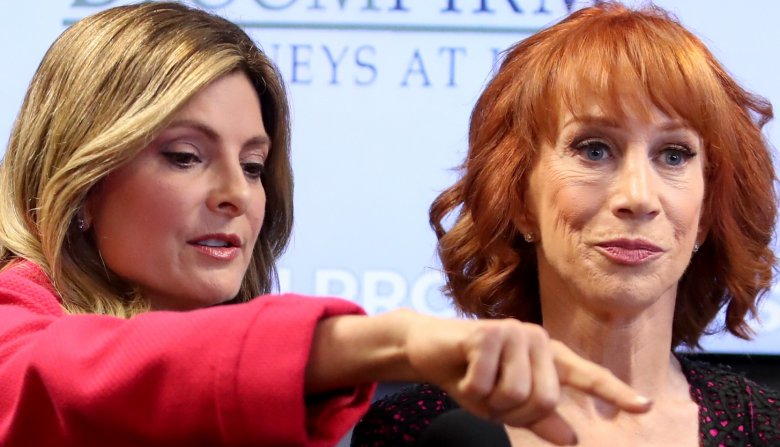 Getty Images
On Friday, June 2, 2017, Griffin and her lawyer, Lisa Bloom, called for a press conference, in which they alleged that Trump and his family and supporters bullied her.
Bloom opened the press conference with her own monologue about Trump's previous remarks about Megyn Kelly, telling reporters, "[The photo] was a parody of Trump's own sexist remarks ... It is Trump who should apologize for his 'blood coming out of her eyes, blood coming out of her wherever,' which he has never done."
Bloom added, "Many male artists have created more disturbing imagery," referencing music videos by Marilyn Manson and GWAR. "They're all just considered 'bad boys.' Unlike these male artists, Kathy has apologized. Unlike these male artists, Kathy has endured."
When it was Griffin's turn to speak, she painted herself as a victim, saying, "I'm going to make fun of him more now. I'm not going to threaten him, I'm not going to harm him, I have no desire to harm anyone ... you shouldn't have to die for this. I'm under a Secret Service investigation. I get what I am. I'm the shiny object, we all know what's going on here, they're using me as the shiny object so no one talks about his FBI investigation."
"I don't think I will have a career after this, honestly. He broke me," she sobbed. "He broke me."
She mocked Britney Spears' alleged mental illness
In November 2016, Griffin attacked Britney Spears for her alleged mental illness during an awkward interview with Larry King, who seemed less than amused by the comedienne's commentary.
"I used to make fun of Britney Spears... Did you get the pinwheel eyes? You know what I'm talking about. She's not all there" Griffin told a confused King.
King responded, "So what's your point? What point are you trying to make here?"
Griffin replied, "I'm saying that I hope you were gentle with her, because she's a fragile ... sorry, I just wanted to know if you got through to her in a way that her doctors couldn't."
It seems like Griffin was just bitter that she didn't make a lasting impression on the "Baby One More Time" singer. She explained, "I actually appeared in her Vegas show. She has someone every night come up, and they put a harness on me, and I was her sex slave for a song that she sings called 'Freakshow' ... I've known her since she was 16 — so I thought, at the end, we're onstage, it's a triumphant moment for really both of us. And then I thought, 'She's going to want to say, 'Good to see you again,' and I say, 'Brit, it's so great to see you.' She didn't know who I was. Then her gay backup dancer from heaven said, 'Kathy Griffin.' And she said, 'Give it up for Kathy, y'all!' And that's all I ask, Britney."
She started a feud with Demi Lovato, then said Demi bullied her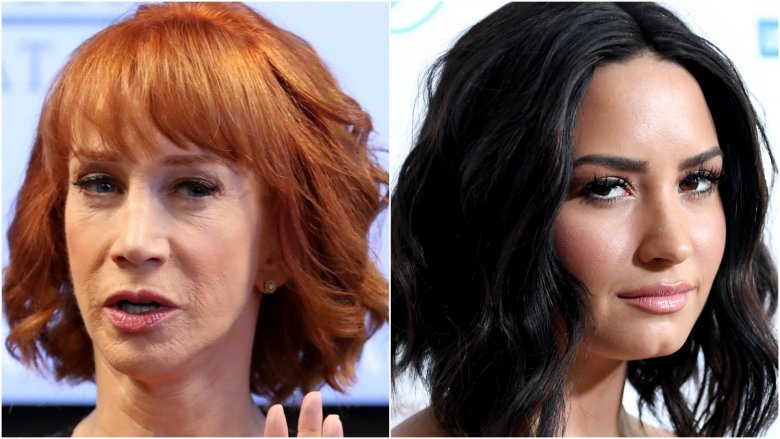 Getty Images
Griffin ignited a feud with Demi Lovato, then played the victim.
In 2014, Griffin tweeted that the "biggest douche celebrity" she'd ever met was "Probably Debbie Lovato. Lovato responded in a now-deleted tweet, writing (via Us Weekly), "Only a douche to people I can't stand."
Griffin then claimed she was being bullied by Lovato's fans. Lovato told them to stop, and that was that ... until August 2015, when Griffin slammed Lovato's vocals during the MTV Video Music Awards, tweeting, "Demi's live singing was very obviously live if you know what I'm saying. And then the rest of the track or tracks. #atleastshesang-ish." Lovato replied in a since-deleted tweet (via Seventeen), "Happy to see you're still stanning me @kathygriffin. Don't worry, my new album is out Oct 16. But u prob already knew that."
Griffin then sat down with Ryan Seacrest (via Seventeen) and claimed Lovato was encouraging her fans to bully the funny lady. "In my humble opinion, it appears as if she's kind of inflaming her base," Griffin said, adding, "As you know, I'm an equal opportunity offender, but this is the first time that I know of that a comedian, of my stature, has actually been confronted this way via social media by the artist herself, knowing she has 30 million Lovatics ... Part of Demi's message is about not bullying, so I would like her to step in and really clarify [what's okay], because they listen to everything she says."
She mocked Jon Hamm's alcohol problem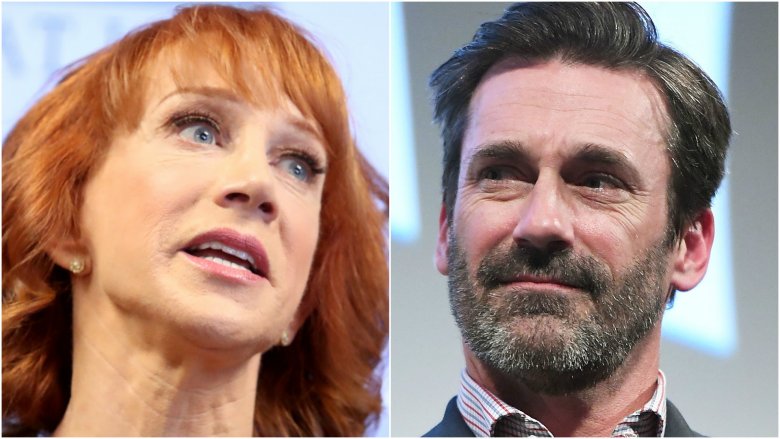 Getty Images
Jon Hamm has been vocal about his struggle with alcohol abuse, but that doesn't mean his addiction wasn't fair game for "equal opportunity offender" Griffin.
In her book, Kathy Griffin's Celebrity Run-Ins: My A-Z Index (via Radar Online), Griffin claims that Hamm once annoyed her with his "boozy yammering."
"He proceeded to get very drunk during the coffee table portion, and then when it came for dinner, [talent agent] Sue [Menger] had sat him next to me... First it was, 'You know your Emmy isn't a real Emmy.' I let that one go, but then he whispered, 'You're so o-o-o-old.' ... He's one of these hot guys who's mildly funny but actually thinks he's comedian level funny. You know the type — there's probably one in your office or family. He just reeks of that. It's an entitled air. When Hammy wants to be funny, he's, well, not."
She beefed with Ellen DeGeneres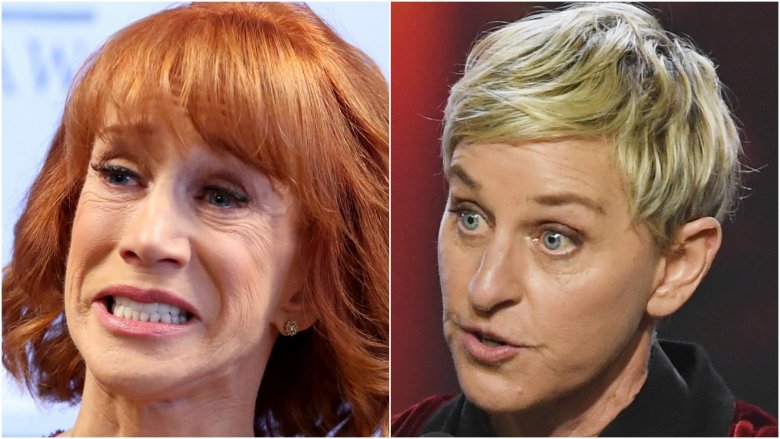 Getty Images
Griffin accused Ellen DeGeneres of not supporting other women.
In her book, Kathy Griffin's Celebrity Run-Ins: My A-Z Index (via Us Weekly), Griffin never uses DeGeneres' name, but makes it clear about whom she's writing. "I'm almost positive a certain beloved daytime talk show host once had me kicked out of a backstage dressing room at the Emmy Awards," Griffin wrote. "I can't prove it, but this person, who has short blonde hair, has a mean streak that all of Hollywood knows about." 
Griffin told Us Weekly that during a 2007 appearance on The Ellen DeGeneres Show, "Ellen did a monologue about how mean I am. I was in the dressing room like, 'S**t! You're another woman comic, c'mon!' ...I don't know if Ellen gets that when I talk about women, I'm joking. I just feel really strongly about women supporting each other, especially women over 50 and women in comedy ... We have to be better at not turning on each other."
For her part, DeGeneres took it in stride, telling W magazine in 2007 (via Us Weekly), "I know she had a big thing about wanting to be on the show, and we didn't book her. She did a whole thing that I banned her from the show. I didn't ban her from the show, because first you have to be on the show to be banned." Burn!
She used gay stereotypes to mock Anderson Cooper when he was still in the closet
After Anderson Cooper came out as gay in 2012, Kathy Griffin wrote an essay for The Daily Beast, expressing her pride in Cooper's courage and expressing that she'd never out him. "Anderson is someone who has led a very specific kind of professional life, who never talked and simultaneously exhibited social contradictions. And quite frankly, he never gave me permission to speak about something that represented the one part of his life he was not comfortable having confirmed in the media. But in my dealings with a certain sector of the press, that simply was never good enough."
Fair enough, but before he actually came out of the closet, she often mocked him with gay stereotypes in her standup, noting that he covered Hurricane Katrina while wearing Prada.
She rushed to join 'Fashion Police,' then quit right away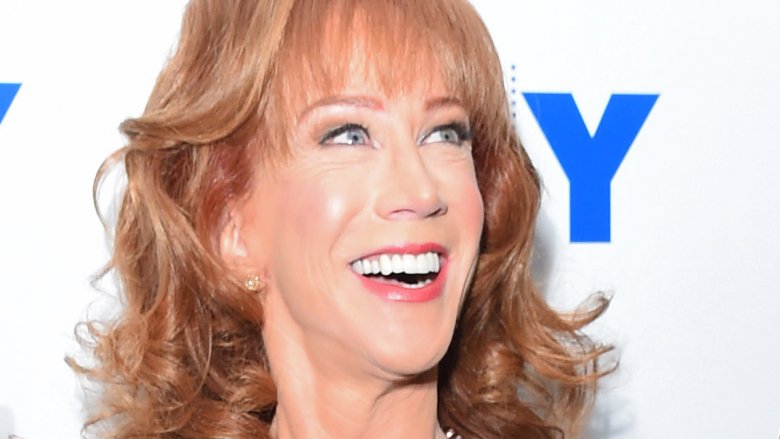 Getty Images
Page Six reported that Griffin allegedly "couldn't wait for Joan Rivers to die" to take her spot on Fashion Police on E! Columnist Cindy Adams alleged, "Two different people report that, while Joan was still comatose, another comedienne already pushed for her E-TV Fashion Police show. Nice, right?" However, sources close to Griffin, including her agent, denied the reports.
After just seven episodes of the show she was accused of dying to get on, Griffin jumped ship after colleague Giuliana Rancic came under fire for mocking Zendaya's dreadlocks.
"I thought that I could bring my brand of humor to Fashion Police so that beautiful people in beautiful dresses could be teased when appropriate," she tweeted. "My brand of humor, while unrepentant and unafraid, is all about CONTEXT. There is plenty to make fun of in pop culture without bringing people's bodies into it ... I do not want to use my comedy to contribute to a culture of unattainable perfectionism and intolerance towards difference ... After 7 episodes of Fashion Police, I discovered that my style does not fit with the creative direction of the show & now it's time to move on."
She dissed 'Fashion Police' after she left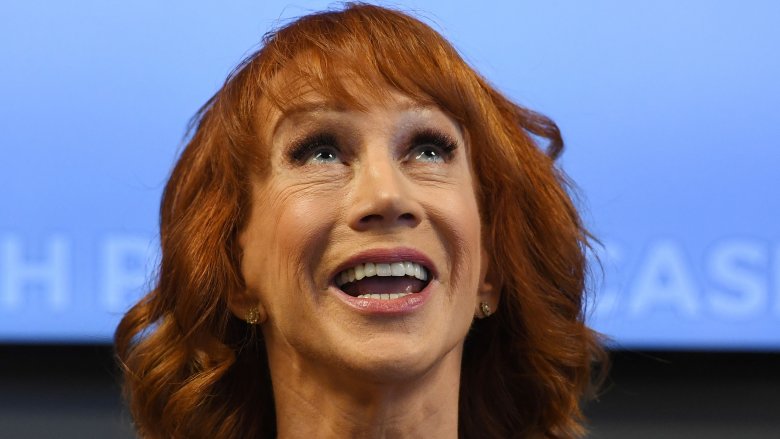 Getty Images
She later dissed the show and its staff in an interview on the Howard Stern Show.
"I don't really feel it was my best work, I'll be honest," she said. "I stand by my specials and my series. I feel like the lane that show is in is so specific that they weren't able to make the transition to kind of the comedic lane that I work in." She added, "I don't know why, but I've never worked on a show with so many leaks. It seems like people — sources say were constantly calling TMZ and Radar Online and you can look through my phone, I don't have the number to any of those places. I've never done that. I never would. It's a leaky boat over there."
She insulted Joan Rivers' legacy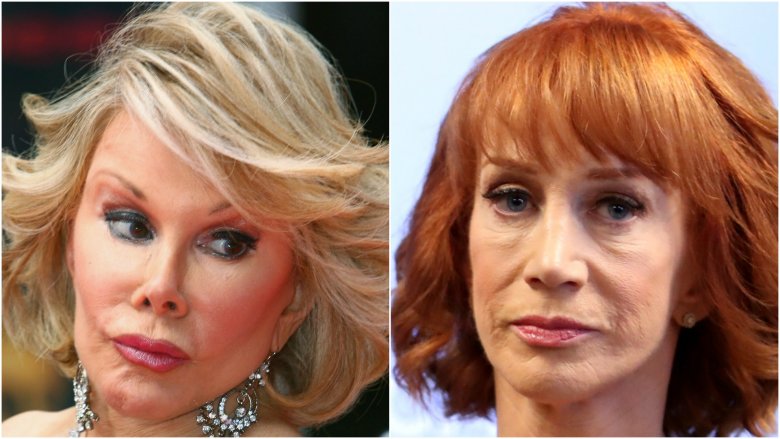 Getty Images
Melissa Rivers was appalled at Kathy Griffin's exit statement for Fashion Police.
"My biggest complaint was the feeling that she kind of s**t all over my mother's legacy in her statement on leaving," Melissa said during a May 2015 talk. "And I know that was not an intentional reading of it, but that's how I felt... by calling the comedy and the style of it old-fashioned. It was like, I understand what you were doing, you're trying to save yourself, but don't crap all over my mother to do it."
Melissa added, "We were a family, cast and crew... and we went back too soon. And just like a family, when the matriarch dies, the sisters started fighting; and someone tried to marry in — not a great match, live and learn. Fashion Police was a little jewel and it was the last piece I had of my mother ... I felt like all these people were so out of control, including the person who made the allegation about racism. They took the last thing I had and smashed it."