Florida Georgia Line's Tyler Hubbard And Wife Expecting Baby Boy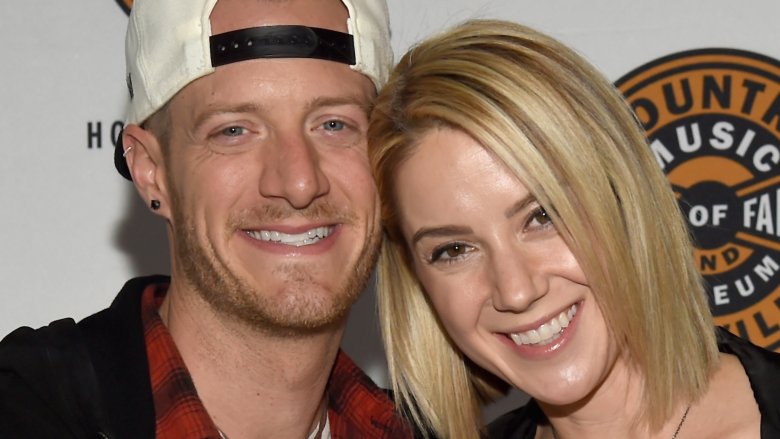 Getty Images
It's a boy! 
Florida Georgia Line singer Tyler Hubbard and his wife, Hayley, announced that they're expecting a son. But the big gender reveal wasn't as simple as the doctor giving them the news. Oh no, they're a part of Hollywood, remember?
People magazine shared exclusive photos from a gender reveal party—affectionately dubbed a diamonds or dirtbikes party—where the pair learned the sex of their future baby by slicing into a cake. And the cake in question? A super on-theme product from Crumb de la Crumb, a Nashville-based bakery. The multi-tiered cake featured pink frosting and large diamond details on one side and blue icing and, of course, dirt bikes on the other.
Before the big announcement, the Hubbards had party guests cast their vote, regarding the baby's sex, on a chalkboard—and it would seem that most of the couple's loved ones suspected that they'd welcome a baby boy. Even Tyler himself was pretty certain. "I thought it might be a boy, but Tyler was 1,000 percent confident it would be," Hayley told People, "so confident that some of our friends brought us baby boy gifts."
Tyler's clearly over the moon about the news. As shown by a slow-motion video shared on his Instagram, Tyler couldn't help but dance after learning that he was going to have a son.
As Nicki Swift previously reported, the pair announced their pregnancy to the public on June 7, 2017. "There's a lot that we're going to get to learn," Tyler said at the time. "Hayley and I both really love learning and growing as people. For us, it's the next phase and the next stage of life that God can really teach us a lot and show us patience ... and selflessness."
He went on, "Trying to have the balance of raising a kid and raising a family with the lifestyle that we have, and the pace of life that we live — it's going to be fun, it's going to be challenging and something that we're really, really excited about."
The newest addition to the Hubbard family is due in December.