The Sweet And Unexpected Way Olivia Wilde Just Honored Her Children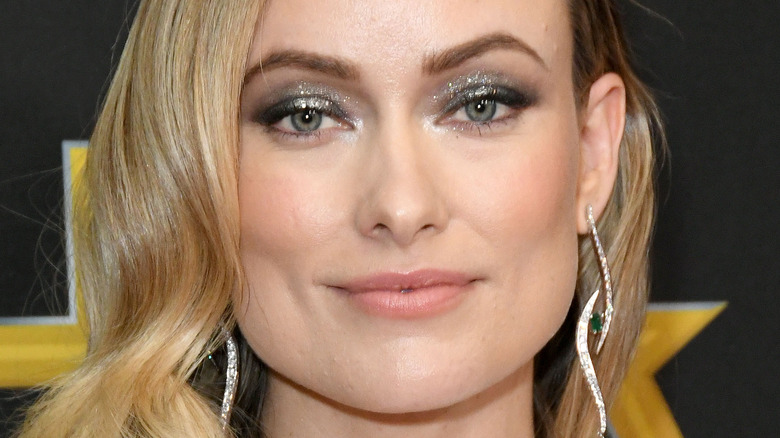 Quinn Jeffrey/Shutterstock
Olivia Wilde — you know, the brilliant film director and actor, once engaged to Jason Sudeikis and now dating Harry Styles — also has some love to show for her two children, Otis and Daisy. She shares her 7- and 5-year-old kids with Sudeikis. While we all get more than enough information on the twists and turns of her love life, she does tend to keep her kids out of the spotlight. When the kiddos do show up on, say, her Instagram, their faces are usually fully or at least partially obscured from view. 
That doesn't mean she isn't always ready to share with the world her love for her children, saying in an interview with Vogue that she owes it to them to be happy, and telling InStyle, "My role is to be a safe zone of support that'll hopefully counteract what society will inevitably do to them. When Daisy hits a place where she questions her worth, I want to be the one to remind her of the strength she innately has." She also displayed her affection for her kids in one particularly meaningful and beautiful way — fresh tattoos, of course. 
Olivia Wilde has her kids' names tattooed
Olivia Wilde now sports two tattoos, one on each arm, that spell her children's names in script. The work was done by tattoo artist to the stars, Dr. Woo, who shared a picture of Wilde's new ink on his Instagram. And before you ask, yes, it is extremely sweet. Woo captioned the photo simply, "Mommas love," and tagged Wilde. The A-Lister then shared the photo on her own Instagram Stories, along with two chick emojis.
Wilde isn't the only celebrity to have tattooed tributes to their children. Angelina Jolie, for example, has the coordinates of the birthplaces of each of her six children tattooed on her left arm, per Hello Magazine. Via People, Kylie Jenner has her daughter Stormi's name tattooed on her arm. Chrissy Teigen and John Legend got matching "Jack" tattoos in honor of their son who died before he was born, according to People. 
When it comes to tattoos, it doesn't get any sweeter than that.