Demi Moore's Throwback Photo With John Stamos Is Turning Heads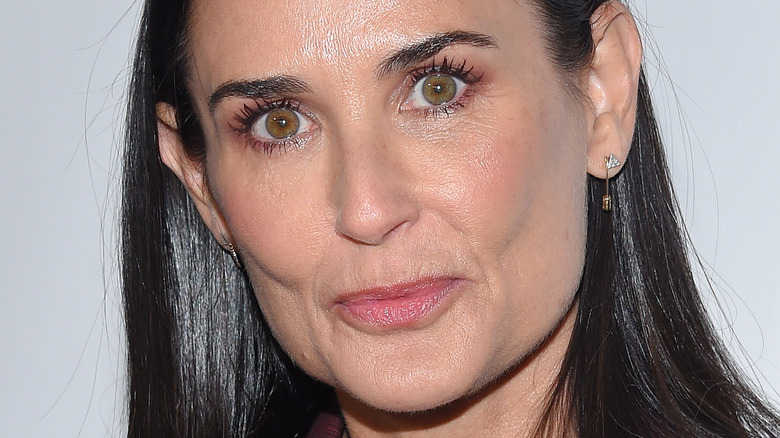 DFree/Shutterstock
Demi Moore is taking a trip down memory lane! On December 10, the actor took to Instagram to post photos of her and John Stamos from their time on the long-running soap opera, "General Hospital."
Back in the 1980s, both Moore and Stamos starred in the show for two years from 1982 to 1984, per Hollywood Life. While on the show, Moore played the role of an investigative reporter named Jackie Templeton, who arrived on the show looking for her sister. Stamos, on the other hand, played a rebel named Blackie Parrish, who was the foster kid of the characters Rick and Lesley Webber.
After their time on the soap opera, both Moore and Stamos went on to full-fledged careers. Stamos joined the beloved sitcom "Full House" and starred in films such as "My Big Fat Greek Wedding 2." Moore went on to star in other shows and films as well, such as "Ghost" and "Charlie's Angels: Full Throttle." While Moore and Stamos went their separate ways in their career, Moore is sharing throwbacks with fans from the time they spent together as co-stars on "General Hospital."
Demi Moore showed off her and John Stamos' goofy side
Posting three rows of negative photos on Instagram, Demi Moore is showing fans behind-the-scenes footage of her and John Stamos goofing around during their time on "General Hospital." The negative photos feature Moore and Stamos putting on a funny, non-serious photoshoot during their time working together.
In one photo, Moore and Stamos hug each other as they look into the camera. In another, the two show off their version of a prom pose with Moore posing in front, and Stamos in the back with his hands on her hips. Obviously, the prom pose was just for fun as the photo after has Moore and Stamos still in front of one another but this time with their hands up as Moore shows a big, open smile to the camera.
It also seems Moore and Stamos might have picked their favorite photos from the photoshoot, as on the negatives there are five big red circles around certain photos. While Moore didn't reveal what the circles meant at the time, she did thank Stamos and Jim Warren for finding the photos. "Wow, negatives from 40 years ago filming General Hospital..." Moore's caption read, with the hashtag for "Flashback Friday." And it wasn't just Moore who loved seeing the photos, plenty of "General Hospital" fans commented saying how cool it is to look back on these photos and see some of their favorite characters.