Steve Harvey Narrowly Avoids Another Miss Universe Catastrophe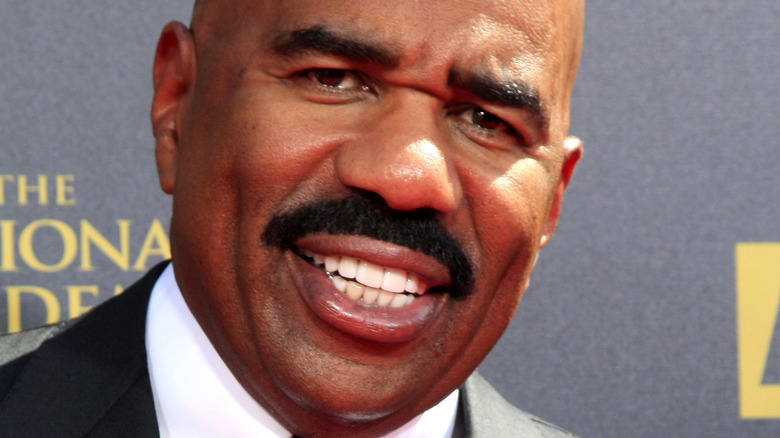 Joe Seer/Shutterstock
"What's in a name? That which we call a rose by any other name would smell as sweet." WRONG. Just ask television presenter Steve Harvey.
Harvey made headlines in 2015 when he mistakenly announced the wrong name for the winner of the Miss Universe pageant. No, it wasn't Miss Colombia who took home the highly coveted title, like Harvey first announced on live television. It was Miss Philippines. "It was four minutes of pure hell," Harvey later recalled during a December 2016 appearance on "The Tonight Show," with host Jimmy Fallon. "It was crazy, man," he added about the moment in which he had to take back the good news and then painstakingly watch as the crown was taken off of Ariadna Gutierrez's perfectly coiffed hair and placed yet again on the head of its rightful owner, Pia Wurtzbach. 
Alas, even after such a harrowing incident, history came close to repeating itself yet again...
Steve Harvey blamed the crew for the 2021 Miss Universe blunder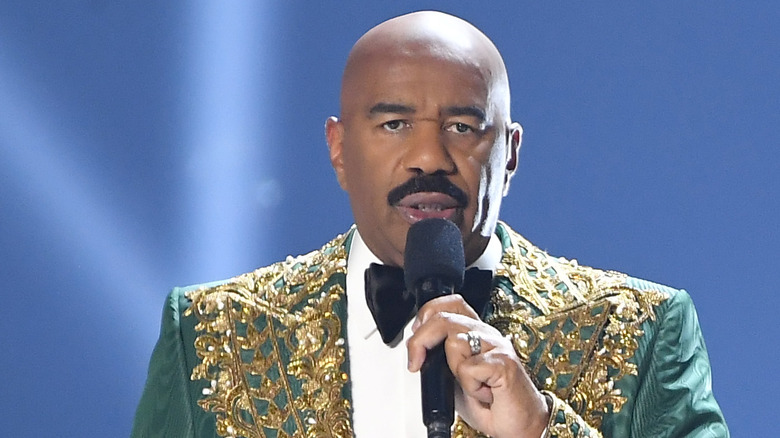 Paras Griffin/Getty Images
Lightning never strikes the same place twice... or does it? 
As reported by US Weekly, Steve Harvey almost relived the 2015 Miss Universe debacle all over again when he declared "Portugal" as one of the final two contestants of the 2021 Miss Universe pageant before quickly catching on. "They wrote Portugal on the d*** sign, trying to play me," Harvey told the audience. "They're trying to get me again. But I'm not going for it this year," he added. "Congratulations Paraguay," he corrected himself before attempting to clear his name yet again. "They had Portugal on the d*** sign. I looked dead at it. Y'all saw it. Don't try to blame this on me this year!"
As for the eventual winner, it was India's Harnaaz Sandhu who took home the title of Miss Universe 2021. "Right now, Harnaaz is on cloud nine and it is because of her hard work and dedication, that she was able to win the Miss Universe 2021 title. Since childhood, the glamour industry has always interested her and we never stopped her from chasing her dreams and goals," the beauty queen's mother, Ravinder Sandhu, told India Today. Congratulations Miss India!