Here's What Carrie Underwood Looks Like Without Makeup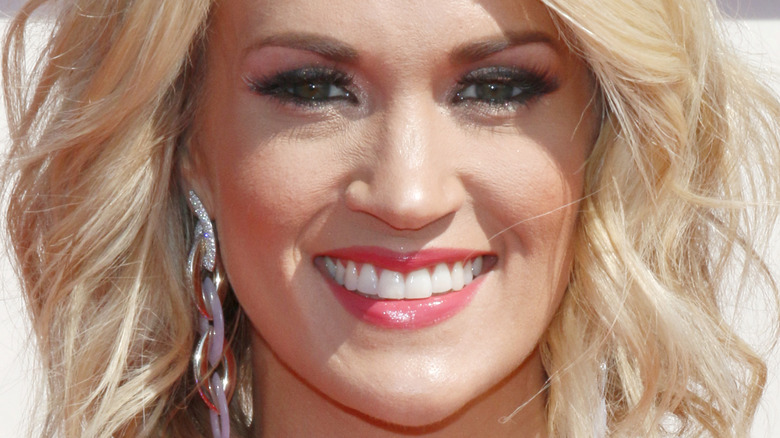 Tinseltown/Shutterstock
Carrie Underwood is no doubt one of the most glamorous stars in the game. The country legend is almost as famous for her blonde bombshell curls and luxuriously long lashes as her insane powerhouse voice, so much so that she's even been the face of a makeup brand.
Back in 2014, Underwood teamed up with Almay to become the cosmetics company's Global Brand Ambassador. Revlon, Inc.'s Global Chief Marketing Officer Julia Goldin explained at the time that the "Good Girl" singer was chosen because "she is still a real girl from Oklahoma at the core and a self-professed makeup junkie who likes to try out new makeup looks in her spare time."
Such a fan of makeup is Underwood — who's looking a whole lot different than her "American Idol" days — that she told Yahoo! in 2014 that she even does her own makeup while on tour because she finds the process so "therapeutic," adding, "It's my time to play."
But that certainly doesn't mean the mom of two has never showed off her bare face in public. While she may always be made up on stage and at work, she's no stranger to a makeup-free selfie and perfectly embodies that small town girl turned big time star who's clearly more than comfortable in her own skin.
So, let's get into it, what does the mega-rich Carrie Underwood really look like without makeup?
Carrie Underwood ditches the makeup in the gym
One of the places you're most likely to find Carrie Underwood without makeup is in the gym. The star is a massive fitness buff and has been open about her desire to get a workout in every singly day, often sharing selfies from her workout sessions on social media to promote her very own fitness app, Fit52.
Underwood put her cosmetic and blemish-free skin on full display back in April when she posted a selfie taken in what appeared to be her at-home gym in a light blue sports bra and leggings combo. The gorgeous country star, who was born in 1983, looked years younger than her age as she flashed a smile with her hair pulled back into plaits either side of her head.
She rocked a similar makeup-free look in another April upload, that time showing off all her obvious hard work in the gym. Again showing that she has pretty much zero flaws, Underwood wowed in a no makeup mirror selfie with plaited pigtails as she rocked a thin sweater over a dark top and teenie shorts to flash those world-famous legs.
The snaps showed the star without her signature heavy eye look, as Underwood has admitted she's not afraid to go bold with the peepers. She described herself as an "eye girl" to People in 2015, explaining when she's dressing up she likes "things that shimmer [and] sparkle," with "a little more eyeliner, a little more mascara."
Carrie Underwood is a natural beauty
Proving she really isn't afraid to go makeup-free on Instagram (and who can blame her with glowing skin like that?) Underwood shared another photo from her cosmetic-free zone, the gym, in July 2020 as she sent her millions of followers some "love" during a workout session.
But don't let her regular makeup-free selfies fool you, as Underwood has admitted herself that she's still very much a makeup girl most of the time, calling it "a confidence builder." "When I want to look hot, I like smoky eyes and eyeliner. I just feel like it's nice to have things that enhance the things you like and cover up the things you don't," she explained to People in 2018, admitting she usually even wears a little something while hanging out at home. "I like walking by a mirror and I'm like, 'Okay! I feel like I'm put together. Alright!'"
And despite proving she's stunning either with or without cosmetics, she also admitted to Yahoo! in 2014 that she very rarely does totally makeup-free days. "I wear makeup for me. I don't want to walk by a mirror and feel like I haven't given some sort of effort. I just feel better when I have a little on," Underwood explained, noting that her love for cosmetics dates back from childhood when she used to watch her mom and sisters get made up.
Makeup or not, there's no doubting this is one stunning star.