Leonardo DiCaprio Confirms What We Suspected About Meryl Streep's On Set Behavior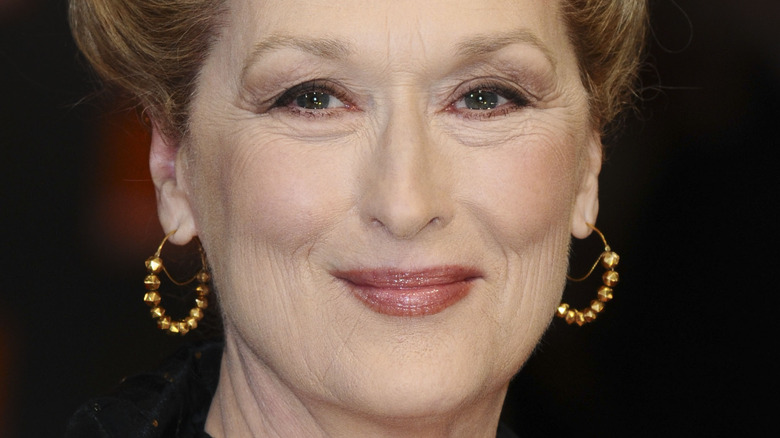 Featureflash Photo Agency/Shutterstock
Leonardo DiCaprio just confirmed something we suspected all along when it comes to the one and only Meryl Streep. The actor — who's won a whopping three Oscars and been nominated for more than 20 others — is widely regarded to be one of the greatest thespians to ever turn their hand at the craft is basically a chameleon, taking on roles as varied as Donna Sheridan-Carmichael in "Mamma Mia!" to Joanna Stern in "Kramer Vs. Kramer" and literally everything in between.
It's no surprise then that her peers often refer to her as the G.O.A.T (greatest of all time, of course!) something that it turns out is actually totally lost on her. Just ask Jonah Hill. Hill described Streep as being "the best actor" during an appearance on "The Tonight Show Starring Jimmy Fallon" in December, admitting he'd been calling her "the G.O.A.T." to her face — only she thought he'd been calling her an actual goat. Yeah, quite the difference there.
It was none other than Jennifer Lawrence that had to explain the crossed wires to her, and luckily (for Hill) Streep took it all in her stride. "She's so cool, she wasn't even offended by it. She was just like, 'I guess he loves me and is calling me a goat.'"
Well, now DiCaprio is telling his own story of working with the actor, and it's pretty telling when it comes to what she's really like on the set...
Meryl Streep keeps everyone 'on their toes'
Kevin Mazur/Getty Images
Question answered. It turns out actors really do get a little intimidated by Mary Streep on set, even someone as legendary as Leonardo DiCaprio! The two worked together on the Netflix movie "Don't Look Up" (alongside the misunderstood Jonah Hill and voice of reason Jennifer Lawrence), and admitted exactly what we suspected — that Streep has everyone, and we mean everyone, upping their game.
"You get to work with the greatest living actor in the world. Everyone's on their toes," DiCaprio admitted to E! News. "Everyone's prepared, and we're just trying to keep up with her."
It sounds like Streep may have been having that effect on the "Titanic" actor for a while now too, as the two first worked alongside one another way back in 1996 when they starred alongside one another in the drama "Marvin's Room" alongside their fellow acting A-Listers, Diane Keaton and Robert De Niro.
And it sounds like DiCaprio has probably been a firm fan of his co-star just as long. "Leo just views Meryl as film royalty," "Don't Look Up" director Adam McKay explained of how the actor really feels about her while speaking to The Guardian that same month. "Although maybe royalty is not a compliment... but as such a special figure in the history of film." 100% agreed!