What Giada De Laurentiis And Bobby Flay's Relationship Is Like Today
Dave Kotinsky/Getty Images
Giada De Laurentiis and Bobby Flay have always had incredible on-screen chemistry, so it is no wonder that fans of the TV chefs have speculated a romantic connection between them. Despite the years of this kind of gossip, both have denied any such relationship, simply attributing their closeness to friendship.
Rumors of the duo dating began to set fire after both announced divorces from their partners in 2015, and it appears that those speculations are at it again after their latest collaboration "Bobby and Giada in Italy" aired on Discovery Plus in early 2021, per Showbiz Cheat Sheet. This four-episode series captures an Italian adventure with De Laurentiis and Flay visiting culinary hotspots, famous eateries, and stunning sights around Italy.
Shooting the series took a whole month, allowing the chefs and crew to fully explore the rich culture, breathtaking surroundings, and authentic cuisine throughout Rome and Tuscany, according to Distractify. A month in Italy? Of course, fans would be hopeful such a romantic location could bring their favorites together after so much time.
Inside Giada and Bobby Flay's relationship journey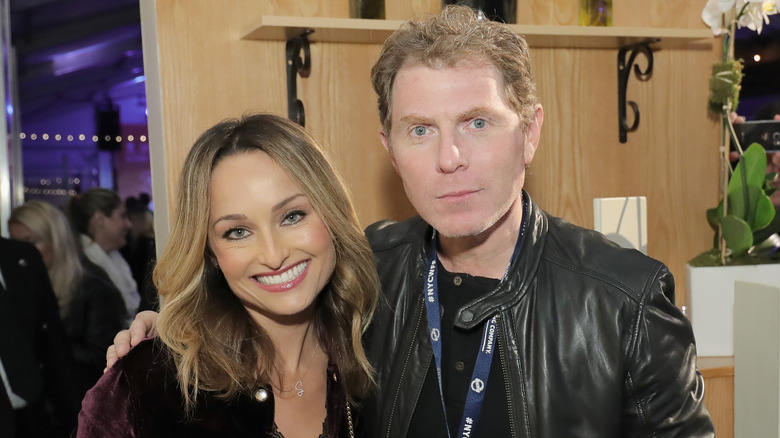 Neilson Barnard/Getty Images
Giada De Laurentiis met Bobby Flay at a Philadelphia food expo in 2004, shortly after getting her start on Food Network the year before. On the second season premiere of the "Beyond the Plate" podcast, De Laurentiis reflected on her experience partnering with Flay for "Iron Chef America" in 2006, via People. This competition led to a bit of a feud between De Laurentiis and Flay after varied attitudes caused them to lose against chefs Rachael Ray and Mario Batali.
De Laurentiis explained, "We lost and he thought it was funny." That mentality was frustrating to her as a newbie chef, who wanted to show off her talents. "I thought, you know, I took this very seriously. It was a very big show, especially at that time, and I've cooked, I've gone to culinary school, I worked on my own dish all by myself and I felt like he sort of half-assed it," she continued, claiming,  "It was just TV [to him]. I took it very seriously ... and I was really disappointed." This disappointment definitely altered their new, friendly relationship, as she did not talk to Flay for a full eight months after!
Once moving past this hiccup, De Laurentiis and Flay have become great friends, working on various projects for Food Network and sharing a passion for food. This, unfortunately, is when those romantic rumors started to grow. When Star magazine suggested affairs with her co-worker and even John Mayer, De Laurentiis was quick to set the record straight, per E! News: "My long-time friendships with my co-workers ... are exactly that — long-time friendships. There has never been a romantic relationship with these two men."
Did Italy change Giada and Bobby Flay's relationship?
Now, everything leads to Giada De Laurentiis and Bobby Flay spending a month in Italy together. Despite foodie fans' long-time hopes for their favorite celebrity chefs becoming something more, Italy was still no match in changing their friendship. This continued speculation seems to be a bit of internet fun, especially considering that De Laurentiis has been in a relationship with television producer Shane Farley since 2015, per Distractify.
When Flay developed the idea for the Italian adventure, he immediately thought of De Laurentiis, born in Rome and an Italian cuisine specialist. While speaking with People, Flay broke the thought process down of doing the show. "We're friends, we obviously both love Italy and we're both on the same network, so it made perfect sense," the Food Network star shared. "So that's what we did. And I have to say, I think it's probably the most beautiful thing that I've ever shot, for sure."
As for the extra boost of chemistry and apparent bliss in "Bobby and Giada in Italy," Flay has a lovely explanation for that experience: "I think you're going to see an inherent happiness in both of us just being there. You know when you go to a place that you really love being, your whole demeanor is different. We were just so much more relaxed and just smiling a lot and just enjoying our surroundings." Perhaps it's time for everyone to accept the fact that friendships can be just that. And while there were whispers of Flay leaving Food Network earlier this year, Variety confirmed he agreed to a new contract. So the possibility of more De Laurentiis and Flay collaborations should keep fans on their toes and ready to add to the foodie fiction.