Why John Cena Didn't Pursue A Football Career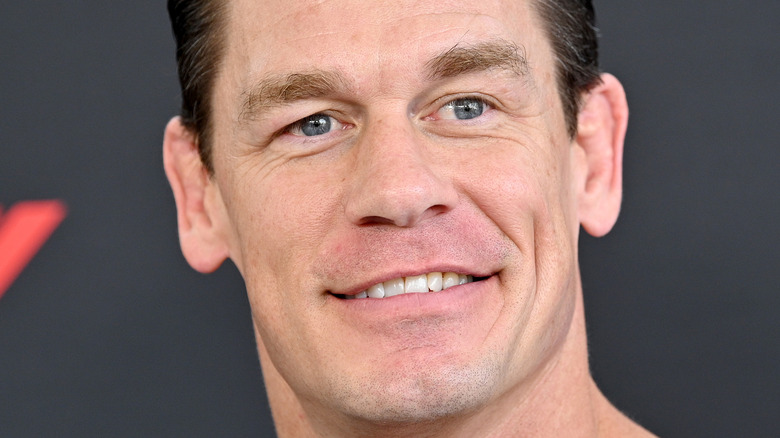 Dia Dipasupil/Getty Images
John Cena has followed the star-lit path of many before him, despite the road for his journey looking drastically different. Known as a wrestling icon, more specifically a WWE superstar that has become the face of the brand, even when he is not actively on the roster, Cena's career has also blossomed in Hollywood.
The most recent and notable example of wrestler-actor to set the standard would be Dwayne "The Rock" Johnson, a competitor Cena has faced many times in the ring, and now both belong to new family circles like "The Fast and the Furious" franchise, per IMDb.
Wrestling has always been a part of John Cena's life. His father was a big professional wrestling fan and beyond watching it on television together, John Cena Sr. frequently brought his five boys to watch their favorite WWF superstars from the cheap seats, according to HuffPost. Cena could have naturally pursued this area right away, but was set on proving himself in other sports, namely baseball and football.
John Cena thought he was 'way too small' for football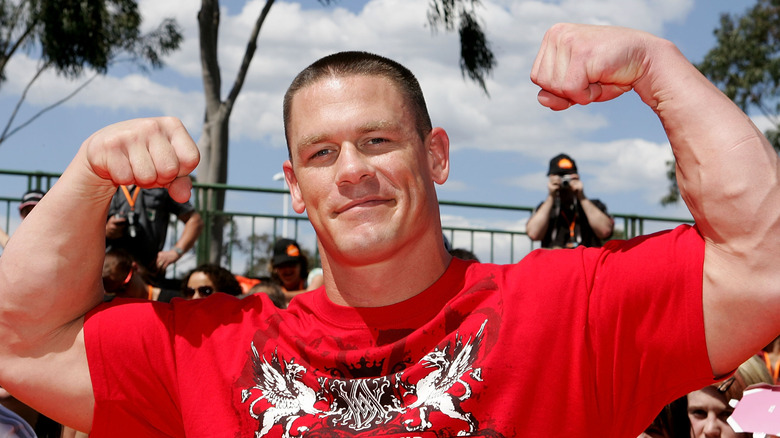 Lucas Dawson/Getty Images
By the age of 15, John Cena was dedicated to the gym and after graduating high school, he attended Springfield College in Massachusetts. He studied exercise physiology and kinesiology "because it was learning to work out and I already knew how to work out. So, I just wanted an easy degree," he explained to ABC News.
He took to the football field in college and became a NCAA Division III All-American offensive lineman and team captain, donning the No. 54, which would later carry over to his WWE gear and merchandise. Despite the moment of success on the field, Cena moved on from football after graduating as it did not seem like a good fit to make something more of it, per Sportskeeda.
In an interview with Men's Journal, Cena explained that he actually never considered college football as a viable career option. "No, I was way too small." When asked what he would do if he was not a wrestler, Cena included the very fields of interest that held him right before breaking into wrestling entertainment. "​​I would be teaching somewhere—most likely either U.S. History or physical education, and I would be coaching football," he shared. "Either that or I'd be a Marine. I'd be involved somehow in the armed services."
Becoming a wrestling icon and actor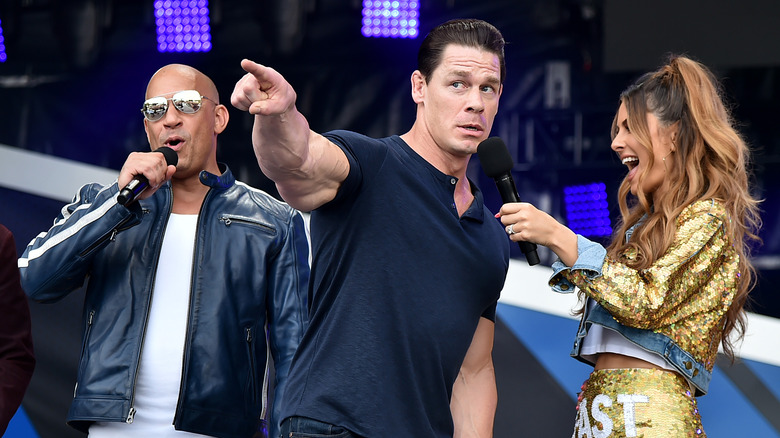 Theo Wargo/Getty Images
After a stretch of odd jobs that simply weren't cutting it and a moment of uncertainty, John Cena found his way into wrestling while working as a janitor and receptionist for Gold's Fitness in California. He told ABC News, "That was a time when like attitude was at zenith like 1999, 2000. So I mean everybody watched [wrestling], but so did I. And we would just talk about 'Raw.' And this kid was like, 'You know I'm training to be a wrestler? Would you want to do that?'" This was the moment Cena decided to go all in. "I was already up to my eyeballs in debt, but I leveraged every credit card I had ... paid a promoter out in southern California, and learned the trade."
"The Prototype" Cena's WWE debut was in 2002, and by 2004, he won the U.S. Championship from The Big Show, an incredible feat for such a young performer. Winning the WWE Championship the following year started a successful path to hitting a joint record of being a 16-time world champion, per Biography. Working in film was the next step for this superstar. As his IMDb showcases, he acted in WWE productions like "The Marine" and "12 Rounds" before hitting a stride with comedies such as "Trainwrecked," "Blockers," and "Daddy's Home." Action blockbusters soon followed with "Bumblebee," "F9: The Fast Saga," and "The Suicide Squad."
Even with lucrative opportunities in film, Cena remains loyal to WWE and his fans, making a 2021 return to "Smackdown," leading up to an exciting SummerSlam match against Universal Champion Roman Reigns. If there's one thing to be seen about Cena's career, it's that he will be taking on new challenges while always standing by his love of wrestling entertainment.