What NCIS' Pauley Perrette Looked Like When She Was A Kid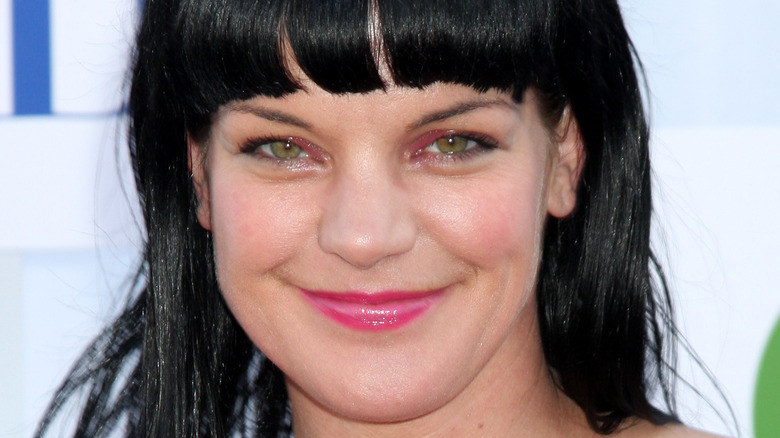 Kathy Hutchins/Shutterstock
Pauley Perrette has looked the same age for so long that it might be hard to believe that there was a time when her appearance drastically differed from that of her "NCIS" character, raven-haired lab rat Abby Sciuto.
She retired from acting in 2020, but Perrette keeps fans updated on her life using Twitter. Because she no longer has to rock Abby's iconic black pigtails and blunt bangs at work, Perrette was able to undergo a drastic hair transformation, and she proudly showed off her funky, rainbow-colored mane on Twitter. But while she may have been eager to experiment with her look, she never wanted Abby to get a major makeover on the series. "She's like an Anime, she really is like a cartoon character — and when it comes to cartoon characters, you really don't want to see them change very much," Perrette explained to Digital Spy in 2015.
In contrast, Perrette's own look was constantly evolving before she became an actor. When she was a young punk rocker, she rocked blond hair with green and pink tips, and she revealed on "The Queen Latifah Show" that she had "green short hair" and a bald head in two of the "hundreds of music videos" that she appeared in before her TV career took off. However, when she was a child, one of her favorite hairstyles was strikingly similar to that of the forensic scientist character she would grow up to play.
Pauley Perrette had to wear an eye patch as a child
Pauley Perrette has had a fondness for pigtails since she was a young child, but the naturally blond actor used to look more like Cindy Brady than a mini Abby Sciuto. Perette was born in New Orleans, but she spent a lot of her childhood in Alabama, per CBS 42. While she might look like a happy child posing in a cheerleading outfit in one Twitter photo, she revealed that growing up in the Deep South wasn't an entirely pleasant experience. "I marched against the KKK when I was a skinny little blonde child. It was scary," she tweeted in 2020.
Another issue Perrette had to deal with growing up was bullying. "I got harassed for Too Skinny Eye Patch Weirdo but never harmed anyone," she tweeted in 2010. She also mentioned her eye patch in a response to a tweet by fellow actor Demi Moore, who revealed that she had to wear one as a child to correct "a lazy eye." Perrette wrote, "I TOO had the eye patch! No fun! Bless you sister!" 
Perrette didn't let other kids' cruelty make her bitter or resentful. Instead, she became a loving, caring person who is passionate about helping others. "I developed a lot of my beliefs about inclusion and justice and civil rights and unconditional love for people, because I came from a certain environment that was the opposite of that," she told Watch in 2013.
You might recognize the actor who played young Abby Sciuto on NCIS
A 2013 episode of "NCIS" explored the origins of Abby Sciuto's interest in forensic science in flashback scenes that showed her as a young child, per Entertainment Weekly. If the actor who portrayed the younger version of Pauley Perrette's character, Brighton Sharbino, looked familiar to you, it might be because she also played the creepy, zombie-loving child Lizzie Samuels on "The Walking Dead." In one of the show's most emotional scenes, Carol Peletier (Melissa McBride) tells Lizzie to "just look at the flowers" before shooting the dangerous little girl. 
While Sharbino started acting at a very young age, it took Perrette a little longer to discover her true calling. She revealed on Twitter that she began modeling at age 2, but it wasn't until she was in college in New York — where she was actually studying criminal science — that she decided to pursue acting as a career. "I overheard a girl saying that she made $3,000 shooting a commercial," she recalled in an interview with CBS 42. As luck would have it, someone else told her about a director who would likely hire her, and she landed over a dozen gigs from her first audition alone, per WANE 15.
Perrette told The Atlanta Journal-Constitution that she used to read "science textbooks" for fun as a child, so she'd already been preparing for her "NCIS" role for years by the time she got it.