Who Was Tim McGraw's Famous Father?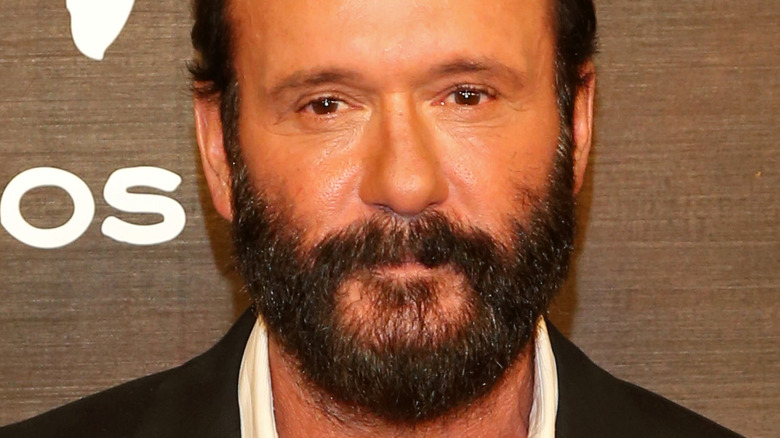 Gabe Ginsberg/Getty Images
Country music superstar Tim McGraw may share a last name with his famous father, but this was not always the case. It was not until he was 11 years old that Tim, whose last name was Smith at the time, discovered his birth certificate in his mom's closet, according to Today. He learned that his biological father was an athlete he recognized, Tug McGraw.
"It changed what I thought I could do with my life coming from the circumstances I came from," the singer said, alluding to growing up poor a few hours north of New Orleans. "I felt like when I found that out, you know, he's a professional baseball player who's successful, to me, it made me think that blood is in my veins, so that ability is in there." They met for the first time later in that same year that he found the birth certificate, but the strange situation led them to not reconnect in person again until Tim turned 18. Despite reluctance from Tug to start a relationship with his son at first, having a new family of his own, according to Biography, the day stretched well beyond an awkward meeting. After catching up through lunch, tennis, and dinner, they both agreed to move forward as family.
Years later, a now-successful Tim McGraw was able to assist his father through surgeries and experimental treatments for brain tumors, staying by his side until Tug's passing in 2004.
Tug McGraw's life and legacy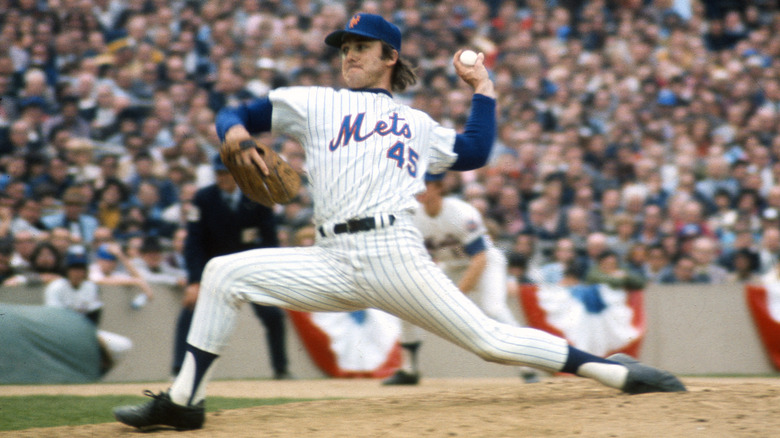 Focus On Sport/Getty Images
Tug McGraw was a lively left-handed relief pitcher in Major League Baseball, recognized for helping the New York Mets and Philadelphia Phillies win world series championships. He was famous for his "hard-to-hit screwball," and the iconic slogan he used that turned into the 1973 Mets' catchphrase — "Ya gotta believe!" — encouraged those same fans when the team was going through a rough patch, per Biography.
He was known for his "wacky personality," according to Biography, and boyish enthusiasm. Mets teammate Tom Seaver said in a statement after his death, "Tug McGraw was one of the great characters of the game of baseball," per The New York Times. "He just had a joy for life and living. But what people sometimes overlook because he was always happy go-lucky was what kind of competitor he was on the mound. No one competed with more intensity that he did."
How their father-son relationship evolved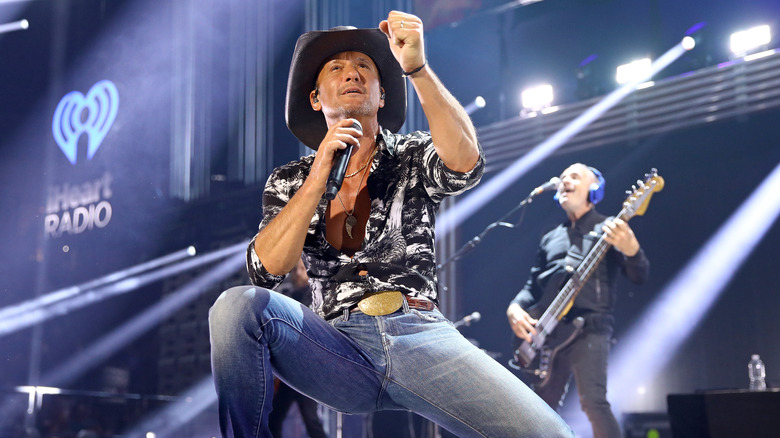 Rich Fury/Getty Images
Tim McGraw followed his instinct when dropping out of college to pursue music and move to Nashville, even when his father tried to discourage the decision, per Today. Little could be argued, however, when he pointed out Tug also left school to play baseball. It seems the father-son duo was more similar than they ever expected in terms of talent and drive.
Apparently, to make amends for being absent, Tug gave Tim's demo to a record exec he had met through a Phillies party, according to Wide Open Country. He also bought a van for Tim and his band, and shortly after, the music took off in a huge way. After his father's diagnosis of brain cancer, the country singer started the Tug McGraw Foundation, which aims to enhance the quality of life for both children and adults experiencing "neurological brain conditions such as brain tumors, traumatic brain injury, and post-traumatic stress disorder."
Over the years, Tim has been incredibly open about his complicated relationship with his father, as well as his own struggles with alcoholism and overhauling his lifestyle with the help of wife, Faith Hill, and their loving family. In an Esquire feature, he gave deeper insight into the unique situation with his father. "People ask me, 'How could you have a relationship with your father? You were growing up in nothing. He was a millionaire baseball player. He knew you were there, and he didn't do anything,'" Tim recalled. "But when I found out Tug McGraw was my dad, it gave me something in my little town in Louisiana, something that I would have never reached for. How could I ever be angry?"