Kevin Durant's Off The Field Behavior Confirms What We Suspected All Along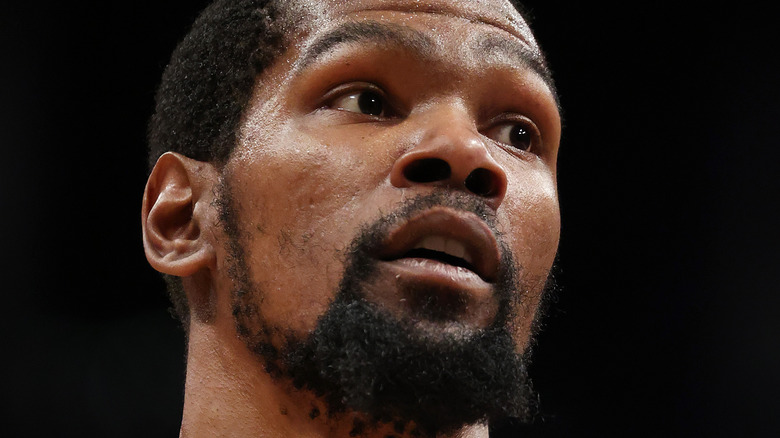 Al Bello/Getty Images
Basketball fans may be opinionated, but they can come together on one thing: Kevin Durant and LeBron James are two of the best players currently in the NBA. In fact, The Athletic (via Fox Sports) conducted a recent survey of former players who concluded that Durant, with 44% of the vote, is the best player in the league. James, with 31% of the vote, was a distant second.
Former players aren't the only ones who believe Durant is eclipsing James. Fox Sports commentator Skip Bayless, who has sort of made a career out of criticizing James, recently took to Twitter to crown Durant. "​​The Best Player on the Planet was at it again tonight in Brooklyn, going assassin in overtime for the COVID-rocked Nets. Nothing like Kevin Durant," Bayless wrote, before adding a warning for James. "You watch, Bron?"
Durant responded to Bayless — and even though he received a compliment, Durant wasn't exactly grateful.
Kevin Durant stood up for LeBron James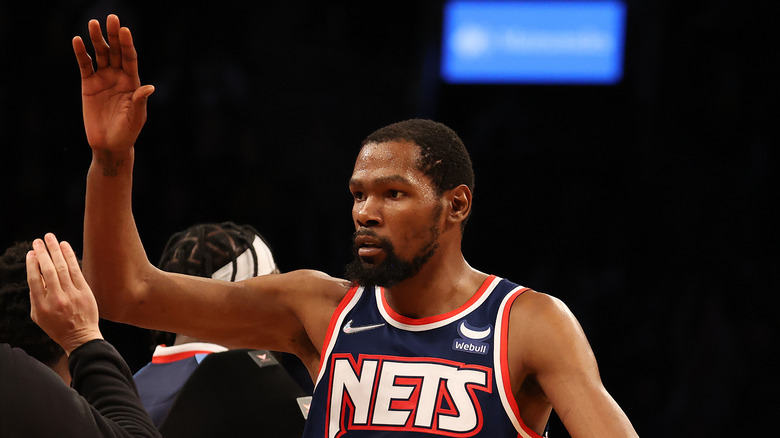 Al Bello/Getty Images
Kevin Durant retweeted Skip Bayless' gushing praise. But rather than thanking him, Durant basically told him to screw off. "I really don't like u," the star player wrote in response. SB Nation speculated this response came out of Durant's respect for LeBron James, both of whom have played in the NBA for more than a decade, and "seem to have the ultimate respect for each other." The outlet also noted that Bayless has a habit of giving "hot takes" to stay relevant in the news cycle. And sure enough, he had a response to Durant's response.
Bayless talked about the Durant situation for six whole minutes on his show, "Undisputed." In the segment, Bayless compared Durant to Michael Jordan, who "constantly fabricated beefs ... that didn't even exist to whip himself into a competitive frenzy before games," kind of like boxers do. Bayless also claimed he's one of the people who "love[s] [Durant] the most." While this was airing, Durant tweeted, "Knew I needed love but I think I value the hate more...."
The New York Post also accused Bayless of taking advantage of the news cycle in an attempt to stay relevant, noting that he waited a full day to comment so he could "reignite the cycle."