The Truth About LeBron James And Kevin Durant's Feud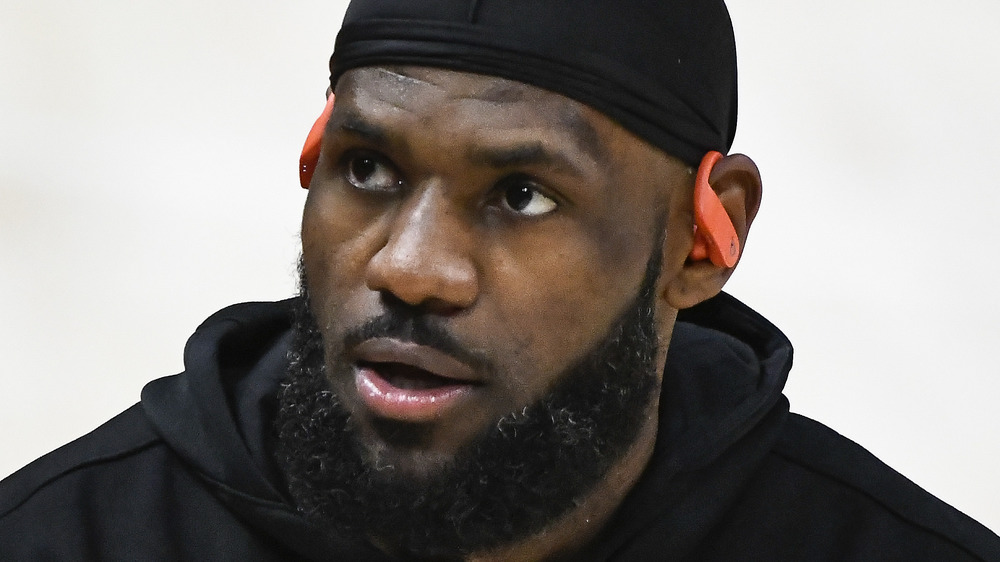 Alex Goodlett/Getty Images
We are just days away from the 2021 NBA All-Star game, but it looks like there might already be some drama brewing off the court. According to the NBA's official website, LeBron James will headline the Western Conference team, while Kevin Durant will lead the Eastern Conference side. However, it looks like the opposing captains have a personal score to settle. The two basketball legends, who have a history of battling it out on the court, have gone head-to-head in three separate NBA finals, and The Undefeated calls their match-up one of "the best the league has seen since Magic [Johnson] versus [Larry] Bird." James has been complimentary of his rival, calling Durant "right up there, if not the best" (via The Undefeated), but has Durant returned the sentiment? It doesn't look like it.
In August 2020, a social media video showed a fan at Cool Kicks LA calling James the GOAT. A few seconds later, a visibly dismissive Durant called this "crazy," later revealing that he believes superstar Michael Jordan to be the greatest of all time. It's fair enough to claim Jordan as the GOAT, but is Durant's opinion objective? Or is he intentionally trying to snub James? (After all, it's not crazy to pick James over Jordan!) Let's see if we can pinpoint the source of Durant's animosity towards James.
Kevin Durant is tired of coming in second to LeBron James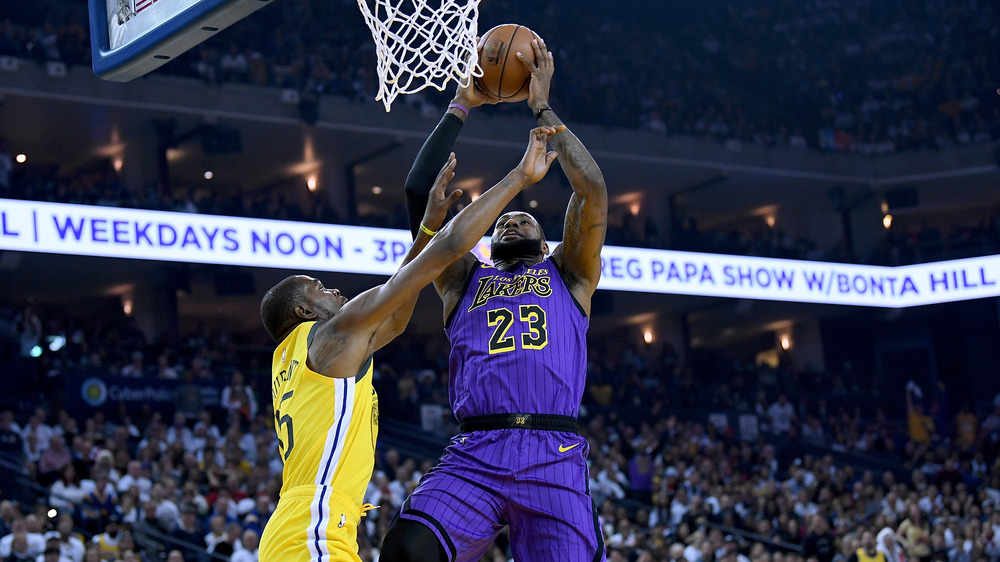 Thearon W. Henderson/Getty Images
In 2013, Kevin Durant told Sports Illustrated that he was tired of coming in second place (via CBS Sports). With LeBron James poised to nab the MVP award over Durant, Durant revealed that he'd "been second my whole life ... I've been second in the MVP voting three times ... I'm tired of being second." Yet, this sense of being second-best persisted. Even when Durant's team, the Golden State Warriors, beat James' Cleveland side in the 2017 NBA Finals, fans and critics still considered James to be the league's best player (per CBS Sports). 
"In my opinion, he [Durant] got the best of 'Bron, like Kevin was f***ing rocking," Durant's teammate, Draymond Green, shared with CBS Sports. "And it's like, you turn on the TV the next day, and the f***ing headline is, 'LeBron James still best player in the world?' ...Kevin just wasn't as happy." In 2019, Golden State Warriors coach Steve Kerr confirmed Durant's inferiority complex on a episode of Bill Simmons' The Book of Basketball 2.0 podcast. "We had a really good thing and then you could just feel it start to slip," Kerr explained. "And I don't know if it was what you mentioned — Kevin felt like he was now the King of the NBA, but nobody was recognizing him for that. He dominated LeBron in those [2017] Finals." Hopefully, Durant finds some redemption on the court in the upcoming All-Star game.