What Did Anna Paquin And Stephen Moyer Ban Their Twins From Ever Doing?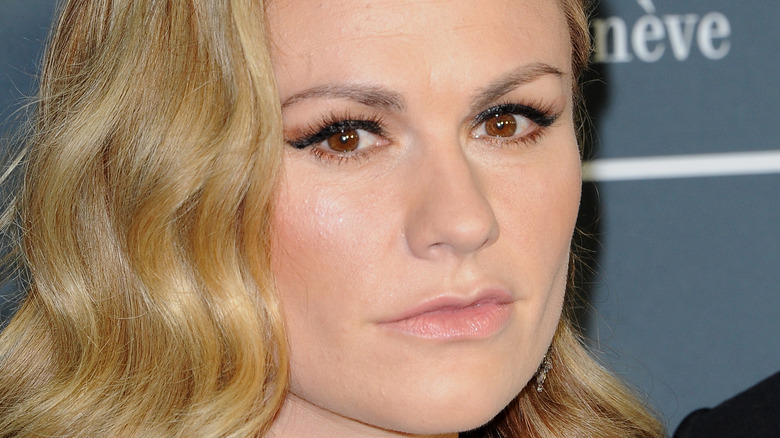 Tinseltown/Shutterstock
It was true romance when Anna Paquin and Stephen Moyer first met each other. 
The "True Blood" stars first laid eyes on each other while auditioning for the HBO series. "We were both single at the time, and there was just this kind of spark," Moyer revealed on "Watch What Happens Live with Andy Cohen" in December 2020 (via People). The actors who played Sookie Stackhouse and Bill Compton on the soapy vampire series not only had an initial attraction, but a deep connection. "By day three or four — oh, this is going to sound so syrupy — but I knew I wanted to spend the rest of my life with her. It was within seconds, really, and it just became a thing," Moyer said. Still, the pair initially hid their off-screen romance from the cast and crew. "We didn't want to take anything away from the show," Paquin told Us Weekly in March 2019.
Paquin and Moyer were married by 2010, and two years later they had fraternal twins Poppy and Charlie, per People. While they live public professional lives, Paquin and Moyer prefer to keep their personal lives mostly under wraps. According to the former "X-Men" actor, not revealing too much about their married life and keeping their children out of the public eye was a conscious decision. "I've always been very private," Paquin told "Today" in 2018. "I don't want people to know too much about my real, inner private life."
The couple did however open up about one activity they forbade their children from doing.
When it comes to their kids, Anna Paquin and Stephen Moyer have one rule they will never change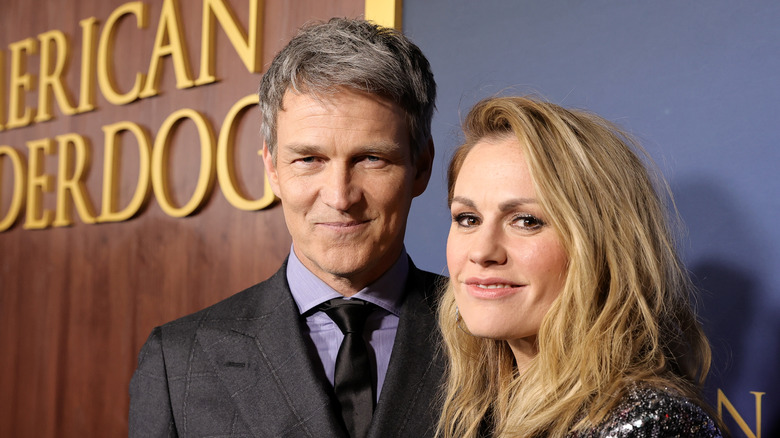 Amy Sussman/Getty Images
Anna Paquin and Stephen Moyer may be famous for working together as a couple on "True Blood," but their 9-year-old children have no idea about their parents' on-screen romance — as they are forbidden from watching the sultry HBO series. 
"They haven't watched any 'True Blood' yet," Moyer revealed to Entertainment Tonight on December 15. "Obviously," Paquin added. That is an understandable choice, as the series was filled with multiple nude and sex scenes involving both actors. In fact, the couple has no intentions of ever letting their children watch the show. They were asked at what age would the kids be allowed to see the show. "Never, if it's anything to do with us," Moyer replied. "We've very intentionally not brought them into this aspect of our lives, because frankly, they're minors," Paquin added.
Letting their young children view the salacious series may not be on the docket, but filming sex scenes that involved both actors had an impact on their marriage. "In a funny way, I feel like — without revealing too much — it's quite interesting for us as a couple because we've kind of gone to places where a lot of people don't get to," Moyer told Entertainment Weekly in 2014, via E!.
The couple became very comfortable on set with not only each other, but their co-stars. "I've had sex with several cast members on the show — obviously, on camera," Paquin told E! in 2014. "It should be weird, but it's not. We're a very tight family," she added.