The Amount Of Dogs Demi Moore Has Is Turning Heads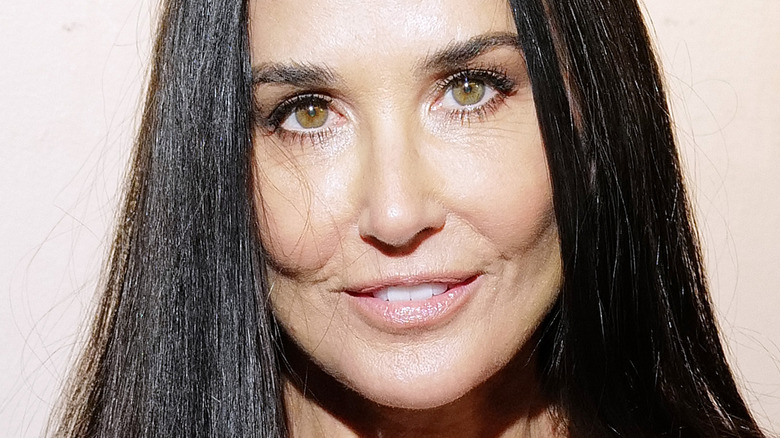 Darren Gerrish/Getty Images
Known for her hit movies "A Few Good Men," "Ghost," and "Disclosure," among others, Demi Moore has defined much of the '80s and '90s Hollywood scene. The actor has long been a popular face on magazine covers and actively advocated on some of the critical issues in the industry, such as pay equity.
Per The New York Times, her memoir, "Inside Out," released on September 24, 2019, revealed her life behind the camera, her marriages with Ashton Kutcher and Bruce Willis, her struggles with substance use, and her childhood. According to the outlet, the mother of three used writing as a tool to rediscover herself. Through her book, Moore also brought forth some critical discourses around mental health to the public. "If you carry a well of shame and unresolved trauma inside of you, no amount of money, no measure of success or celebrity, can fill it," she wrote in her book.
Moore's memoir shows how much self-discovery has been vital for her — a journey the A-list actor has shared with some really gorgeous dogs. She has been quite candid about her affection for these animals on social media. Her love for dogs knows no bounds — a reason she seems to be unable to get enough of them. And this is why the number of dogs Moore has is turning heads. In her heart, the actor has found a home for them all.
Demi Moore uses a trainer for her 'wild pack' of pups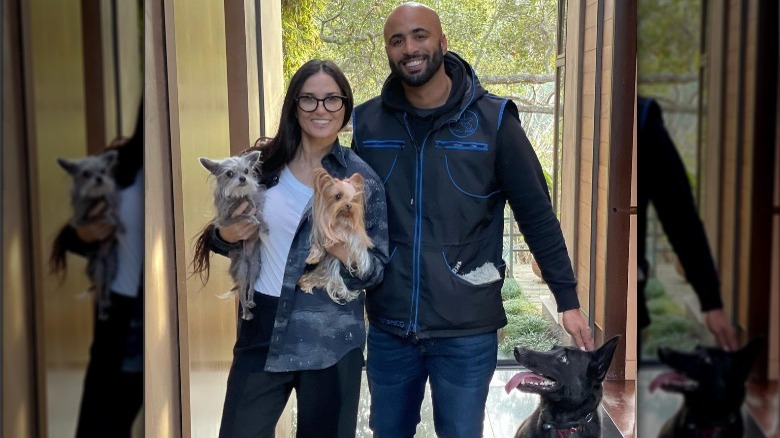 https://www.instagram.com/p/CXl4VJ5rNV7/
Earlier this year, Demi Moore posted a picture of her nine dogs on Instagram with the caption, "Tonight's dinner guests!" However, it wasn't clear if all the dogs belonged to her. Months later, we might just have an answer. On December 17, she posted some photos and a video of dog trainer Jas Leverette working with her dogs. It seems the dogs are having a pleasant time with her, and that she, indeed, is the person who takes care of them.
"Thank you @calik9 for helping me tame my wild pack of 9!!" she captioned the snaps. In one of the pictures (seen above), Moore could be seen posing with the trainer, wearing a white shirt and a jacket with dark pants. She held two dogs in her arms while another dog stood by the trainer. Moore had also been busy getting her dogs styled. On November 17, the star had posted another series of pictures of filmmaker and photographer Dillon Buss photographing the dogs. "Ready for her close-up. 1 done, 8 to go! Swipe to see @dillonbuss capturing the beauty of Ms. Merple as only he can!" she wrote.
Moore's affection for her dog resonates with what she had to say in 2019. "I hope that there is a partner in my future when it's the right time. I think we're a communal species — we're not supposed to be alone — although I've gotten very comfortable alone — me and my seven dogs," she told WWD.