What Makes Aaron Rodgers And Shailene Woodley's Relationship Non-Traditional?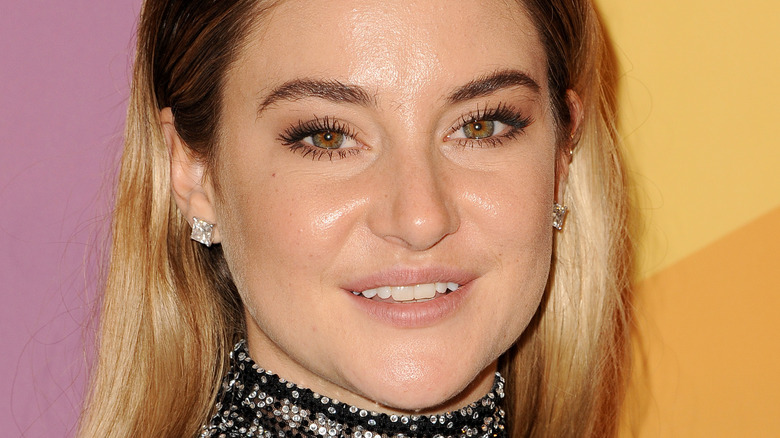 Tinseltown/Shutterstock
Shailene Woodley is not exactly a "typical" Hollywood starlet. The actor, who got her start on "The Secret Life of the American Teenager," soon went on to star in Oscar-winners like "The Descendents" and landed a leading role in "Big Little Lies" with Meryl Streep.
Despite her excellent Tinseltown resume though, Woodley is not a classic Tinseltown gal. For starters, Woodley has claimed that she's basically a nomad who can fit her entire life in a tiny suitcase. She rarely washes her hair and makes her toothpaste (which she also eats) out of clay, per Bustle. "I first heard about the benefits of eating clay from a taxi driver. He was African and was saying that, where he's from, the women eat clay when they're pregnant," Woodley told Into the Gloss. "I've discovered that clay is great for you because your body doesn't absorb it, and it apparently provides a negative charge, so it bonds to negative isotopes." (It's worth noting that most dentists continue to recommend using normal toothpaste — regardless of what Woodley does.)
In 2020 Woodley became engaged to equally-eccentric pro football player Aaron Rodgers. Their relationship has been a whirlwind, with the pair announcing their engagement before ever confirming their relationship. How do they make it work, though? According to sources, the secret to their success as a couple is as alternative as Woodley's health regimen.
Woodley and Rodgers don't want to talk about their relationship
Kathy Hutchins/Shutterstock & Jason Kempin/Getty
Shailene Woodley and Aaron Rodgers are notoriously private about their relationship. Case in–point: Woodley recently raised some eyebrows when she didn't mention Rodgers' 38 birthday on any of her socials. Apparently, that means nothing, though. "Shailene and Aaron are still together. It's not odd they don't post about each other on their birthdays in that sense, and are very private about things," an insider told People. Fair enough — it would be hard to find a celebrity that doesn't think privacy is beneficial to their relationships (just ask Taylor Swift).
So what exactly is their relationship like on the inside? We aren't too sure. "They have a different, non-traditional relationship," the source told People but didn't elaborate any further. We do know, though, that when taking the plunge, Woodley and Rodgers moved quickly. "Starting a relationship where you immediately move in with someone — because it's a pandemic and you can't just get on a plane and go back and forth on weekends — taught us a lot about each other very quickly," Woodley told Shape earlier this year. "We jumped in headfirst and got some of the sticky bits out of the way early."
The strong foundation proved useful as Woodley had recently had to come to her fiance's defense for his refusal to get vaccinated. "Literally, y'all need to calm the f*** down," she wrote in a since-deleted Instagram story, per People. "This is straight-up HILARIOUS."