Who Is Sam Waterston's Famous Daughter?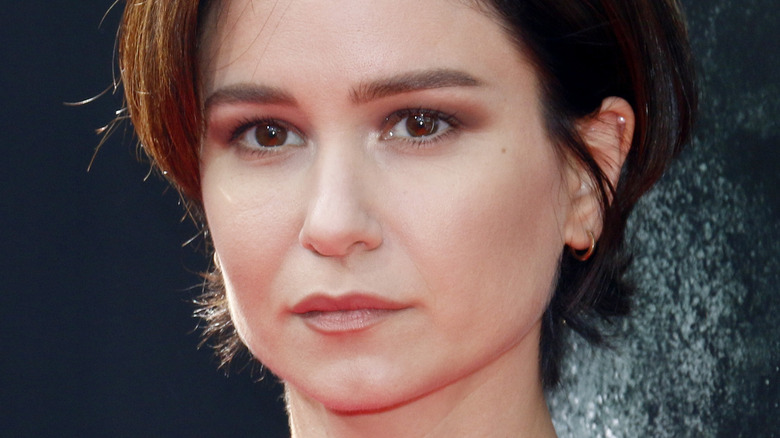 Tinseltown/Shutterstock
Over his 50-plus years in the entertainment industry, Sam Waterston has become a well-known and respected actor with lots of fans, particularly for his long-running role as strict but caring defense attorney Jack McCoy on "Law & Order." He joined the show in 1994 during its fifth season, according to Variety, and will be reprising his role in 2022 in the Season 21 reboot. Sam starred in other television series, including "I'll Fly Away," "The Newsroom," and Netflix's "Grace and Frankie," and appeared in the films "Serial Mom," "On the Basis of Sex," and "The Killing Fields." But it may be surprising to learn that Sam is not the only Waterston in his family to enter the acting game.
At least three of Sam's four children have pursued acting, according to Today — and they all look just like their dad. His daughter Elisabeth Waterston starred as Alice Winter in the show "Quantico," opposite Priyanka Chopra (not yet Jonas), and starred in the film "The Prince and Me" opposite Julia Stiles. Sam's son from his first marriage to Barbara Rutledge Johns, James Waterston, appeared in the 1989 film "Dead Poets Society" and has played roles in television series like "Six Feet Under," "The Politician," and "The Blacklist." And they both appeared in "Law & Order," like many, many other actors.
The most well-known of Sam's children is Katherine Waterston, who appears in the three (and counting) Harry Potter spinoff films, "Fantastic Beasts." Let's learn more about this talented beauty.
Katherine Waterston rose to fame in the Wizarding World
Katherine Waterston is best known for playing Tina Goldstein in 2016's "Fantastic Beasts and Where to Find Them," opposite Eddie Redmayne's Newt Scamander. She reprised the role in the 2018 sequel "The Crimes of Grindelwald," and will definitely appear again in 2022's "Fantastic Beasts: The Secrets of Dumbledore" — though her absence from the trailer confused and worried some fans. Fear not, muggles: Tina is too important to the franchise, particularly as Newt's love interest and eventual wife, not to appear in the film.
But while Tina may be the role Katherine is best known for, it certainly wasn't her first. She also starred in the Joaquin Phoenix-led film "Inherent Vice," directed by Paul Thomas Anderson in 2014, and made her big-screen debut in 2007's "Michael Clayton," opposite megastar George Clooney. She also had a recurring role as Emma Harrow in the HBO series "Boardwalk Empire," and appeared in the films "Alien: Covenant" and "Sleeping with Other People," among others.
Surprisingly, Katherine didn't get her start on "Law & Order," despite her father's connection to the show. When Jimmy Fallon asked her if she'd worked with Dad on the show, she groaned. "This is like one of those moments where I wish I could come up with some fake news on the spot," she said. But no, despite auditioning several times, she claimed, "I couldn't even get a callback on that show."
Sam Waterston's career didn't prepare Katherine for hers
Perhaps it's just as well that "Law & Order" didn't pan out for Katherine Waterston, because she didn't want to be in her father's looming shadow. While dad Sam Waterston inspired Katherine to be an actor, she chose to study it formally to show how serious she was about her craft. "I didn't want to be perceived as some kind of silly dilettante who is bopping around and hanging off the coattails of her dad," she told Collider while doing press for her 2020 lesbian period drama "The World to Come." "I was interested and really trying to be good at this [acting] thing."
Katherine also missed a few lessons watching her father, because his success didn't prepare her for the years of auditions and rejections that every actor goes through. "It's a strange thing when you're the child of a successful actor because you don't see all the years of training and blood and sweat and tears and humiliating auditions," she said, per Today. "You just see them in their element, thriving. Which gives a child a very false sense of how the business works."
She learned the most from acting in stage productions, figuring out how to engage a living, breathing, interacting audience. "It's just such a brutal reality if the scene isn't working," she said, explaining, "they'll let you know" through "loud yawns" or "rustling of the candy" or simply not responding. "I learned more in weeks on stage than I ever did in school."