Priyanka Chopra Addresses Claims Her Marriage To Nick Jonas Is For Publicity
Kathy Hutchins/Shutterstock
Priyanka Chopra Jonas is coming for her brother-in-laws in a roast that just might spark some family drama! The actor joined in on the family's Netflix special "Jonas Brothers Family Roast," poking fun at her husband Nick Jonas and his famous brothers, Kevin and Joe. "I am honored and so thrilled, actually tickled, to be here tonight to roast my husband, Nick Jonas and his brothers, whose names I can never remember," the actor said. "I'm from India, a country rich in culture in music and entertainment, so clearly the Jonas Brothers didn't make it over there."
Chopra added "Jonas" to her surname back in 2018, when she and her pop star husband walked down the aisle in a ceremony — make that two — that was decidedly one of Hollywood's most extravagant weddings. "It's hard to describe how magical it was," DNCE singer Joe Jonas said to People at the time. "People that were a part of the wedding — we just look at each other and we're kind of in awe, like 'How do we even explain what we just experienced?!'" The Jonas Brothers lead singer continued, "It was very much a fairy tale. If I could relive it again, I would love that."
While the Jonas Brothers themselves were in "awe" of the "magical" day, some claimed the big event was purely for publicity, and Priyanka Chopra Jonas is finally setting the record straight.
Priyanka Chopra claims she didn't know who Nick Jonas was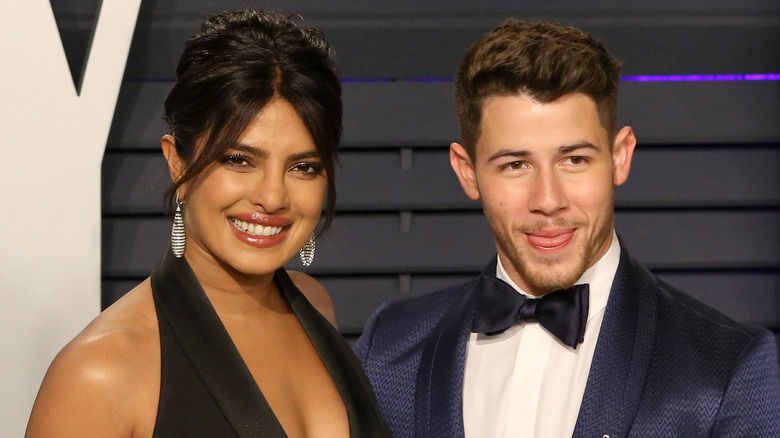 Kathy Hutchins/Shutterstock
In the Netflix roast of the former Disney stars, Priyanka Chopra Jonas took the stage to throw herself under the spotlight, highlighting her marriage to Nick Jonas. "Nick and I have a 10-year age gap, we do, and there are many '90s pop culture references he doesn't understand, and I have to explain them to him," began the actor. "He teaches me how to use TikTok, for example, and I teach him what a successful acting career looks like." Ouch! The roast continued, with Chopra Jonas admitting that she and her husband are "obsessed" with Nick Jonas, adding, "He's our favorite."
The Bollywood actor finally addressed rumors her marriage to the Jonas Brothers star was a publicity stunt asking the audience, "How could it be?" Chopra Jonas continued, "I didn't even know how famous Nick was. All I knew was that he was Kevin Jonas' baby brother" (via People).
Rumors of their "faux marriage" came after The Cut wrote a since-deleted opinion piece claiming the actor married Nick to gain fame in Hollywood given her mega-stardom was primarily in Bollywood. Joe Jonas came to the couple's defense via Twitter, writing to The Cut, "This is disgusting. @TheCut should be ashamed to have someone write such evil words." The "Cake By The Ocean" singer continued, "What Nick & Pri have is Beautiful Love. Thank u, Next."